Thanksgiving day in the United States is quickly approaching and I want to share some ideas for a farm-to-table Thanksgiving dinner while you still have time to put it together.
The farm-to-table concept is centered around eating locally-grown and raised food. That food comes directly from a farm, to your table. It's how our ancestors ate, and is in contrast to the industrialized food system that ends at the grocery store to your table.
Thanksgiving is really an ideal season to create a farm-to-table meal in your home. It honors the historical roots of the holiday as a time to celebrate the harvest and give thanks for our blessings.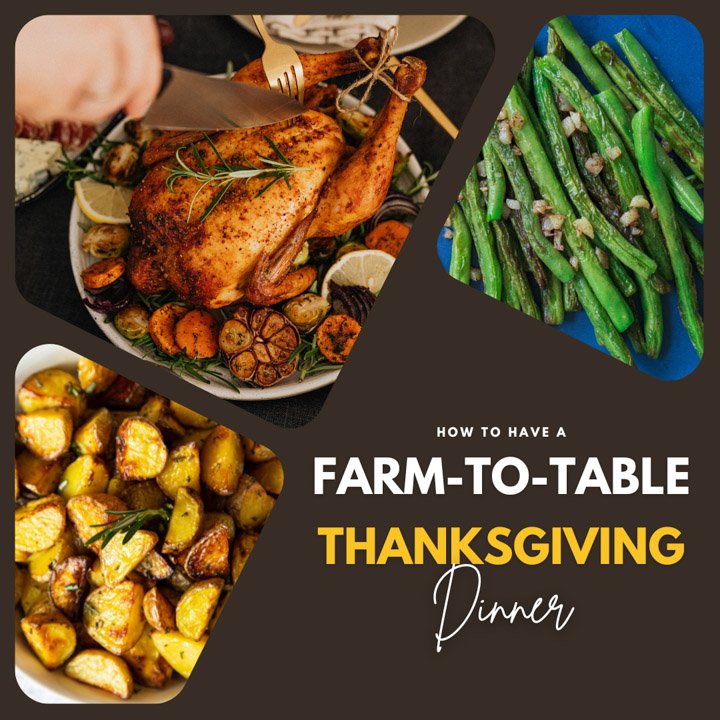 Keep reading and I'll explain how your family can have a farm-to-table Thanksgiving, and some themed ideas to go with it!
This doesn't need to be "all or nothing". If it's not possible or practical to source your entire meal directly from local farms, that's OK. Just pick a few things for this year.
In this post:
How to Host a Farm-to-Table Thanksgiving Dinner
1. Buy your Thanksgiving produce at a farmers market
There are still lots of locally-grown veggies to be had at farmers markets all across the country.
It's no fluke that many traditional Thanksgiving dishes are based on those vegetables that are in season right now. Think of dishes such as sweet potato casserole, roasted squash, brussels sprouts, cranberry sauce and pumpkin pie.
To find a farmers market near you, check out the National Farmers Market Directory. And, before you go, be sure to read up on how to spot fake farmers at the farmers market. You can then be confident that your farm-to-table dishes are actually made with ingredients from local farms.
2. Order your Thanksgiving turkey from a local farm
Right now, grocery store freezers are overflowing with frozen turkeys that were raised and slaughtered as part of America's industrial food system.
What you may not know is there are many small farmers across the country that raise turkeys on their own land and sell them direct to consumers like you and I.
Rather than living their life out in an over-crowded barn (or cage), these turkeys live on pasture and get to forage for insects, grasses and seeds like they would in the wild.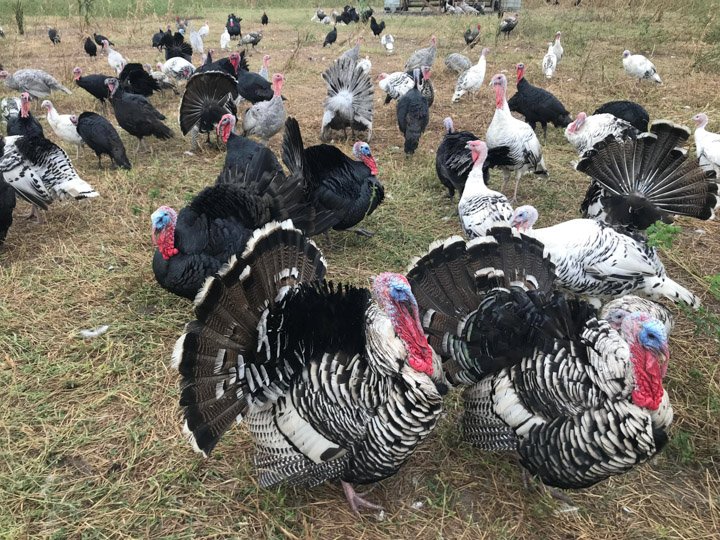 If you'd like to buy a free-range turkey for Thanksgiving, you'll need to order one in advance. Fortunately there's still time!
Search on Google Maps or on social media for "pasture raised turkey" or "free-range turkey" to find a farm near you.
If buying a pasture raised turkey from a local farm isn't feasible or possible, what about buying a pasture raised chicken instead? Provided you're Ok with forgoing a traditional turkey dinner, chickens are a more affordable way to feed 2 to 4 people.
3. Eat what's in season
One of the tenets of farm-to-table dining is eating what's in season. Truly embracing a farm-to-table meal may require forgoing some of your family's favorite dishes, in favor of foods that are in season right now.
The best way to discover what's in season is a visit to your local farmers market to explore what real farms are harvesting right now. To help you plan your shopping list in advance, I also created a list of what's in season during November.
Before you go, please read up on how to spot fake farmers at the farmers market. Wholesalers and resellers often attend the markets and source their produce from all over the country and beyond, which defeats the experience you want to create.
4. Cook from scratch and avoid processed ingredients
For the most authentic farm-to-table vibe, consider omitting pre-packaged and processed ingredients from the Thanksgiving dishes you serve on turkey day.
If farm-to-table is all about eating good food from local farms, including processed ingredients in your recipes takes away from that.
Processed food includes anything that comes in a can, store-bought marshmallows and fried onions, boxes of stuffing, packets of seasoning mix and crackers.
Think about some common Thanksgiving fixings made with processed food and how you could tweak or swap out the recipes to omit pre-packaged ingredients.
For example, rather than green bean casserole made with canned soup, you could sauté fresh green beans with garlic.
Rather than pumpkin pie made with canned pumpkin pie puree, you could make pumpkin pie puree from scratch. I've shared a recipe for that below.
5. Share the farm-to-table story with your guests
When I cook farm-to-table meals for friends or family, I enjoy sharing about where the food comes from. In my experience, people are surprised to learn about local options for sourcing food direct from a farm. It makes my day when they are then inspired to start going to their local farmers market.
So be sure to pass along the story of where the ingredients for your dish came from, the farm where it grew and how you discovered it. I can't think of a better conversation topic around a Thanksgiving table.
6. Host a farm-to-table potluck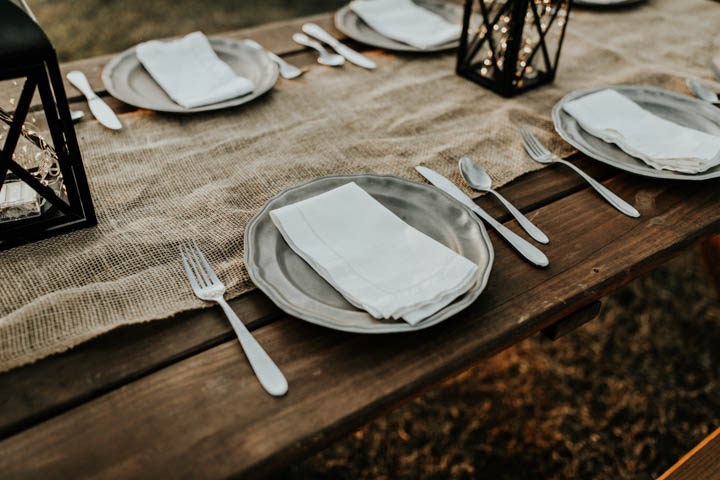 Here's an idea if you plan to host a Thanksgiving potluck and think most of your guests will be up to a twist. This isn't about turning Thanksgiving into more of a complicated chore than it may already feel to some.
If you're already asking guests to bring a dish to share, you're halfway there! How about giving your Thanksgiving potluck a farm-to-table theme. Ask your guests to source the main ingredient in their dish direct from a farm. And that farm can be found at a farmers market.
For lots of families, going to a farmers market the weekend before Thanksgiving will be a really fun and connected activity.
Provide index cards, or pretty labels, so all guests can write the name of the farm and location where the main ingredient was sourced. Then place them beside each dish when you set out the Thanksgiving buffet.
This also makes a great conversation topic over dinner. 🙂
Farm-to-Table Thanksgiving Menu Items
Creating a farm-to-table Thanksgiving menu doesn't necessarily require special farm-to-table recipes.
A lot of the holiday favorites you're used to could probably be sourced from a local farm. Not coincidentally, many Thanksgiving classics are based on those foods that are in season this time of year.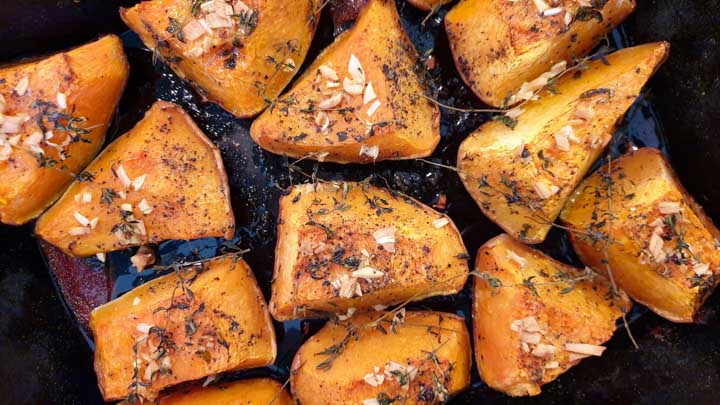 What follows is a collection of simple, whole food recipes made with ingredients that are pretty easy to find at a farm or farmers market during November.
By keeping recipes simple, it's much easier to go full farm-to-table for your dinner.
Thanksgiving Side Dishes
Thanksgiving Main Course
Condiments
Thanksgiving Desserts
What's in Season During November
To help you plan your Thanksgiving menus in advance, here is a list of the produce that's in season during November in the United States. Note that the exact items will vary based on where in the country you live. For example, November in Florida is a bit different from November in Vermont.
Apples
Beets
Bokchoy
Broccoli
Cabbage
Carrots
Corn
Cranberries
Fresh herbs
Kale
Onions
Potatoes
Radish
Rutabaga
Spinach
Sweet potatoes
Turnips
Winter squash
Final Thoughts
Will you be having a farm-to-table Thanksgiving with your family or friends? I'd love to hear about it, please post a comment below.
For more farm-to-table meal planning, check out my summer farm to table menu ideas.