Honey-Roasted carrots with thyme – you may never go back to boiling carrots! They're easy to make, impressive to serve and done in less than 30 minutes.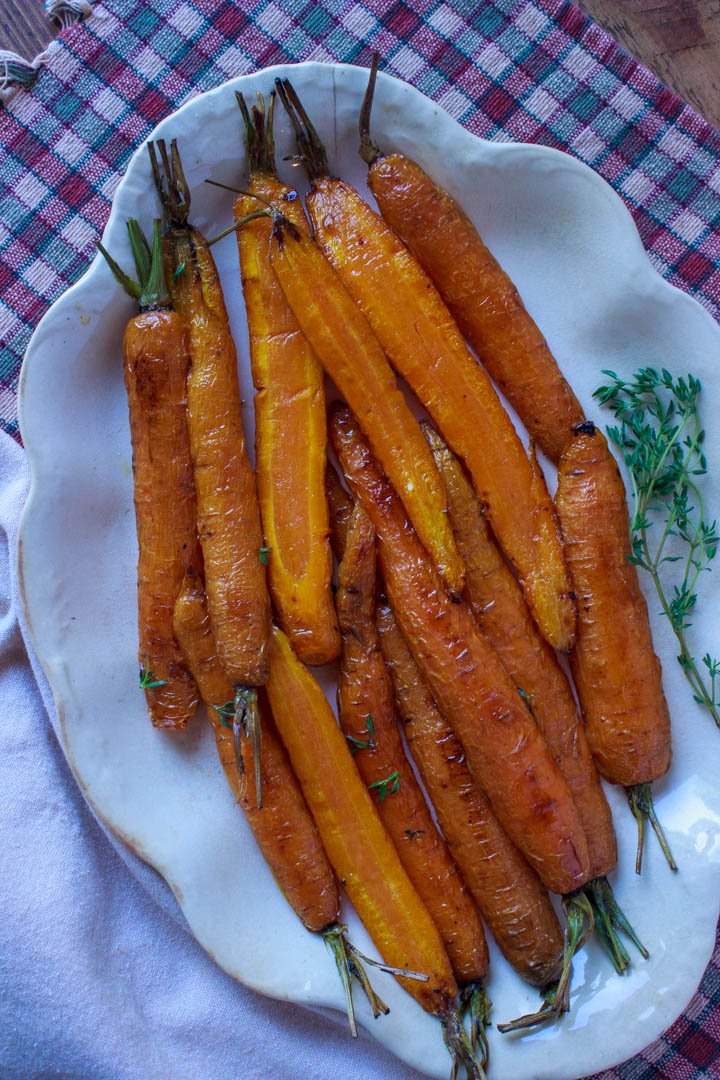 Friends, honey-roasted carrots are so good that I remember the first time I had them…and that was well over a decade ago!
Having grown up on carrots sliced into rounds then boiled, roasted carrots was an entirely different taste.
I put my own spin on honey-roasted carrots by adding thyme – which brings an earthy element into the sweetness created by caramelizing the carrots in the oven.
This makes these roasted carrots a great side dish to serve alongside flavorful meats such as beef and turkey.
Why Roasted Carrots Taste So Good
When it comes to how to cook them, nothing compares to oven-roasted carrots. Though roasting carrots takes a little more time than their boiled sisters, they are worth it!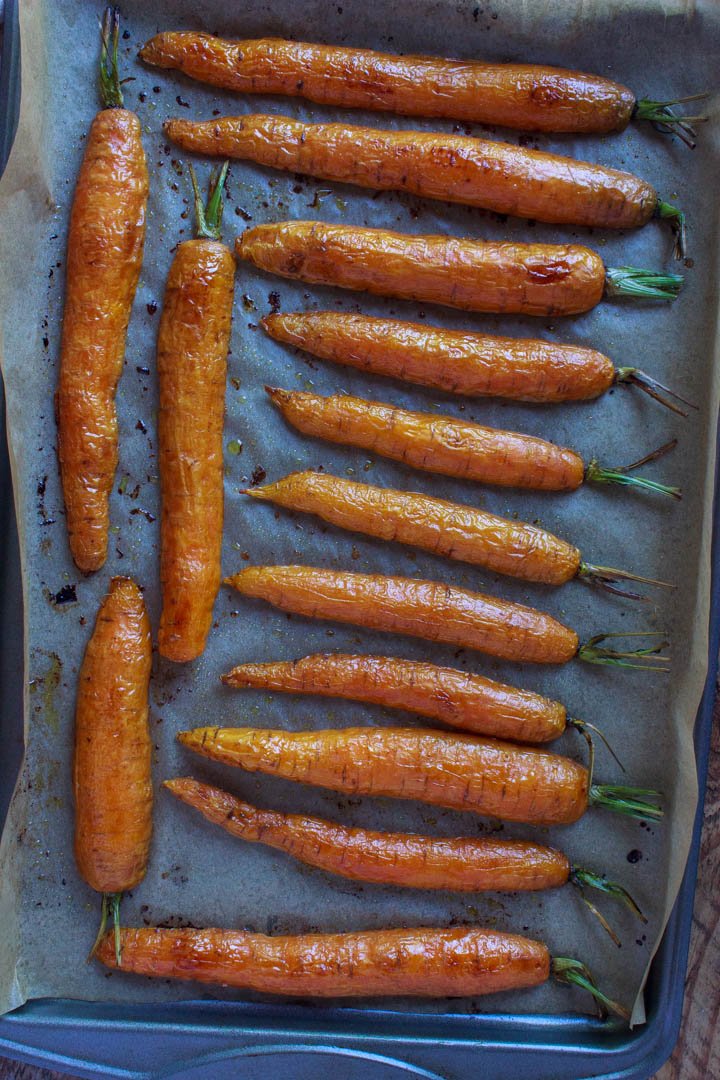 Carrots are naturally high in sugars. When you roast them in the oven, the dry heat pulls the water from the carrot, causing the left-behind sugars to caramelize. Yum!
Roasting carrots also browns them beautifully, while not overcooking the carrot into mushy oblivion. They make an impressive display when entertaining guests for dinner!
3 Secrets to Perfect Honey-Roasted Carrots
1. Roast carrots at a high heat
If you roast carrots on low heat, they cook slowly, making them limp and without the delicious browning of their skin. I roast carrots at 425 degrees Fahrenheit.
2. Don't crowd the pan
Give a little space between each carrot so they aren't touching each other in the pan. This leaves room for the water in the carrots to evaporate while they roast, causing them to brown rather than steam in the pan.
3. Roast carrots with melted butter, not oil
I've roasted carrots with oil instead of butter and they don't turn out as tasty IMO. Stick with butter when roasting carrots.
Ingredients to Make Honey-Roasted Carrots with Thyme
This simple honey-roasted carrots recipe requires only four ingredients!
Carrots
Seven to eight medium-sized carrots will make enough for 4 servings if you're making these as a side dish. During the growing season I buy my carrots at the farmers market. Here's how to spot real farmers at the farmers market.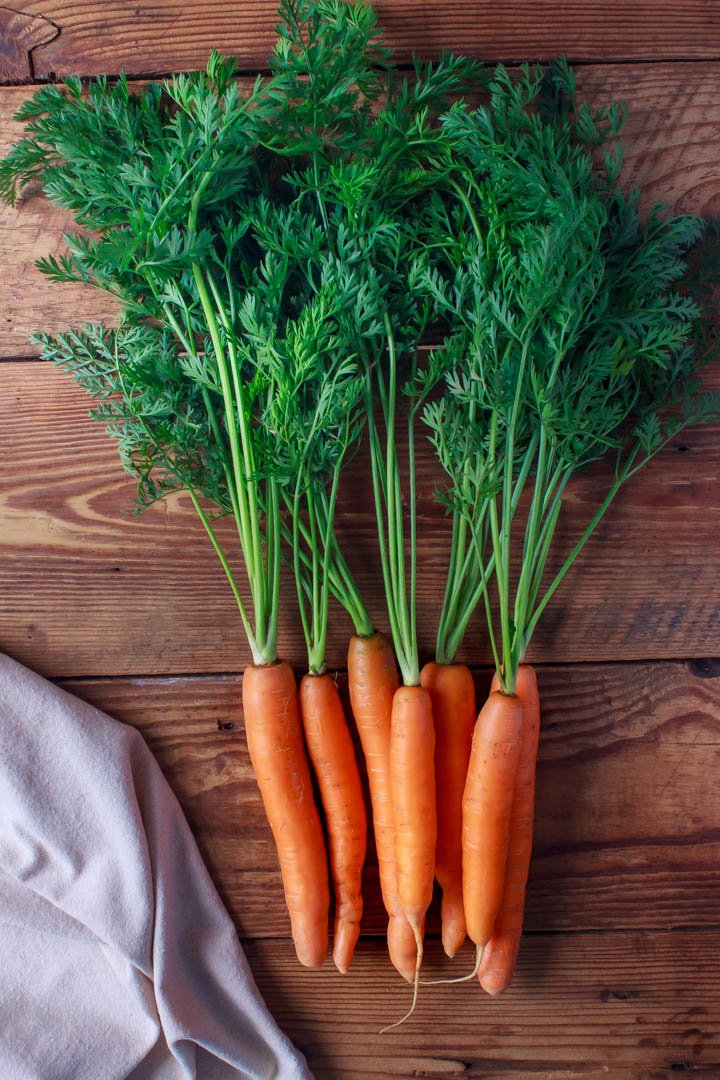 Freshly-picked carrots are delicious and usually come with the greens attached. For a nice look, you can leave a little of the greens on when you cut them. No need to peel the carrots.
Unsalted Butter
I use unsalted grass-fed butter. Be sure not to substitute for margarine or oil.
Raw Local Honey
If you don't already, please do find a local beekeeper to source your honey from. Much of the honey found in the grocery store has been ultra-filtered, which removes the pollen and/or diluted with other syrups. No matter who you buy your honey from, ask them about their honey production practices.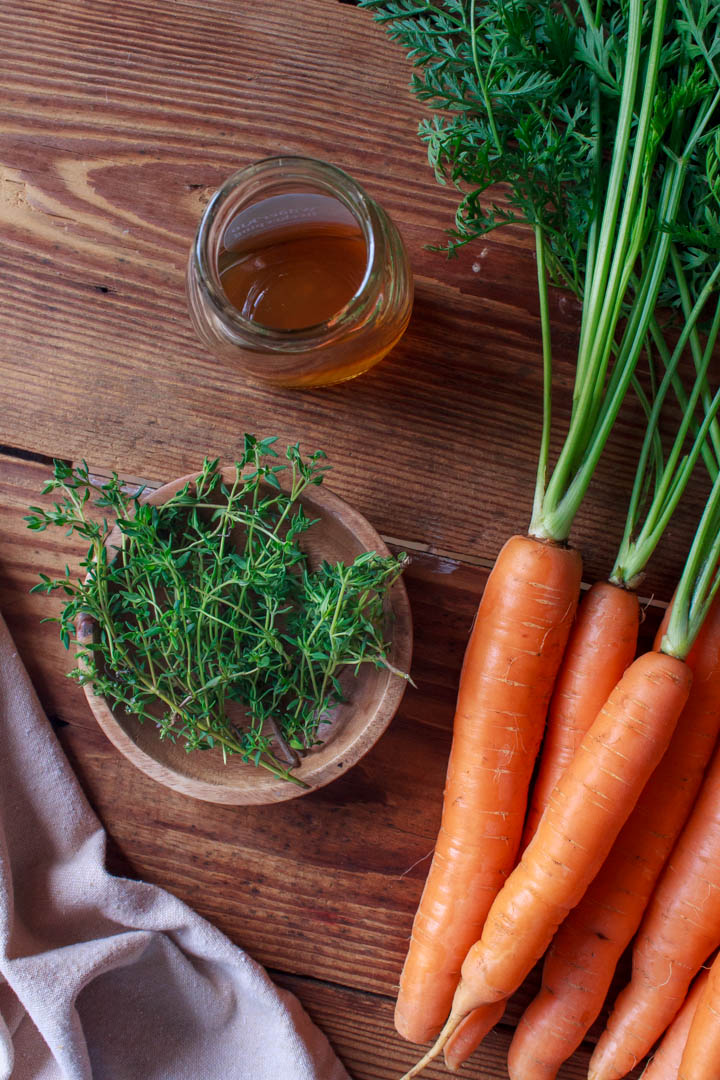 Fresh Thyme
Fresh thyme is so aromatic and flavorful, and a nice treat when it's in season.
I don't have a quantity recommendation for substituting with powdered thyme as I haven't used it in this recipe. I also find the flavor quite different between powdered and fresh thyme. So if you don't have fresh you can omit the thyme, and enjoy honey-roasted carrots that are more dialed into the sweet flavors of the honey and caramelized carrots.
Salt (optional)
I toss my roasted carrots with three twists of my salt-mill before roasting.
What to Serve with Honey-Roasted Carrots
These earthy (from the thyme) and sweet roasted carrots pair really well with other earthy flavors such as grass-fed beef and turkey. They have a robust flavor on their own, so avoid pairing them with delicate foods such as white fish, or any fish for that matter.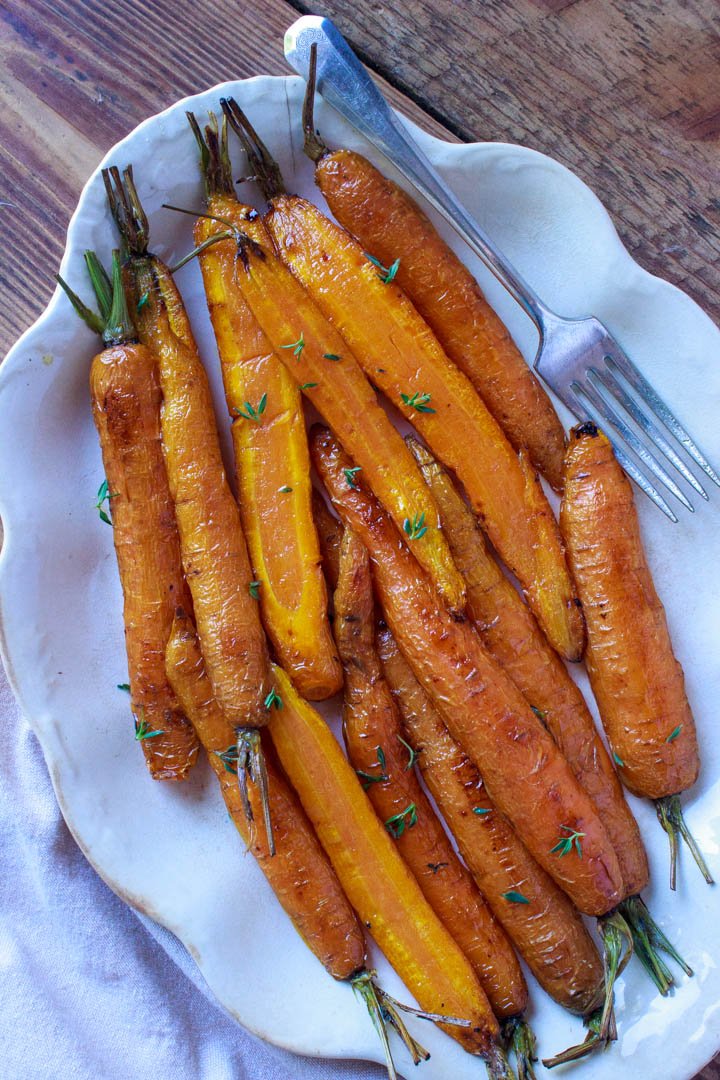 Rustic Honey-Roasted Carrots (with Thyme)
Honey-Roasted carrots with thyme – you may never go back to boiled! They're easy, no-fuss and done in less than 30 minutes.
Ingredients
8

medium

carrots

washed with tops removed (no need to peel)

1

tbsp

unsalted butter

melted

3

twists

salt

1/2

tbsp

raw honey

1

tsp

fresh thyme

finely chopped and loosely packed
Instructions
Prepare the carrots
Preheat the oven to 425 degrees. While the oven heats, slice each carrot once lengthwise and coat them on all sides with the melted butter.

Place the carrots cut-side up on a baking sheet or glass roasting dish. Ensure the carrots are touching as little as possible. Sprinkle with three twists of your salt mill.
Roast the carrots
Roast the carrots for 20 to 25 minutes. Turn them once halfway through cooking so they brown evenly on both sides.
Season the carrots
When the carrots are done roasting, drizzle them with the honey and scatter the thyme over top.