This guide is chock full of farm to table menu ideas and summer recipes. In-season local produce and pastured meats are the inspiration behind each of the farm to table recipes I'm sharing. And the star of each dish will be an ingredient you can find at summertime farmers markets across the country.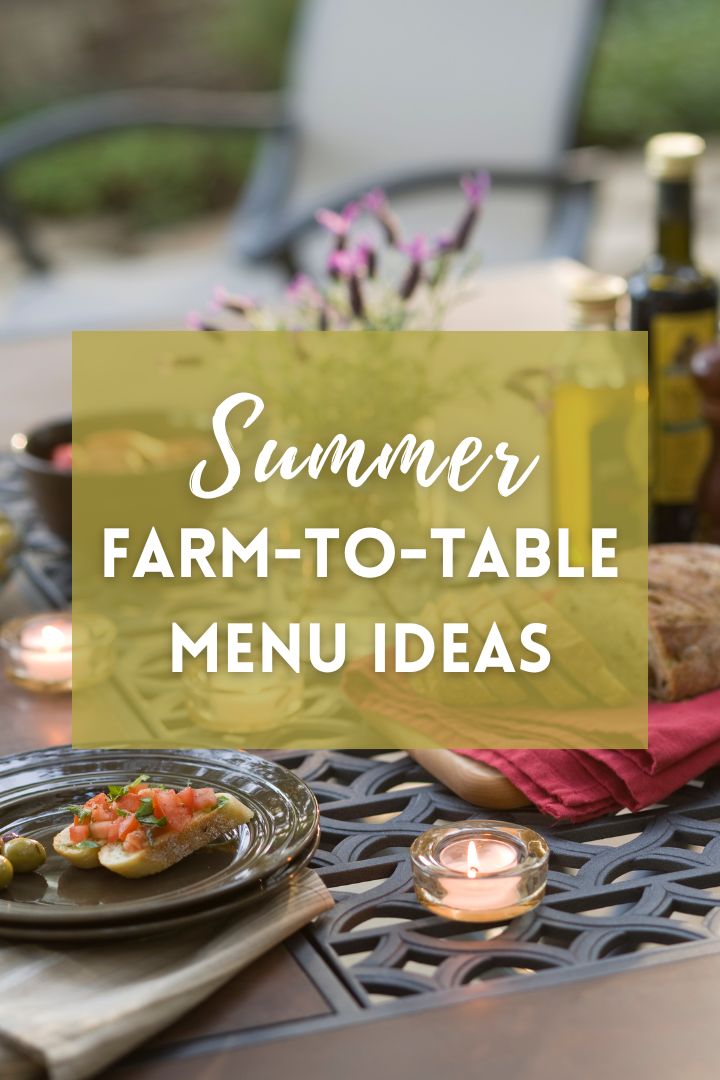 Table of Contents
It's that time of year we love, when farmers markets are bustling, and over flowing with locally-grown summer produce. If you've never bought vegetables direct from local farms, now is the ideal time to try. And The National Farmers Market Directory is a great way to find a local farmer's market near you.
In this guide, I'll share my favorite farm to table menu ideas to help you host a farm to table dinner this summer! Hosting a farm to table dinner is a fun way to celebrate the season by showcasing local foods and farmers market finds!
Three reasons why a farm to table dinner is a great idea:
Celebrate healthy food from local farmers
Feel more connected to the food you eat and where it comes from
It's a fun activity for you, your family and the friends you invite
What is a Farm to Table Dinner?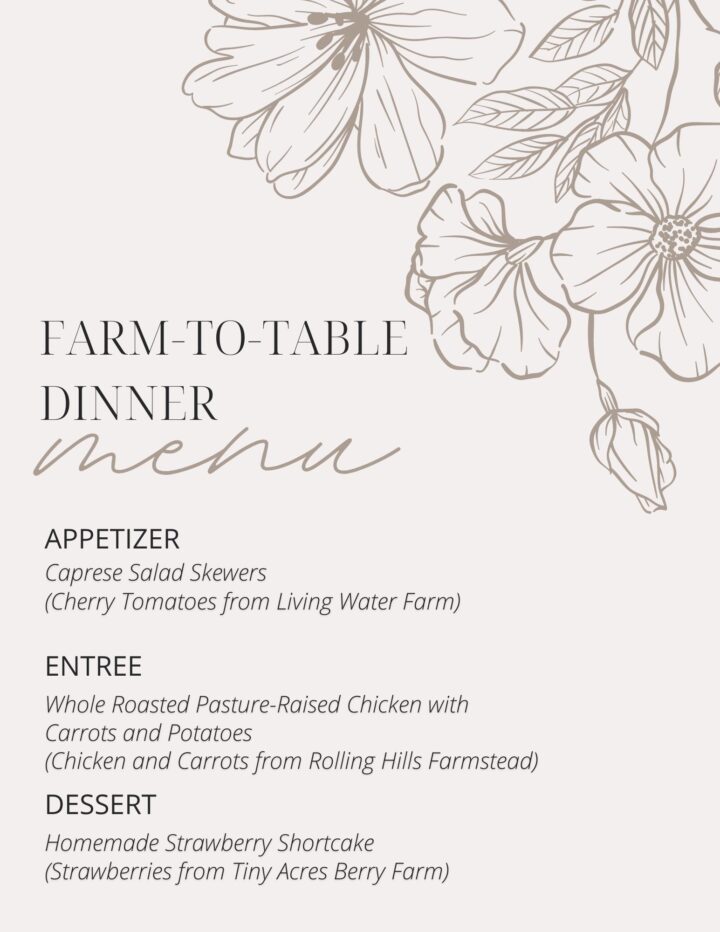 A farm-to-table dinner is centered on the idea of cooking with seasonal ingredients and showcasing fresh produce from local farmers. From the farm, to your table.
Summer is the perfect time of year to host a farm to table dinner because so much produce is at peak ripeness. You easily find all the fresh ingredients you need at the farmers market.
We often hear the term 'farm-to-table movement' but farm to table is how we've eaten for generations, up until the industrial revolution. I think of farm to table dining more like getting back to our roots, and one of the best ways to reconnect with our food.
Farm to table dining is getting back to our roots, and one of the best ways to reconnect with our food.
I enjoy farm to table dinners in my own home practically every day. Let me assure you, you don't need farm to table restaurants to enjoy a farm to table meal. So let's dive into the recipes so you can host a farm to dinner party to impress!
Farm-to-Table Summer Appetizers
A crudité made with local ingredients is an impressive appetizer to serve at your farm-to-table dinner. You'll definitely spend some time making your crudité, but once you set it up, your guests simply graze while you mingle. Crudité is a similar concept to charcuterie, but with different ingredients. While a charcuterie board is mainly meats and cheeses, a crudité is centered around fresh raw vegetables. All those fresh veggies is why crudité is so appropriate for a farm to table dinner menu.
Caprese salad skewers are a twist on a traditional Italian recipe that's always a crowd pleaser. This time of year they can be made with fresh farmers market ingredients and are a wonderful low-carb farm to table appetizer. Perfectly ripe cherry tomatoes combined with fresh basil and mozzarella, then drizzled with a homemade balsamic reduction. Yum!
Fresh summer berries and ripe cherry tomatoes are the inspiration behind these gorgeous summer bruschetta drizzled with balsamic glaze. These are the perfect summer farm-to-table appetizer to star at your farm to table dinner!
Farm to Table Summer Dinner Recipes
This summer quiche recipe is filled with fresh produce from the farmers market…ripe cherry tomatoes, eggplant and zucchini. And it's a gluten-free quiche because there is no crust. Quiche is a perfect farm to table menu idea for summer!
Friends, roasted rabbit is not complicated, but a surefire way to impress your guests. The first time I roasted a rabbit was last summer. I met a local farmer at a market where he was selling rabbits he raised on his small farm (for meat, not as a pets!). Years prior, my uncle had come to a family potluck with roasted rabbit and I had never forgotten how much I enjoyed this dish. Rabbit does not taste gamey at all and reminds me of chicken.

Grass-fed short ribs simmered for hours in a red wine and fresh herb sauce. To die for. Be sure to buy the ribs from a local farm so it's true farm-to-table. Here's how to find grass-fed beef near you and a list of the best places to buy grass-fed beef.
A whole roasted chicken laid out on a platter is a beautiful farm-to-table menu idea. Roasting a whole pasture-raised chicken is surprisingly easy, and it's a favorite dish of mine that I make once or twice a month. Fortunately there are many small farms here in the United States (and Canada) that raise pastured chickens, and they often show up at farmers markets.
This easy dinner recipe is made with fresh ingredients from the farmers market. Summer squash, tomatoes and onion are in season and abundant right now. And no matter what farmers market you attend, I hope you're able to find grass-fed beef from a local farmer. Grass-fed beef has such a clean light taste, it won't leave you feeling gross like fattier conventionally-raised beef often does.
If you need a vegan farm to table recipe, ratatouille is a great option. Most of the ingredients you need to make this healthy vegan dinner are available at the farmers market – tomatoes, eggplant, fresh basil, bell pepper and zucchini. Serve ratatouille with crusty artisan bread to sop up all the delicious juices!
Picture this – grass-fed beef from a local farm, perfectly grilled into juicy burgers topped with quick pickled onions and a homemade aioli! *drool* That's what you'll find in this recipe. Farm to table burgers on your own grill, what a treat! Grass-fed burgers pair really well with the sautéed green beans recipe I'm sharing in the next section.
Farm-to-Table Side Dish Menu Ideas
Heirloom carrots, also known as rainbow carrots, are a treat to find at summer farmers markets. Rainbow carrots look beautiful all on their own and this recipe takes them up a notch with a creamy homemade yogurt sauce. Like all the recipes I'm sharing, this heirloom carrot side dish is made with healthy whole food ingredients such as lemon, fresh herbs and yogurt. Roasted is the perfect way to enjoy carrots!
Sautéed green beans are one of my favorite farmers market recipes and a quick and easy side dish. Both green beans and garlic are abundant at farmers markets during summer, making this a perfect side dish for a farm to table dinner. You'll never boil a green bean again after trying my sautéed greens beans and garlic recipe!
This easy summer salad made with a variety of colorful heirloom tomatoes will be a hit at any farm to table dinner. Farmer's market heirloom tomatoes are topped with a homemade vinaigrette. This is another dish that will wow your guests…especially if they have only ever eaten round red grocery store tomatoes.
Blanched green beans with tomato and balsamic are a go-to summer cookout recipe in my home. If you'd like a cold salad to serve at your farm to table dinner this is the one I recommend. You'll impress your guests, and yourself, with this easy side dish!
This greek salad recipe is filled with fresh ingredients you'll find at the farmers market. It's topped with feta cheese, olives and a homemade greek salad dressing. There are lots of different versions of this dish but did you know that a traditional Greek salad does not include lettuce?
If you don't care for creamy potato salads made with mayo, this French potato salad recipe may be your next favorite thing. Pair new potatoes from the farmers market with fresh herbs and a dressing made from chicken broth and wine. This side dish will look stunning on your table. And without the mayo, you'll really taste the fresh flavor of new potatoes.
Summer squash is another one of those classic summer vegetables, and it makes a perfect side dish for a farm to table menu. For this easy recipe, a variety of summer squash and red onion are roasted with olive oil and herbs. They will shine in all their colorful, delicious glory on your table.
Sautéed beet greens are a delicious and easy way to use the beet tops found when you buy beets from the farmers market. And if you like beets, check out my roasted beets recipe and quick pickled refrigerator beets. These pair beautifully with the whole roasted chicken recipe I shared earlier.
Farm-to-Table Summer Desserts
Blueberries are abundant during the summer, and warm blueberry crisp with vanilla bean ice cream is a wonderful dessert to showcase them. Yum! These blueberries are sweetened with just a little maple syrup and topped with a sweet (but not too-sweet!) crisp that will make your mouth sing.
If there was ever a quintessential summer dessert, strawberry shortcake would be it. Fresh, soil-grown strawberries served on a delicious biscuit and topped with homemade whipped cream – I'm drooling already. This strawberry shortcake recipe includes homemade biscuits, but don't let that deter you, you can get yummy biscuits from a local bakery as well.
This farm to table dessert combines fresh summer raspberries and peaches with a sweet crumble topping. Alongside a scoop of vanilla ice cream, raspberry crumble is a wonderful summer dessert! If it were me making it, I'd dial back the sugar to anywhere from 1/4 to 1/2 cup. Taste the fruit filling with 1/4 cup of sugar and see if it's sweet enough before adding more sugar.
This is my blueberry galette recipe and if you like less sweet desserts I'm confident you-will-LOVE this one. It's one of the most delicious things I made – like OMG good! A galette makes a lovely dessert at a farm to table dinner party, and really suits the vibe if you're going for a rustic, french country feel.
A fruit bowl filled with local fruits is another good way to showcase what's in season during summer. And it's less work than baking a dessert! Be sure to only include fruits that you're able to source locally. This might include wild blueberries, strawberries, blackberries and peaches.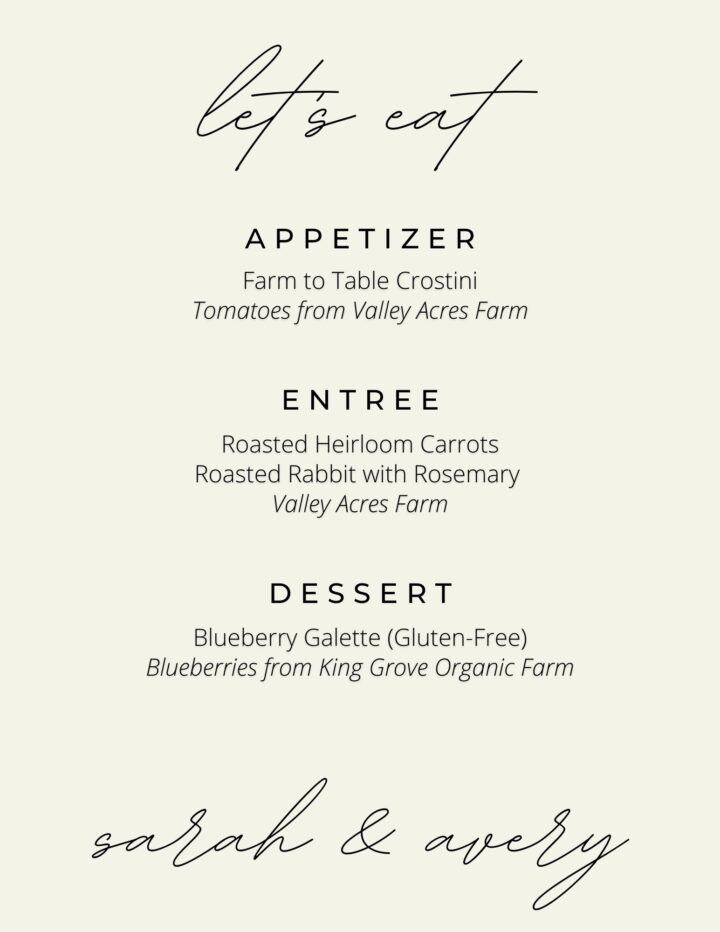 If you're interested in the farm to table movement and topics like it, check out my farmers market shopping tips and read about are farmers markets are more expensive than the grocery store.
Or for more like this I have a collection of fall farm-to-table recipes to try.
Have fun!