This roasted butternut squash recipe is easy to make and uses just three simple ingredients in addition to fresh squash. Olive oil, salt and pepper. That's it!
As a vegetable higher in sugar content, butternut squash caramelizes and browns beautifully when roasted, drawing out its natural sweetness. There is no need to add brown sugar or maple syrup to this butternut squash recipe.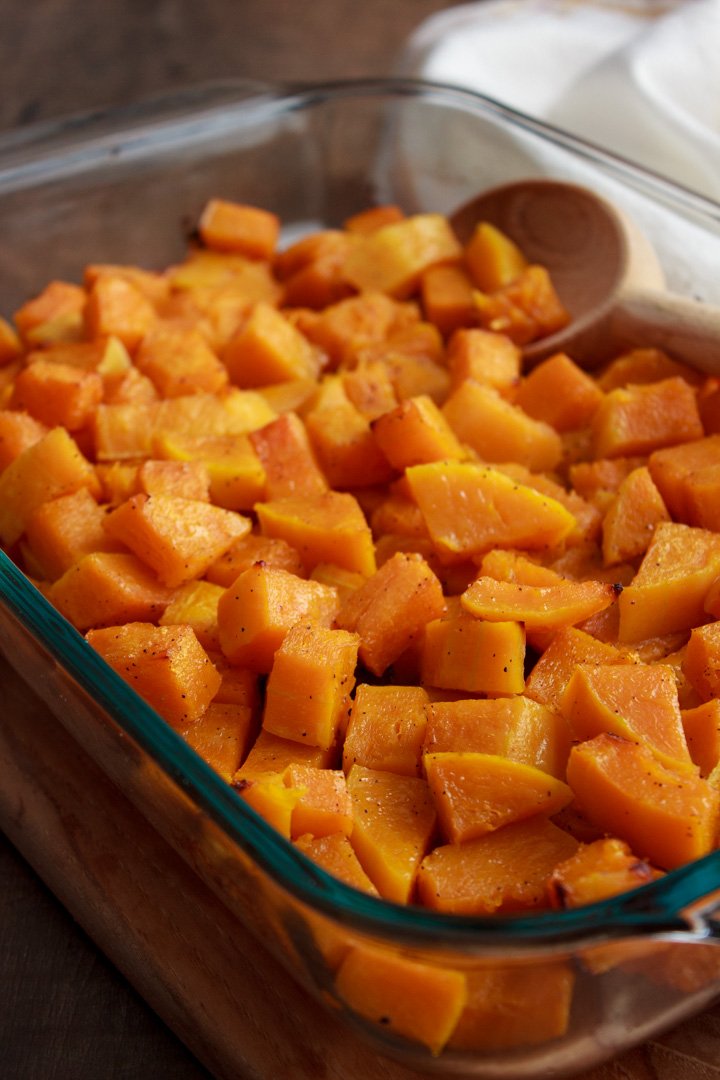 For a couple months every year, bins filled with butternut squash are a common sight at the farmers market I go to.
Butternut is a hardy winter squash that grows well in the United States. So you should be able to find fresh butternut squash at your farmers market when they are in season.
As the butternut squash season comes to an end, I always buy a couple extra at the market. I can't think of anything that keeps better than a winter squash. They're a great veggie to stock up on and extend your 'fed by the farm' season.
I've had butternut squash in my pantry for as long as two months before I finish them all, and I'm confident they'd hold on even longer if I didn't eat them first!
The Best Way to Roast Butternut Squash
Though roasted butternut squash is a simple side dish to make, the prep work is labor intensive. To save time, I'll show you the easiest way to peel and cut butternut squash.
If you'd rather just slice it in half and cook it whole in the oven, check out my post about how to cook butternut squash in the oven.
If you've ever cut up an acorn squash, don't worry, butternut squash has thin skin and is a heck of a lot easier to cut and prep!
Start by preheating your oven to 425 degrees.
For this recipe I'm roasting a 3 pound butternut squash. But you can use any size. If your squash is larger or smaller be sure to adjust the cooking time and seasonings up or down.
1. Peel the squash
The easiest and best way to peel a whole butternut squash is to start by cutting it in half, lengthwise.
Then lay one of the halves cut side down on your cutting board. Hold onto the end of the squash and use a sharp vegetable peeler to peel long strips of skin like you can see in the photo below.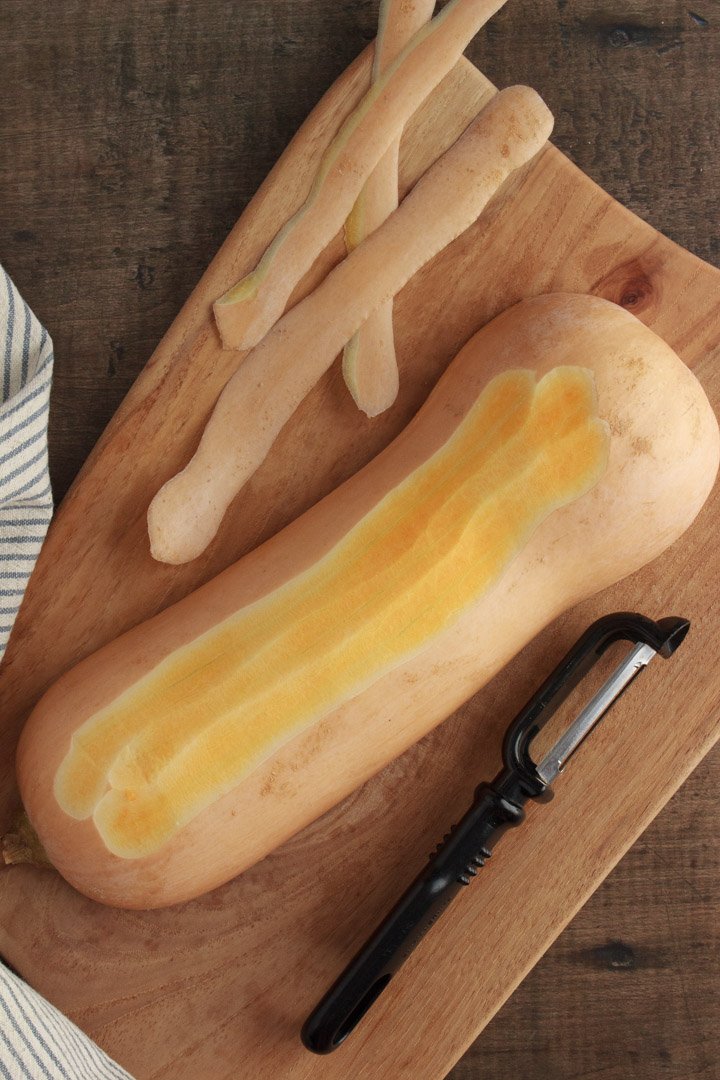 The secret to easily peeling a butternut squash – The secret is in cutting it in half lengthwise and setting the squash flesh side down to peel. If you try to peel the butternut squash without cutting it in half first, it's awkward to hold and harder to get those long strokes with the peeler = it takes a lot longer to peel.
When to stop peeling: You'll notice that as you peel off the first layer of skin there's a pale yellow layer underneath. It's not necessary to keep peeling more layers until you see the bright orange flesh. If you want to, you can, but it just adds to your prep time and that tiny layer of lighter flesh won't impact the taste.
One you're done with the first half, peel the second half. Then, use the edge of a soup spoon (or ice cream scoop) to remove the seeds and stringy bits from the squash halves.
2. Cut the squash
Again, lay the butternut squash flat side down on your cutting board for this. Using a sharp knife, remove the ends of the squash then cut the squash into 1-inch cubes. Place the squash cubes in an un-greased 9 x 13 roasting pan.
This makes a lot of squash so I use a glass roasting dish that has deep sides. Ensure the roasting dish is large enough that the squash fit in a single layer or two.
3. Season the squash
Once all the squash is cut and in your pan, season it with the olive oil, salt and pepper. Toss well to coat every piece of squash.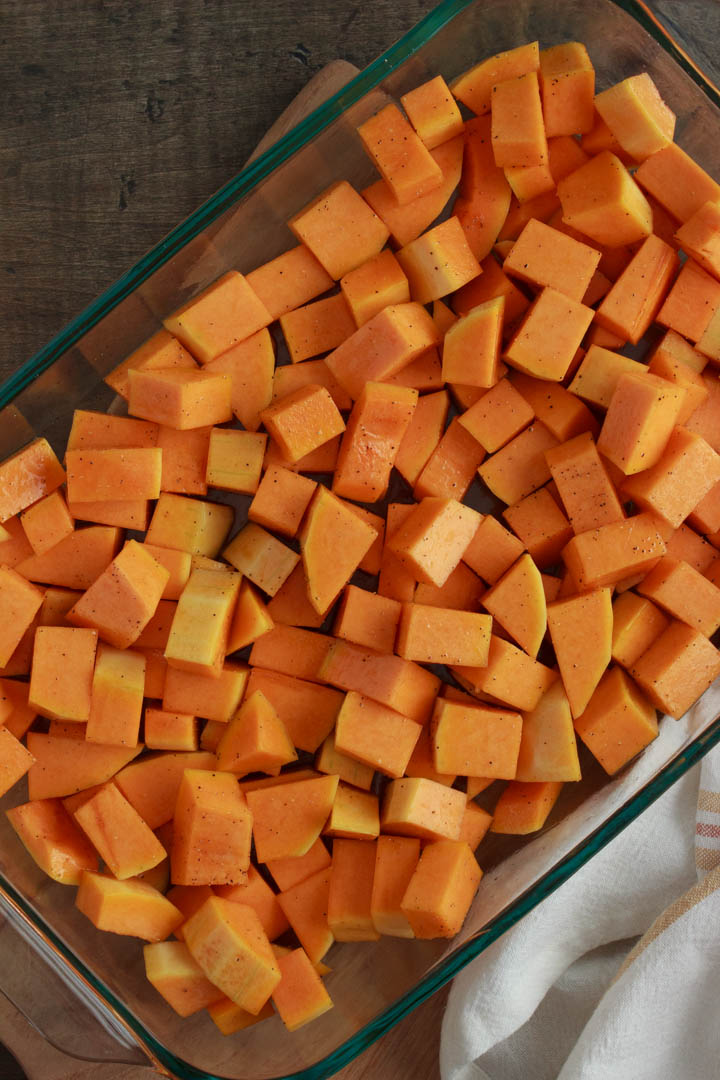 The seasoning measurements are in the recipe card below. Be sure to adjust based on the size of the squash and personal taste. The first time you make this I suggest starting with half the salt and pepper before you roast the squash, and add the rest to taste after it's done roasting
4. Roast the squash
Roast the butternut squash uncovered in the oven for 40 to 50 minutes until the edges turn golden brown and the cubes are very fork tender. Stir once halfway through cooking to prevent the bottom of the squash from burning.
The required roasting time will vary depending on the size of your cubes of butternut squash. I suggest checking at 35 minutes for doneness, then every 5 minutes until it's browned to your liking. My 3 pound squash took 40 minutes to cook.
I once roasted a huge 4.7 pound butternut squash and it took 1 hour and 25 minutes.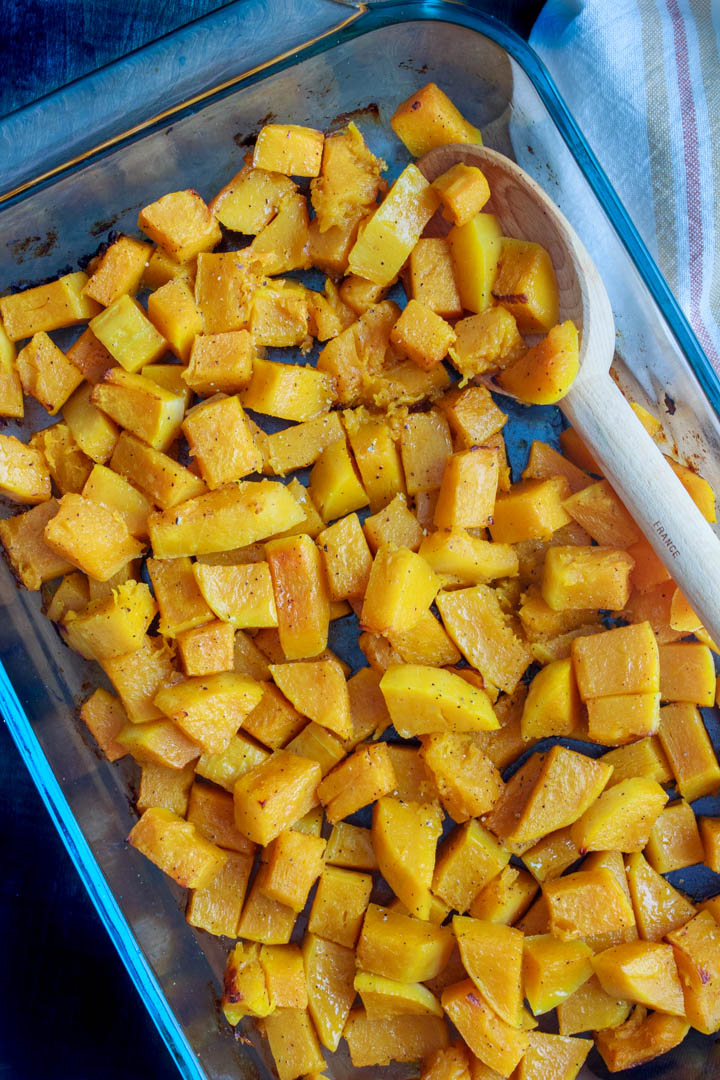 Store left-overs in an airtight container in your fridge. Roasted butternut squash reheats well in the microwave or on the stovetop, giving you a few days of this delicious side dish.
What to Serve with Roasted Butternut Squash
Roasted butternut squash is a healthy and delicious side dish to serve alongside your favorite meat, such as pork chops, chicken, ribs or just about anything if you live in my house.
This is also the perfect recipe to serve as part of a farm-to-table thanksgiving dinner.
And if you like butternut squash soup – be sure to check out my 3-ingredient butternut squash soup recipe.
FAQ: Butternut Squash
When is butternut squash in season?
Butternut squash is planted when the soil is already warm, and harvested at the end of the growing season. In most of the Unites States you'll see it cropping up from late August into the fall. In Florida the butternut squash will start appearing at the farmers market around January until May.
What does butternut squash look like?
Butternut squash come in a variety of sizes and somewhat varying shapes – but generally they'll be oblong with a wider bulb at the bottom.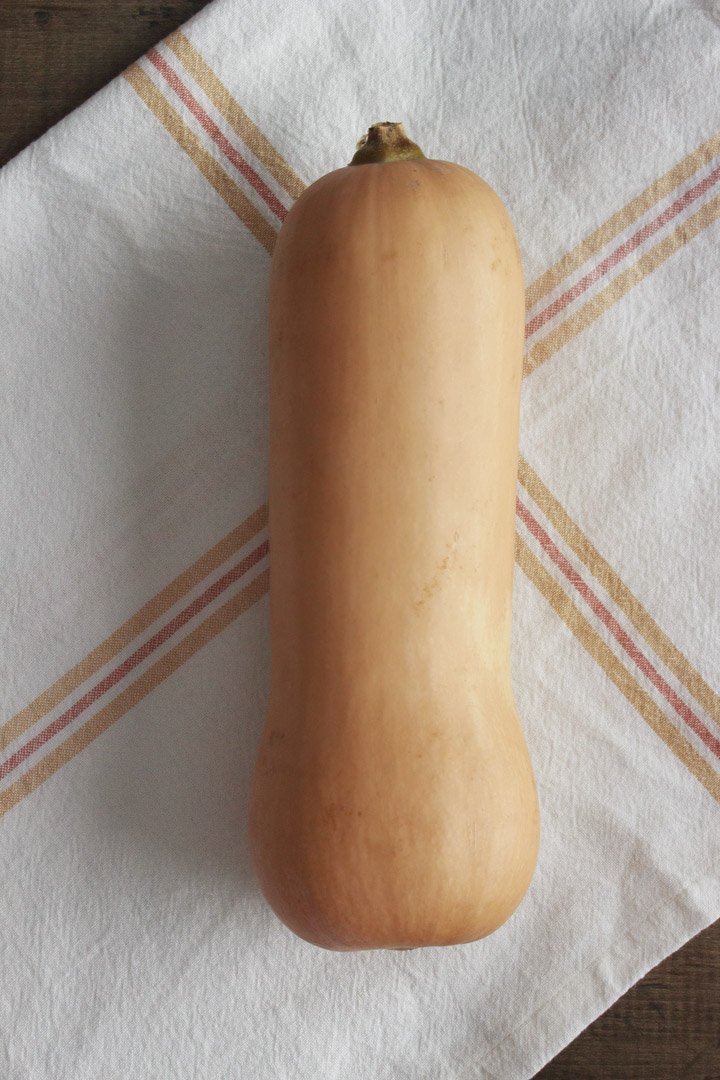 The bulb contains some flesh and a small hollow center where you'll find the seeds and stringy bits.
The neck, or long section of a butternut squash, is solid squash. So, the larger the neck the more squash you'll get… and the easier it will be chop up by the way!
That's why I chose this squash in the photo above.
How do you know if a butternut squash is ripe?
The outer skin of a ripe butternut squash is a warm matte beige color. If the butternut squash appears yellow or has green tones, it's not ripe yet. If you tap the outside of the round part of a butternut squash with your knuckle it will sound hollow when ripe.
When you cut into a ripe butternut squash the flesh is a deep, bright orange. The longer the squash sits in your pantry between being picked and being cut, the more stringy the bulb area will be.
Can you eat the skin of a butternut squash?
As it's part of the winter squash family, butternut squash has a tough inedible skin.
What is the texture of butternut squash?
The flesh inside an uncooked butternut squash is very firm and requires cooking before eating. When cooked, butternut squash is very soft and similar to other winter squash such as acorn. The longer you cook it the softer it will get.
How long will a butternut squash keep before going bad?
I've had butternut squash from the farmers market stored in my kitchen pantry for as long as two months without any issue. All signs of ripeness, including color and taste, are still there when I cook them. I'm confident I could keep them in the pantry even longer if it came to it.
How should you store butternut squash?
A whole, uncut butternut squash can be kept on a shelf in your pantry, or any place out of direct sunlight. Do not store them in the fridge, unless they've been cut.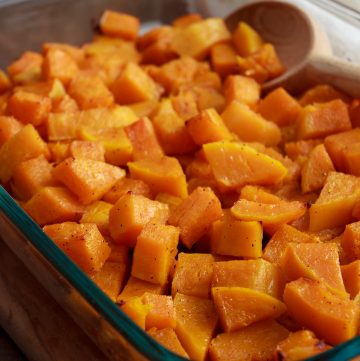 Easy Roasted Butternut Squash Recipe (without sugar)
This roasted butternut squash recipe is easy to make and only requires three ingredients in addition to the squash. Olive oil, salt and pepper. That's it!
Butternut squash caramelizes beautifully when roasted because of its natural sugars. There is no need to add brown sugar or maple syrup to this delicious side dish.
Equipment
Vegetable Peeler

13" x 9" baking dish
Ingredients
3

lb

butternut squash

1.5

tbsp

extra-virgin olive oil

1/8

tsp

salt

1/8

tsp

black pepper
Instructions
Preheat the oven to 425 degrees.

Slice the squash in half lengthwise top to bottom. Remove the seeds and pulp from the bulb of the squash.

Lay each half of the squash cut side down on the cutting board and peel it using long strokes of a sharp vegetable peeler.

Slice the peeled butternut squash into 1-inch cubes and spread in an un-greased roasting pan.

Season with oil, salt and pepper and toss to coat well.

Roast on the middle rack of your oven for 40 to 50 minutes. Butternut squash is done when the edges start to brown and the pieces are very fork tender.
Notes
I used a 3 pound butternut squash for this recipe. Adjust the seasonings up or down if your squash is larger or smaller. I suggest starting with half the salt and pepper before roasting and add the rest to taste when it's done cooking.