These "I'm thankful for" free printables make a fun Thanksgiving activity for families and friends this time of year.
I had the idea to design these Thanksgiving printables after a friend told me she was looking for a gratitude activity to do on Thanksgiving Day. So I created these free printables for her, and to share with you as well.
Thanksgiving is a time for connecting and remembering what we are grateful for and "I'm thankful for" printables are a fun way to bring that idea home. And it's not just for the kids, adults will enjoy this activity as well. Expressing gratitude feels really good.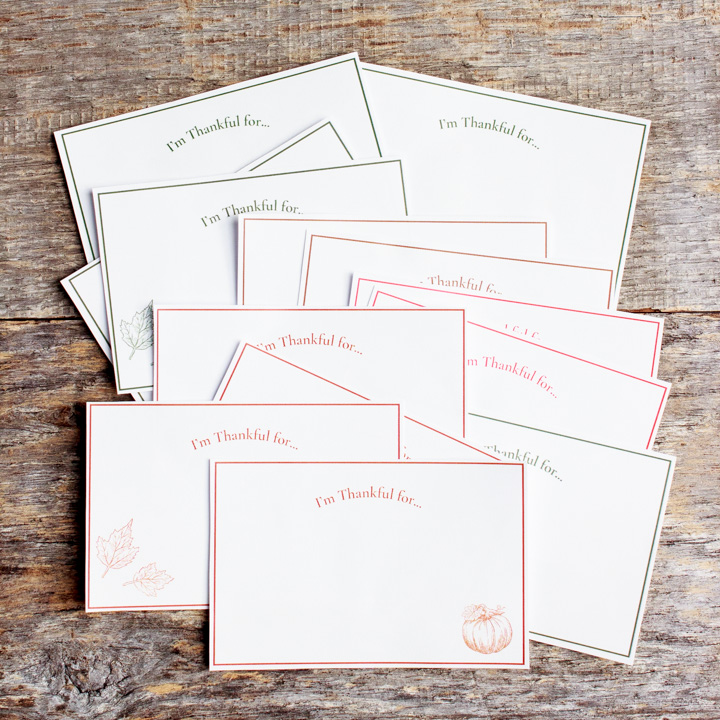 Scroll to the bottom of the post for a link to download the free printable PDF…and you won't need to provide your email address for access.
Then simply print out the pages on regular paper, or white card stock, and cut out each of the 8 little thankful cards that are on each page.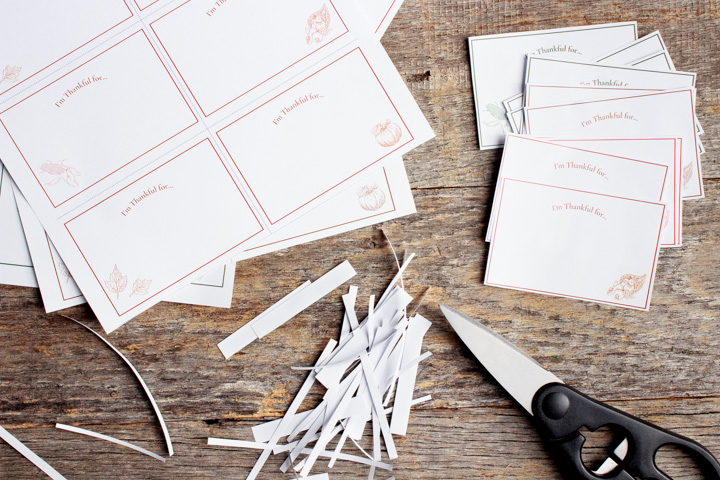 These free Thanksgiving printables are designed in four different fall colors (plus black and white). Feel free to print all of the pages, or only those pages with the colors you want to use.
"I'm Thankful For" Gratitude Activities
If you're looking for gratitude activities for your family or classroom, here are some of the best ways to use these printables.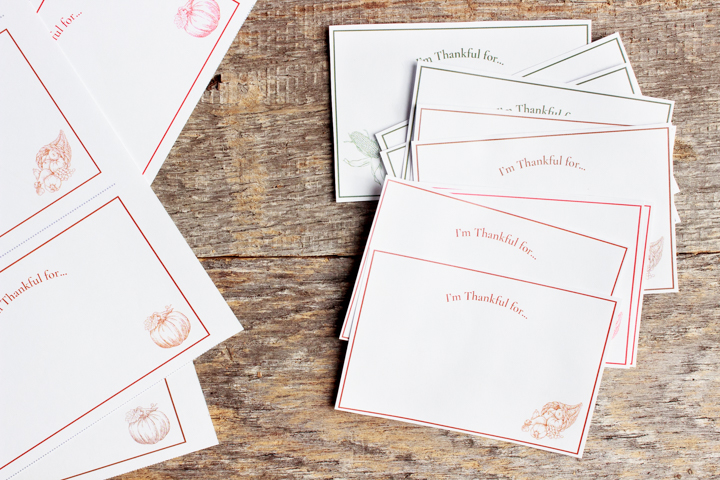 1. Create a Thankful Tree
This is a perfect activity for kids of all ages during the month of November. Print and cut out a few pages of the thankful printables. Get out your colored pencils, crayons, a single hole punch and some pretty ribbon or twine.
Younger kids can draw (or write if they are old enough) something they are thankful for on each card.
Tie a piece of ribbon to each little note of gratitude and hang them on a small tree in your house (or classroom) that you'll call the Thankful Tree.
Or draw a large tree without leaves on a piece of poster board from the Dollar Tree. Use glue sticks to attach the "I'm thankful for" notes to the branches.
Leave the tree up until after Christmas as a great reminder of gratitude during the holiday season.
2. Thanksgiving Table Gratitude Activity
Your entire family and friends can share in this activity around the Thanksgiving dinner table.
Family members each fill out a few "I'm Thankful for" cards. The little ones can draw, and older children and adults can write (or draw if they prefer!).
Go around the table giving each person a chance to read out their list of things they're grateful for.
This idea can also be combined with the Thankful Tree idea explained above.
3. Thankful Photo Album or Scrapbook
This is a great way to save reminders of gratitude from your whole family.
Give everyone a chance to fill out some of the "I'm Thankful For" printables on Thanksgiving Day. Ask them to include their name on each one.
Compile all the notes of gratitude into a thankful photo album or scrapbook. It's a great keepsake filled with memories you can go back to year after year.
4. Gratitude Garland
Gratitude garland is a fun activity for classrooms and younger children during the Thanksgiving season.
Print out a few copies of each page and cut out the little thankful cards. Use a single hole punch to put a hole in the top left and top right corner of each printable.
Children draw one thing on each card that they are thankful for. The teacher, or assistant, then strings all the notes together into gratitude garland to hang around the classroom.
5. Gratitude Advent Calendar
This Thanksgiving activity involves a reverse advent calendar. Instead of taking something from the calendar each day, we're adding something to it.
This is fun idea to do at home with younger kids. Parents may choose to make a gratitude advent calendar for the week leading up to Thanksgiving, or for an entire month.
If you're making a week long advent calendar, draw seven little rectangles in the same size as the cards on a piece of construction paper. Kids will draw something they are thankful for each day and stick it to the calendar.
To do a month long gratitude calendar, you'll need a piece of poster board. This is a great way to cultivate an attitude of gratitude by making gratitude a daily habit in your children's lives.
6. Thankful Worksheet
Here's a simple way to use these "I am thankful for" printables. Rather than cutting out each individual gratitude note in the PDF file, you can use the entire page as a thankful worksheet.
Teachers can use this idea, or parents looking for Thanksgiving activities to do with their kids at home.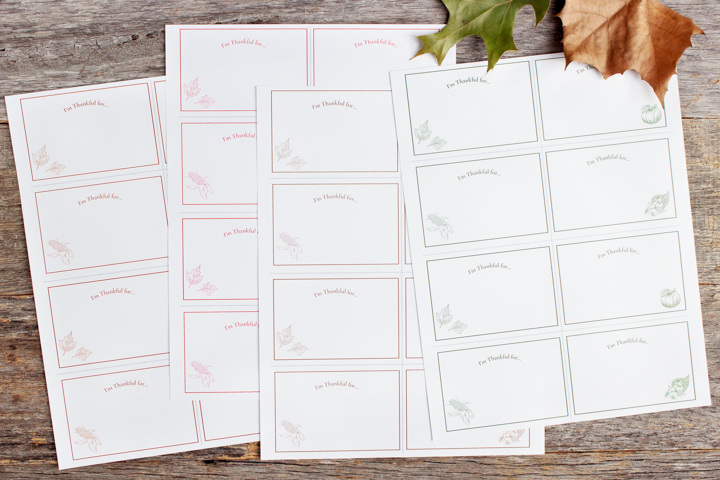 Download Free Thanksgiving Printables
Download the Free Printables PDF (for personal use or classroom use only)
Happy Thanksgiving!
Sara @ Fed by the Farm