Welcome fellow food explorer! I'm glad you're here.
My journey to a closer connection with my food began shortly after I graduated from University. I was looking for a live abroad experience in France and found a job there teaching English. Within a matter of weeks I moved out of my apartment, put my belongings in storage and flew across the pond.
Life in France
I spent my first two months abroad living with a retired French couple in a small village in eastern France.
The French take so much pride in their culture and their food, and the couple I lived with was no exception.
Gerard and Sophia had two egg-laying hens, a garden in their expansive yard, and sourced most of their food from a local bakery and outdoor market. Dinner always included a cheese course and boy did they love to chat about their food, their culture and mine.
A few times a week Gerard and I would head out to buy just enough meat, cheese and bread to last a couple days. Their village had a regular outdoor market where we could get meat from local farmers and hand-made cheese. Count on the French to prioritize eating well!
We'd then stop by the boulangerie (bakery) to pick out a baguette or loaf of bread to enjoy with dinner.
Meals were simple, delicious and cooked from scratch. That was always the most amazing part to me – how the best soups I've ever had, and the most delicious salads, could be made with so few ingredients.
"It's because the ingredients are so good", Gerard would say with pride while gesturing to his garden. He often wondered what the heck we must be eating over in North America!
I learned so much about food during that time and returned home with a notebook full of hand-written recipes.
Returning home to North America
In the years that followed, I always considered myself a healthy eater and continued to take an interest in my food – but I was disconnected.
Fast forward to mid-2020. Cooking had become drudgery, the thing I did in order to be able to eat, but without enjoyment.
A life-changing vacation
In September of that year I took a vacation to the Pacific Northwest and spent a couple nights at a cute bed and breakfast near the Skagit Bay in Washington state.
Each morning the owners would make breakfast, and they were big on locally sourced foods. There was always greek yogurt served from mason jars and made by a friend of theirs. Blueberries picked from a field just up the road. Homemade granola, and eggs from their neighbor's hens.
I found the whole experience alluringly quaint – in the best sense of the word. Their appreciation of locally-sourced food reminded me of my time in France all those years ago.
I envied them for having so many options and wondered if the same existed where I live in Florida. So I vowed to start searching when I returned home!
My eating life has never been the same.
Connecting with my food
With the help of the Internet, local food bloggers like Kristin at Live Simply, and directories such as LocalHarvest.org, I was able to find many sources of locally-grown and raised organic food.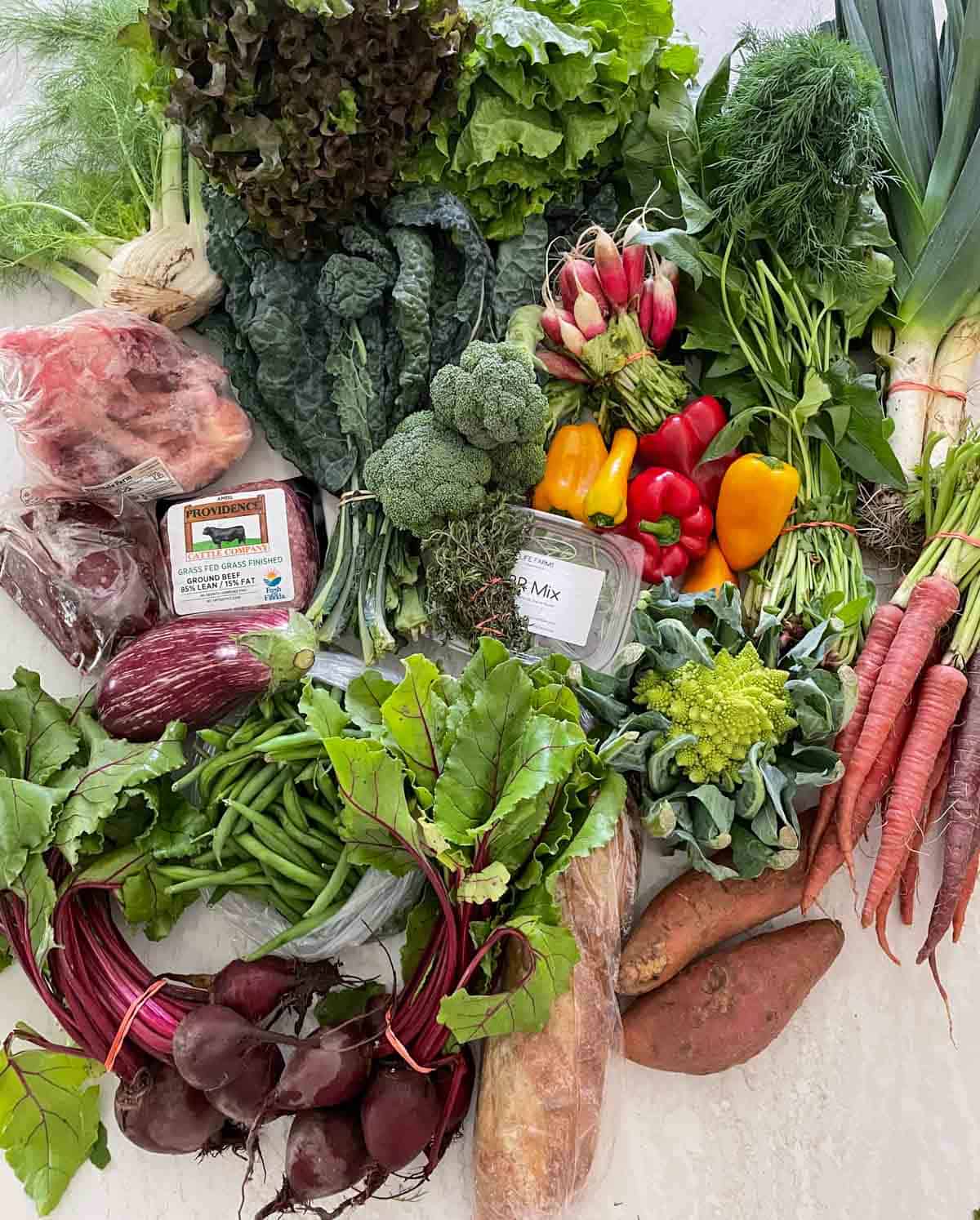 I started going to a large outdoor farmers market every weekend where three different organic farms from my area of the state bring their harvest to sell.
There I could buy enough veggies for the week, eggs from families who raise their own hens, local honey, pasture-raised meats, goat cheese from a goat farm just a few miles down the road from my house, freshly made sourdough bread and more!
And I noticed something one day. All of the sudden cooking was no longer drudgery. It became something I really enjoyed.
All of the sudden cooking was no longer drudgery. It was something I really enjoyed.
Being more connected to the food I was buying and cooking, meeting the farmers, washing the dirt off the lettuce (a reminder that it was picked from the soil hours just hours before) – changed not just cooking for me, but the entire experience of eating.
Cooking, and especially sourcing ingredients for the food I cook, is now one of my most favorite things to do.
I call this my journey to being fed by the farm, but it's a never ending one. I'm always learning and exploring and invite you join me.
What You'll Find at Fed by the Farm
Simple recipes that showcase whole food ingredients sourced from local farms (farm-to-table meals you can make at home).
Although I grew up in Canada, I've lived in southwest Florida for about 8 years. The farmers market season here lasts from October until the end of June. During summer I travel to North Carolina and Canada- shopping farmers markets along the way and cooking meals that I'll share here.
Let's dig in!
Sara