I think we would all agree that whole food is healthier than processed food. But, why is whole food healthier, and does it really matter that much?
If you're trying to change your eating habits, a little reminder and some scientific evidence can be encouraging.
Keep reading as I go through the health benefits of whole foods, what whole food is and where to buy it.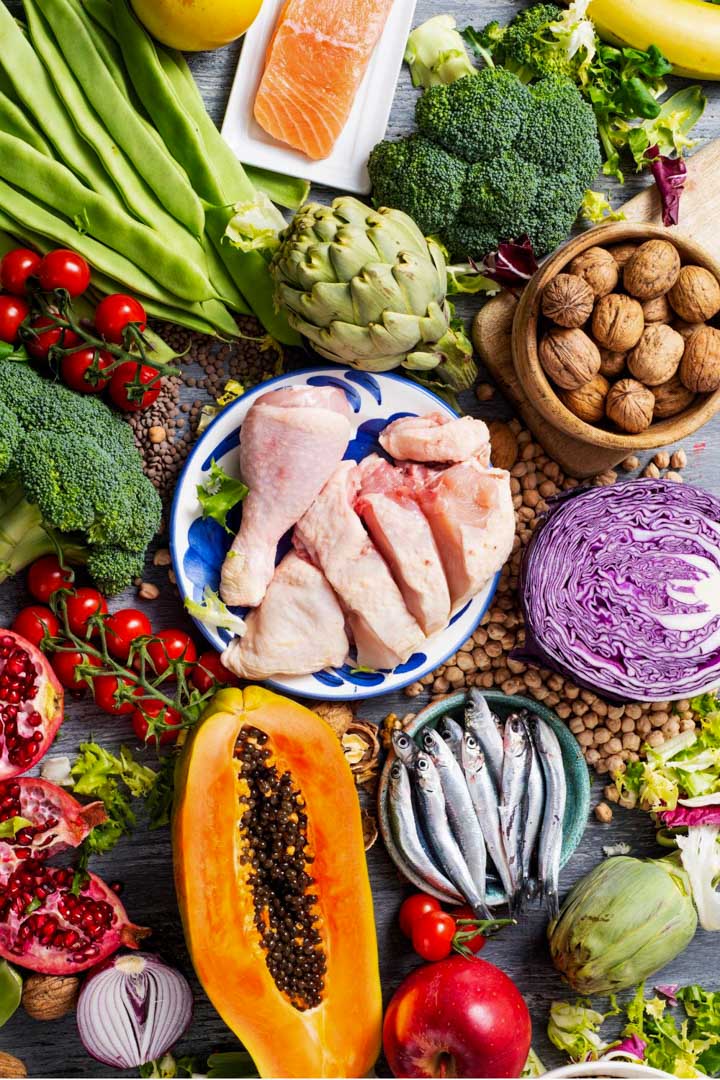 Let's start with, what is whole food? Whole food exists in its natural state – nothing has been added, taken away or altered to create whole food. If it has an ingredient list, it's not a whole food.
If it has an ingredient list, it's not a whole food.
Whole foods are in contrast to the processed foods that fill many kitchen pantries and freezers across the country. Here are some examples of whole foods, and a processed alternative:
Real mashed potatoes – vs – dried potato flakes in a box
Chicken breast – vs – chicken tenders from the freezer aisle
Steel cut oats – vs – boxed breakfast cereal
A peach – vs – canned peaches packed in syrup
Real turkey breast – vs – turkey lunch meat
Yogurt topped with fresh raspberries – vs – flavored yogurt
A filet of haddock – vs – a fish stick
Fresh herbs – vs – a packet of soup mix
If whole foods are healthier and more nutritious, our bodies are missing out on important nutrients when we consume more of the processed version.
And if processed foods are also unhealthy, we are doing double the disservice anytime we consume processed food instead of whole food.
Certainly, processed food is convenient in the moment, but it's not real food. And let that sink in for a minute…
Processed food is not real food.
Now let's dive into the reasons why whole food is healthier. That's why you're here after all.
Why Whole Foods are Healthier
1. Whole Foods Do Not Contain Additives
By additives I mean added ingredients. And these additives are all-to-often, not healthy or downright toxic. Whole foods do not contain added ingredients such as preservatives, corn syrup and artificial colors and flavors.
Common food additives in processed food include:
Salt – excessive salt has been linked to stomach cancer and high blood pressure
Monosodium glutamate (MSG) – inflammatory and a proven neurotoxin, to name a few
High-fructose corn syrup – increases your risk of fatty liver disease, among other pitfalls
Nitrates and nitrites – a clear link has been found to bowel cancer
Food dyes – some of which are carcinogenic, aggravates ADHD in children
Artificial flavors – chemicals that mimic the flavor of real food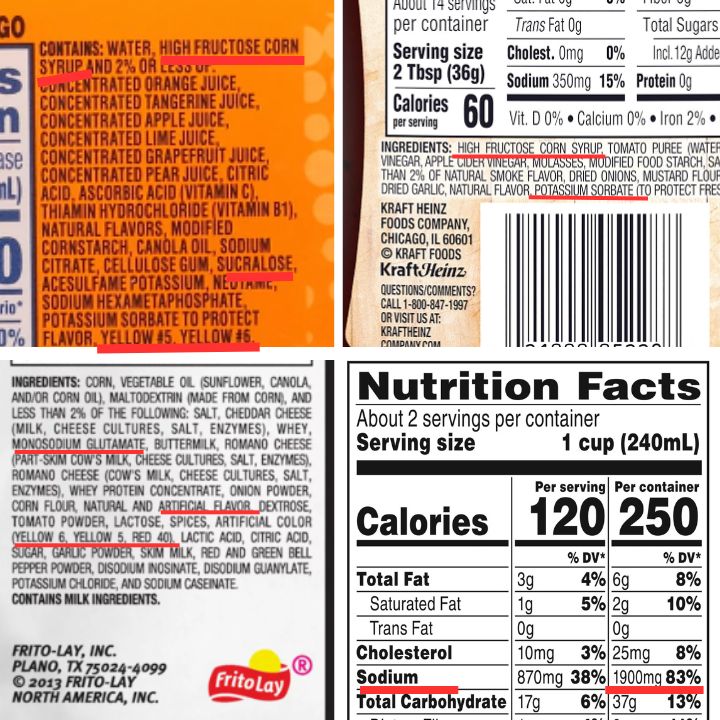 Avoiding the unhealthy ingredients that are added to processed foods is one reason why whole foods are healthier. Another reason is because of what hasn't been removed from whole foods. Keep reading to find out what I mean.
2. Whole Foods are More Nutritious
A whole food is one that has not been altered from its natural state – nothing has been removed. The difference between whole wheat flour and white flour makes a great example of this.
Let me explain.
A grain of whole wheat has its bran, germ and endosperm intact.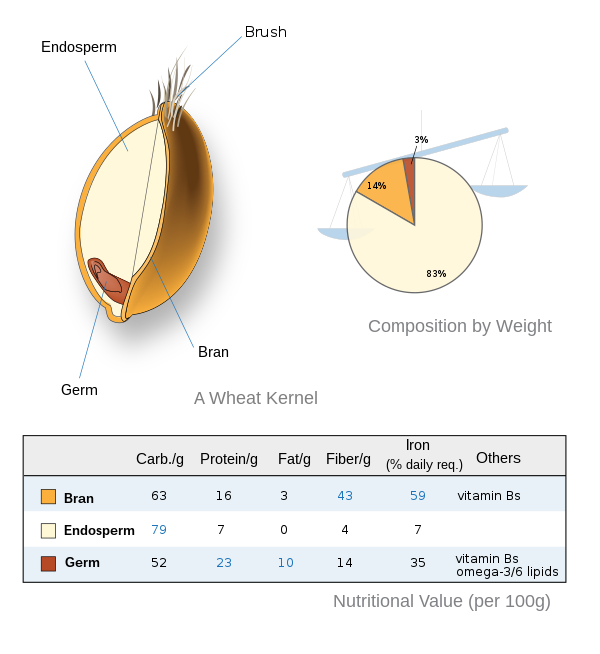 Whereas, white flour is made by removing the wheat bran and wheat germ from the whole grain before it is ground into flour.
White flour is therefore not a whole food as it consists of just the endosperm of the grain. As you can see in the table above, the endosperm is the least nutritious part of a grain.
And it's not just fiber, iron and B vitamins that are missing from white flour. The majority of other minerals, especially magnesium and zinc, are removed when whole wheat is processed to make white flour.
Consuming whole grains is good for your health and substantially lowers your risk of type 2 diabetes, coronary heart disease, and hypertension.
In addition to minerals, whole foods contain more natural vitamins than their processed counterparts. This is why some processed foods (like bread and juice) are "fortified", because so much was taken away.
3. Whole Food Requires More Energy to Digest
One reason why people who eat whole foods tend to lose weight whereas people who eat a lot of processed food tend to gain weight is because whole foods take more energy to digest.
One hundred calories of processed food results in more net calories than 100 calories of whole food. If you want to take a deep dive, read this research review about digesting whole food versus processed food.
One hundred calories of processed food results in more net calories than 100 calories of whole food.
4. Whole Foods Do Not Contain Added Sugar
Sugar naturally occurs in many whole foods (ex. fruit, sweet potatoes). BUT, whole foods are also high in fiber and protein which work together to slow down how quickly the sugars are digested. This natural dance keeps your blood sugar levels more stable when you eat whole food.
On the other hand, added sugars found in processed food give your blood stream a more direct hit which spikes your blood sugar and causes problems.
Research has shown that eating too much sugar is a major cause of obesity, high blood pressure, atherosclerosis, heart disease, acne and more. There's also a very strong link, found in multiple studies, between sugar and all sorts of cancers.
Now that you know why whole foods are a healthier choice, let's talk about some great places to buy whole food.
Where to Buy Whole Food
1. The Farmers Market
My favorite place to buy whole food is at the farmers market. If you live near a true farmers market, it's a great place to find:
local, organically-grown vegetables
pasture raised meats
farm fresh eggs
raw honey from local beekeepers
mushrooms
sourdough and other homemade bread
fresh herbs
and more!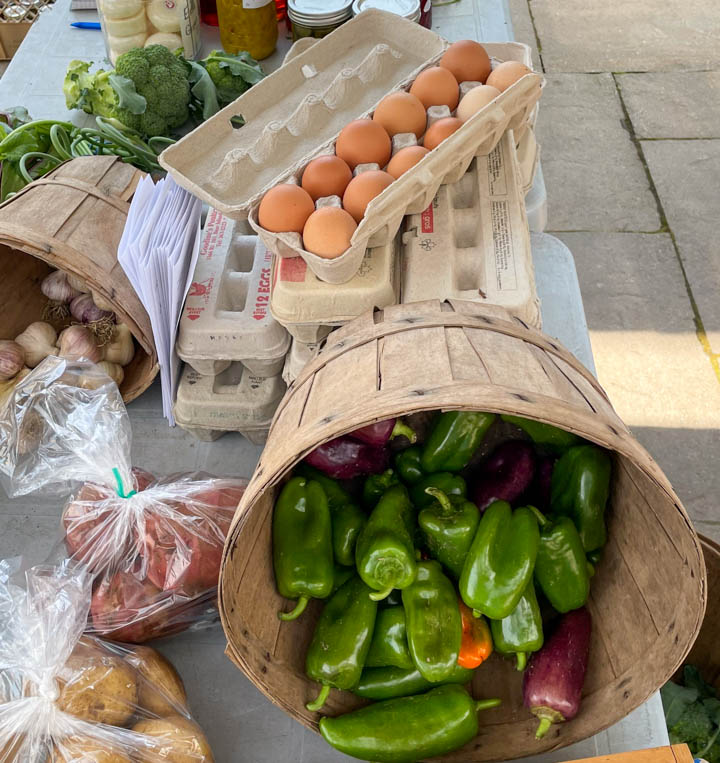 Every farmers market is different, but the above are common finds. Check out the National Farmers Market Directory to find a farmers market near you.
2. Directly from a Farm
If you're lucky to live near an organic farm, you might be able to buy whole food directly from them if they have a farm store. I dive into this more in an article I wrote about where to buy farm fresh food and another about how to buy farm fresh eggs.
3. Local Market Stores and Butchers
Another place to find whole food is at local market stores and butchers. These are much smaller than a grocery store and tend to focus on selling fresh foods like fruits, vegetables and meat, with less space allocated to processed foods.
4. The Grocery Store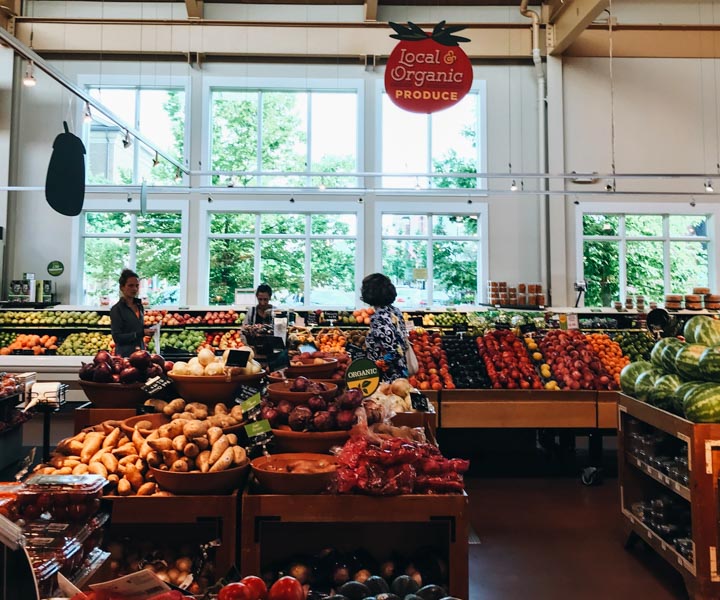 Shopping the perimeter of a grocery store is also a good way to find whole food and avoid processed food. The meat and produce departments are on the perimeter of the grocery store, whereas processed foods fill the inner aisles.
To avoid temptation, steer clear of any aisles that don't contain something you absolutely need.
Final Thoughts
The most important part to remember is that whole foods are healthier because there is nothing added and nothing taken away. Eating a diet that consists primarily of whole foods puts YOU in control of what goes into your body – including how much sugar, artificial color, salt, corn syrup and other additives.
Eating whole foods is also a great way to ensure you're getting the maximum nutrition from your food.
Yes, it does require cooking more from scratch, and here at Fed by the Farm I have a growing collection of simple whole food recipes that you can cook and enjoy at home.
My experience was that, as I cooked more from scratch, I actually enjoyed it more! Cooking had been drudgery, but as I became more connected to the food I was eating and began shopping at the farmers market – I started to really LOVE cooking.
I tell you that as good news – even if the thought of cooking MORE OFTEN makes you groan now, you may find that the whole experience of connection makes it more enjoyable.
Cheers to your health!
Sara