During the growing season I buy most of my meat and produce at the farmers market. As someone who has been regularly shopping at farmers markets for years, I know a thing or 15 about farmers market shopping tips!
Not only do I shop at farmers markets all winter in Florida where I live, I travel throughout the United States and Canada during summer, shopping farmers markets along the way.
I consistently discover the best tasting and freshest produce when I buy directly from small farms near me…and the farmers market is a great place to find them!
I'm not a journalist who has researched this article, I'm a seasoned farmers market shopper. Keep reading for my best farmers market shopping tips before you go!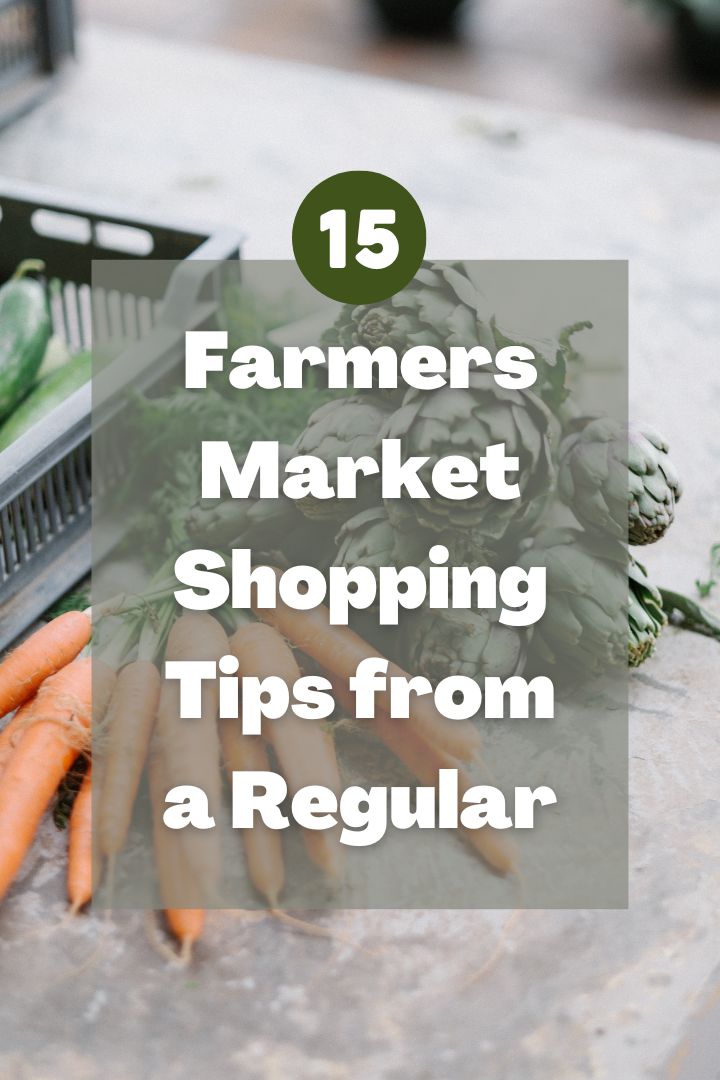 15 Farmers Market Shopping Tips
1. Know How to Recognize the Real Farmers
Knowing how to tell the difference between real and fake farmers is my number one farmers market shopping tip.
Though you might expect that all the vendors selling produce at the farmers market are actual farmers, this is not the case. At some farmers markets, produce wholesalers and resellers also show up to sell.
Buying produce from a wholesaler or reseller is similar to buying from the grocery store. In fact, the wholesalers are often selling the produce that grocery stores didn't want. And there is nothing wrong with this, it just may not be why you went to the farmers market.
I wrote an entire article about how to spot fake farmers at the farmers market that I recommend checking out if you'd like tips for recognizing real and fake farmers.
2. Find a Real Farmers Market
A quick online search for "farmers markets" will pull up a lot of results that aren't actually farmers markets in the traditional sense. Unfortunately, "farmers market" has become a marketing term used to label everything from small grocery-like stores, to roadside produce stands operated by produce resellers.
When I'm traveling and looking for a real farmers market, a dead giveaway that an online search result is a retail store is if they are open all week.
For the most part, a true farmers market is open one day or evening a week. Farmers will show up with that week's crop to sell as much of it as they can.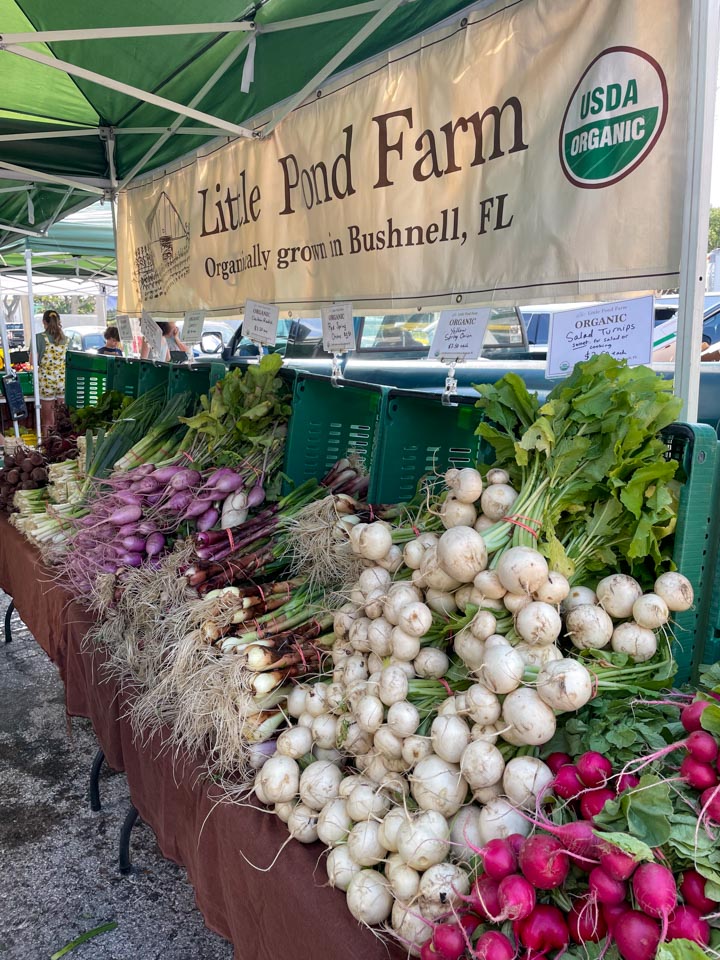 I recommend using the National Farmers Market directory to find real farmers markets near you.
3. Bring Your Own Bags (2 kinds!)
Be sure to bring your own reusable shopping bags when you go the farmers market. In my experience, not all farmers market vendors provide bags, especially the farms.
In addition to larger shopping bags that hold many things, it's also helpful to have small produce bags. They will be used for small loose items, such as cherry tomatoes and green beens.
Those small bags also help keep your reusable shopping bags clean. Farmers market produce doesn't receive a spray down with water and bleach like the veggies at the grocery store. In other words, the produce I buy at the farmers market tends to come with the some of the dirt it grew in. 🙂
I have a growing stash of small plastic bags that I store my produce in. I rinse and reuse them week after week.
4. Bring Cash in Small Denominations
Just in case you want to buy from a vendor that isn't set up to take cards, it's a good idea to bring cash.
Do I notice many cash-only vendors at the farmers market? Nope, these days most of the vendors I encounter accept credit cards, but I know some that do not. The main farmers market where I shop also charges $5 to park (they are in a large city) and parking is cash only.
Even if the vendor accepts cards, paying with cash is a nice way to ensure your money goes directly to the farm and not credit card processing fees (which are as high as 3.5%!).
5. Go Early for Best Selection
Regular farmers market shoppers know the best pick of produce is as soon as the doors open. This is when the hardcore farmers market shoppers tend to show up to snag the best of the harvest.
When I say best, I'm talking about two things here.
Availability: If a farm was only able to harvest a dozen heads of cauliflower this week they will sell out quickly.
Quality: When you go to the farmers market early in the day, you get to pick from everything. When you go late in the day the best has been picked through.
6. Do a Lap Before Buying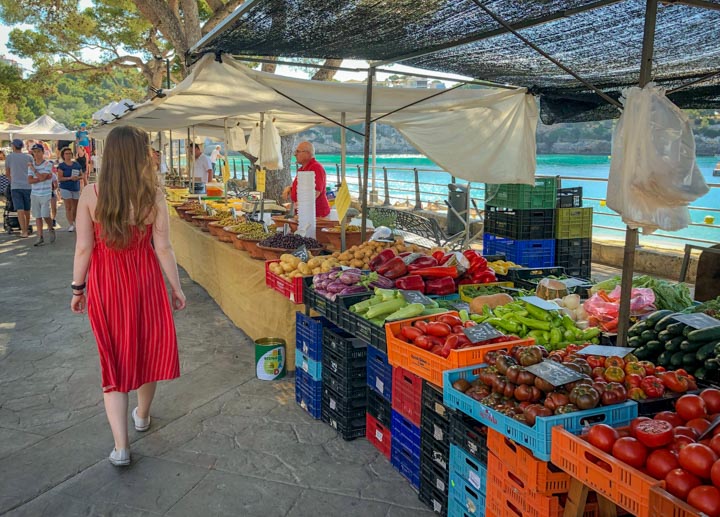 Whenever I go to a new farmers market I always do a lap or two before buying anything. This is helpful for scouting out what's available, checking prices and seeing what's freshest and where.
At my home farmers markets I know who sells the freshest produce, and I go to them first. But I sometimes still do a lap to check things out.
7. Ask the Farmers for Cooking Tips
When trying a new cut of meat, or a vegetable I'm not used to cooking, I'll often ask the farmer selling it how they like to cook it.
I've gotten really great advice and delicious ideas this way! For example, it's how I learned how to blister shishito peppers and where I got the idea to pan-fry pioppino mushrooms and serve them on toast.
Sometimes nearby shoppers who overhear your question will chip in their ideas too. This banter is one of the things I love about shopping at the farmers market!
8. Talk to Strangers
Talking about farmers market banter – here's another suggestion along the same lines. Don't be afraid to strike up a conversation with other farmers market shoppers.
If I see someone stuffing their bag full of an ingredient, I'll ask what they're making. You might get some good ideas, or at the very least, enjoy a pleasant conversation with a stranger.
Like the time I saw a man dumping pint after pint of jalapeños into his bag. I learned he was a baker vending at the same market who makes a jalapeño focaccia.
In a world that has become so impersonal it's refreshing to have impromptu conversations like this.
9. Leave Your Shopping List at Home
When buying from a real farm at the farmers market, you're buying what's in season locally right now. While grocery stores have networks of distributors so they can stock most produce year round, the farmers market is quite different.
For this reason, I recommend leaving your shopping list at home to avoid disappointment. Instead, go with an open mind towards discovering and trying local flavors that are in season right now.
To see what I cook with ingredients commonly found at the farmers market, visit the farm-to-table recipes section of this website.
10. Research Farms Ahead of Time
Before going to the farmers market it's helpful to consider your priorities for the food you buy.
Are you looking for pasture-raised meat?
Only organic vegetables?
Eggs from hens fed a corn and soy-free diet?
Honey from bees that are kept in the local area year-round?
Knowing these priorities ahead of time empowers you to research your farmers market vendors before you go. Whenever possible, if I'm going to a new farmers market I first identify those farms that match my priorities.
To do this, check out the website or social media feed for the market and look for the names of their vendors. Most farmers markets post this information, though the websites are not always up to date.
You can also directly ask the farmers your important questions when you get there!
11. Understand Farmers Market Pricing
If you find yourself at the farmers market and notice price differences from vendor to vendor on what appears to be the same thing, there are a few possible reasons why.
Organic vegetables usually have higher prices. One possibility is that the produce that costs less is not organically grown or not certified organic (which brings additional costs to the farmer). Just ask if you're not sure.
Vegetables may be discounted if they aren't fresh. I see this a lot. Sometimes farms show up with some of last week's harvest that didn't sell. They may not label it as such, but they price it lower than the neighboring farm because of this.
Very small farms may actually charge more. Without economies of scale, and the resulting huge harvest to spread their costs out over, the smallest farms may be the most pricey to buy from.
Certain farming practices are more costly. For example, the farm that practices crop rotation, is certified organic and has employees (who they pay a living wage), will need to charge more than a farm that does not.
12. Pick out the Freshest Veggies
One of the best things about shopping from local farms at the farmers market is getting produce that is SUPER FRESH. I'm talking produce that was picked within a day of you buying it.
I prefer to buy the freshest produce because it will last longer, taste more flavorful and is most nutritious right after being picked.
Here are some tips for identifying the freshest produce at the farmers market:
Fresh root vegetables still have the greens attached (because the greens are the first to go bad after being picked, they are often chopped off when not sold right away)
Avoid tomatoes with cracks or soft spots
Check for firmness (especially with cucumbers, carrots, green beans and summer squash)
Look for vibrant colors
Skip delicate items that are wilted, such as lettuce and basil
13. To Save Money, Consider Veggies that Aren't as Fresh
I do sometimes buy produce that is less fresh in order to save money.
For example, I can sometimes save money buying last week's harvest of carrots, beets, squash and other hardy root vegetables. These store well, keep well and are nice things to have on hand even if I'm not eating it in the days following my farmers market trip.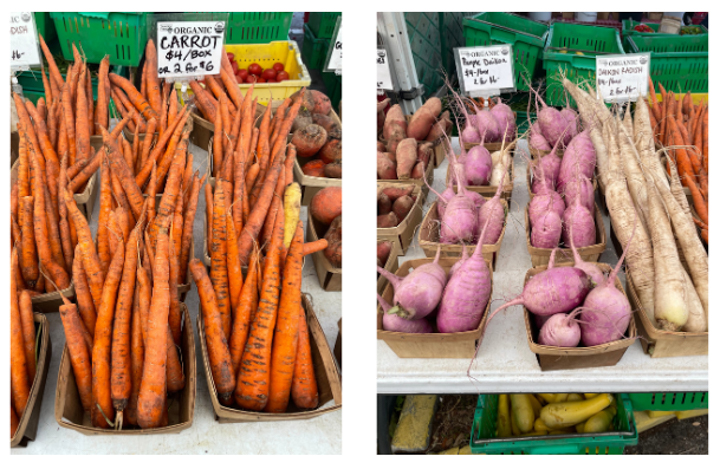 Not all farms sell or discount their less fresh produce, but if they do it'll usually be found in a section pre-bagged or in a container of items available in bulk.
Keep reading for more tips to save money at the farmers market.
14. Go Right Before Closing for Discounts
There are discounts to be found at the farmers market right before it closes. At this point in the day, most people are done shopping and the vendors are packing up. It's a good time to spot deals on the produce that hasn't sold.
For example, I was recently walking through town and passed by a farmers market that was closing down and one of the organic farms I know was calling out "half priced strawberries!".
Another time I was leaving a farmers market as they were packing up, and remembered that I forgot cabbage. I found a farmer putting unsold cabbage in his truck and he offered me a discount to take it off his hands.
Wondering what farmers do with unsold produce? I've asked them. The first thing they do is enjoy it themselves, and then share the excess with neighboring family and friends. Anything that spoils goes to the chickens if they have them, or the compost pile.
15. Bring a Cooler
If there's any chance that you'll be buying meat or cheese at the farmers market, don't forget a cooler with ice.
If you plan to head straight home after shopping, a cooler is less of a necessity. But, it's still nice to have so you don't have to worry if you decide to make a few stops on the way home, or stay at the market longer than planned.
Final Thoughts on Farmers Market Shopping Tips
I hope these farmers market shopping tips have inspired you to try shopping at your local farmers market. Post a comment below if you have any questions at all!