This gluten-free pie crust recipe does the trick when you need a pie crust in a pinch. It requires just three ingredients that you probably have in your kitchen if you're a gluten-free cook: gluten-free flour blend, butter and salt!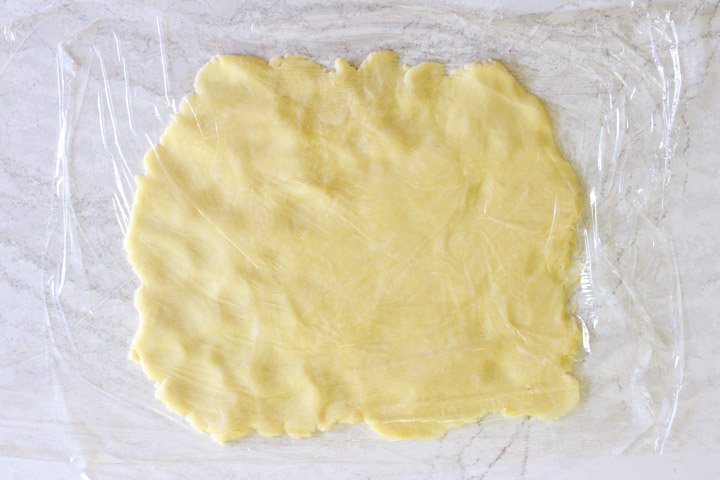 Don't worry, you won't need any fancy pie crust making skills to pull this recipe together.
Heck, I don't even have a rolling pin. My pie crusts get rolled out with a glass vase! As a minimalist I haven't been inspired to keep something in my kitchen as awkward as a rolling pin that I'll only use a few times a year.
(Keep reading for more rolling pin substitute ideas.)
I use this pie crust when making my gluten-free chicken pot pie and you could use it for any type of pie.
Word of warning – If you're used to working with regular pie dough, you may be concerned by the texture of gluten-free dough. Don't worry, just read all my tips and FYIs so you know what to expect.
Let's get started!
Ingredients to make gluten-free pie crust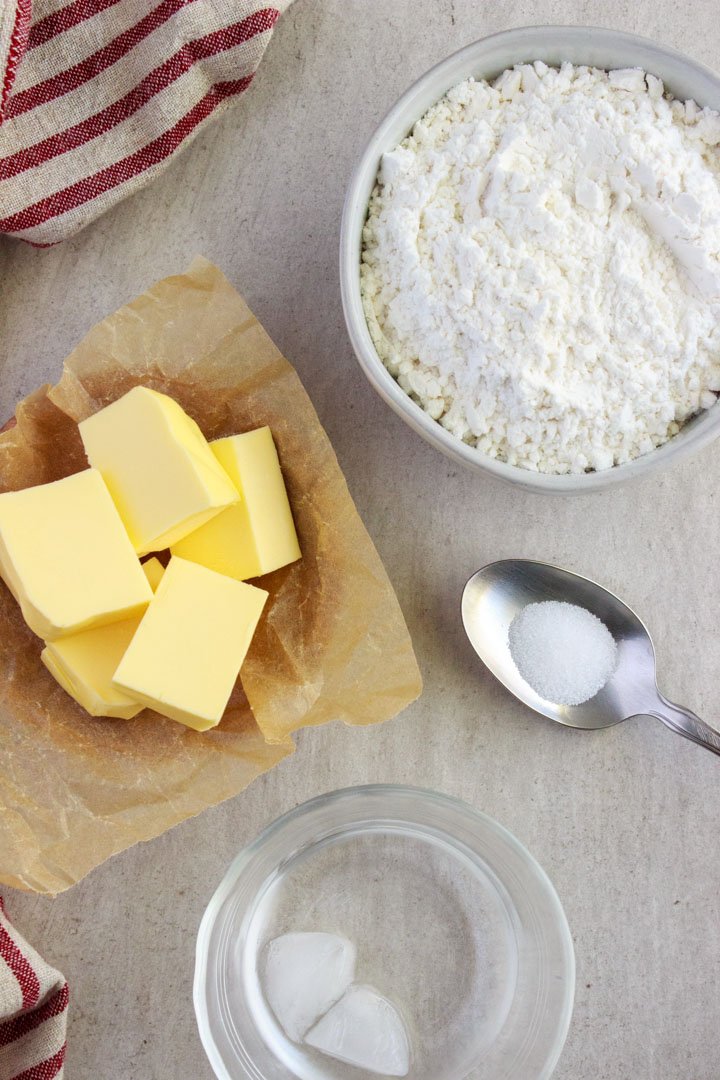 1. Gluten-Free Flour Blend
I've used Bob's Red Mill 1 to 1 Baking Flour and Pillsbury Gluten-Free All Purpose Flour Blend with success. So I recommend sticking with one of those two brands. Be sure your gluten-free flour blend includes xanthan gum as this helps bind the dough together.
To make one pie crust you'll need 6 ounces of gluten-free flour. Please double the recipe if you're making a top and bottom crust.
2. Grass Fed Butter
This recipe requires 4 ounces of butter.
The butter should be very cold. In fact, I put mine in the freezer for 15 to 30 minutes so it's extra cold. Colder is better when it comes to making a pie crust.
3. Salt
Just 1/4 teaspoon of salt and 1 to 2 ounces of ice water.
How to make a gluten-free pie crust
Gluten-free dough does not have the same feel or texture as regular pie dough made with wheat flour. Please read all the FYIs and Tips I've included below so you don't think you've ruined your dough!
1. Prepare the ingredients
Cut 4 ounces of well-chilled butter into 1.5 inch cubes.
Weigh out 6 ounces of gluten-free flour.
Set aside 1/4 teaspoon of a fine grain salt and 2 ounces of ice water.
2. Combine the flour and butter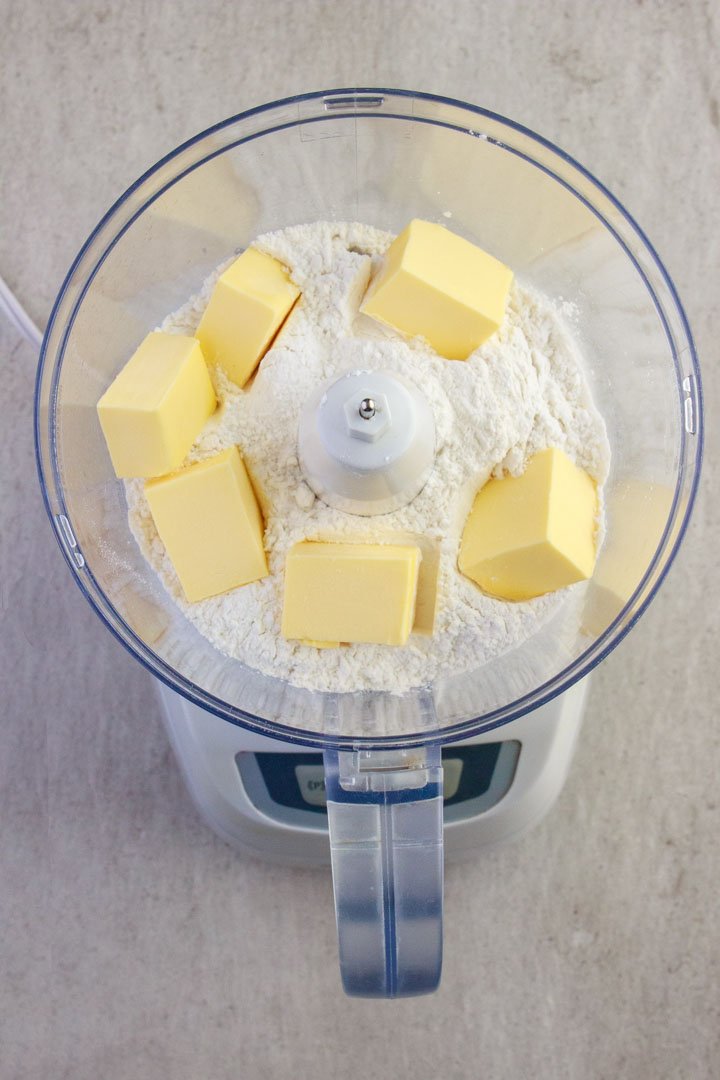 Place the flour and butter in a food processor with a regular blade and pulse it quickly until the mixture looks like a bowl of tiny beads (it will not look like dough yet). In my food processor this is about 25 very quick pulses.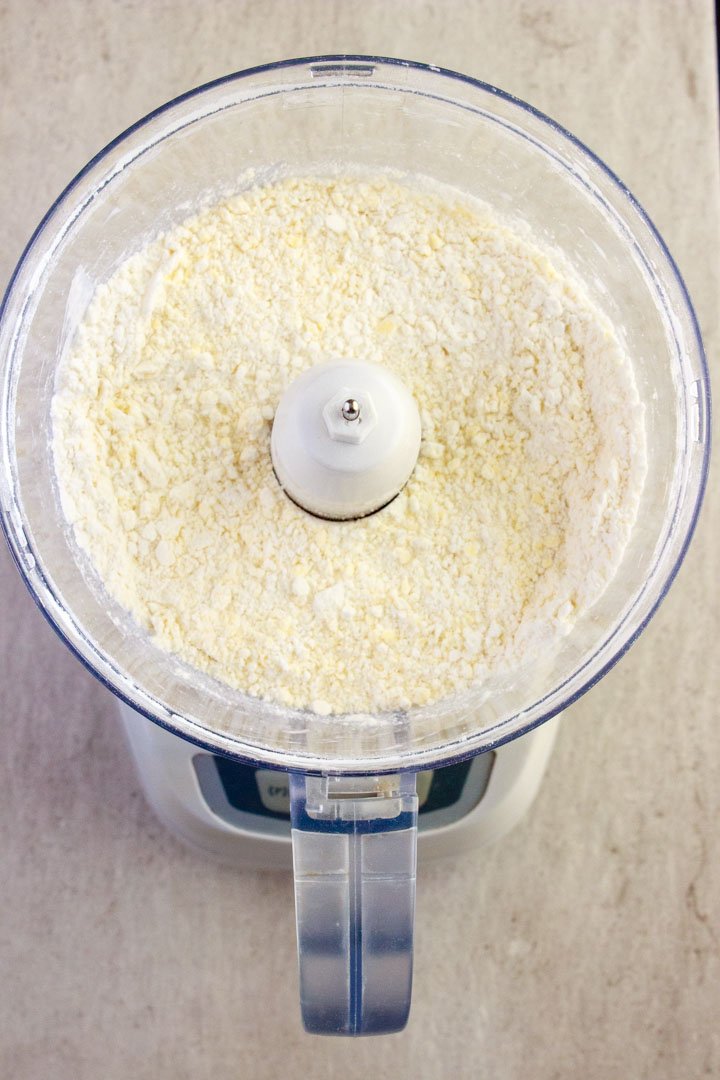 3. Add the salt and water
Next, add the salt, and while continuing to pulse – slowly pour in 1 to 2 ounces of water through the feeder shoot of your food processor. Stop adding water when the mixture begins to stick together.
FYI: It will not look like dough until you start working it with your hands. At this point you are just combining the ingredients.
Tip: It may be helpful to turn off the food processor and squeeze some of the dough between your fingers to check for consistency. The important thing is to not add too much water. You may only need 1 ounce, so be careful here.
If you add a bit too much water it's OK to add a little more flour to absorb it.
4. Work the dough with your hands
At this point, remove the mixture from your food processor and work it into a ball with your hands.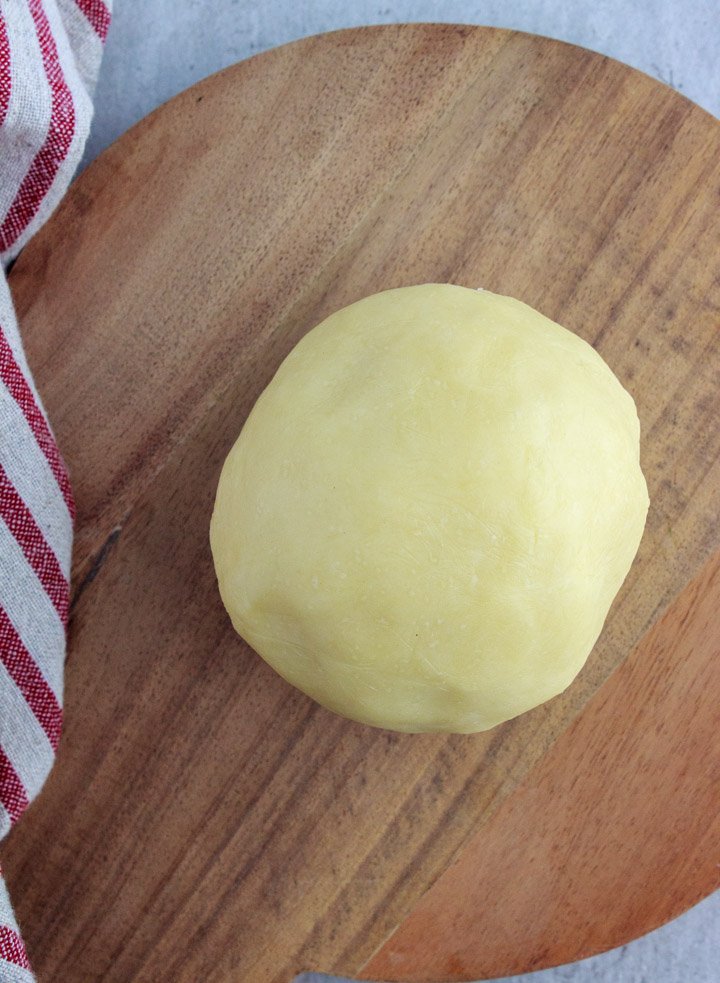 FYI: Gluten-free dough does not have the same elasticity as regular dough made with wheat flour. The gluten in regular flour helps give it that elastic feel. The xanthan gum in gluten-free flour blends is a substitute for the gluten, but it's not perfect.
Your dough will easily break apart into pieces and almost appear crumbly until you work it together. Don't be concerned, it'll still turn out when you bake it.
5. Roll out the dough
Gluten-free dough is much more sticky than regular dough. Without the tip I'm about to share it's near impossible to roll out.
Important Tip: Put a piece of plastic wrap on your counter and place the ball of dough on the wrap.
Start by using the heal of your hand to work the dough out until it's flat.
Now cover the top of your flattened dough with another piece of plastic wrap and use your rolling pin to smooth and thin it out. The plastic wrap prevents it from sticking to your counter or rolling pin.
6. It's ready to use
Your pie dough is now ready to use. Handle it carefully, it's not as forgiving to rough handling as regular dough.
More tips for making gluten-free pie dough
A warning about putting gluten-free dough in the fridge
If you won't be using dough the same day, the ball can be wrapped in plastic before it's rolled out, and stored in your fridge. But it does get very, very firm in the fridge. You'll need to take it out of the fridge a good four hours before you're ready to roll it out.
How to roll out pie dough when you don't have a rolling pin
If you're like me and don't make pie crust often enough to justify keeping a clunky rolling pin around, here are some more common household items that work as a rolling pin substitute in a pinch.
The important thing is – you need a straight rounded edge.
A drinking glass or plastic cup
A plain glass vase
Mason jar
Vinegar and salt often come in sphere-shaped vessels. Check your pantry for plastic containers storing food items.
I don't recommend a tin can as they have a lip on the top and bottom that will create crevices in your pie crust.