I made the leap to experience living in France two years after I graduated from University. I was excited to experience living in another country with such a strong culture, but had no idea I'd learn so much about French food culture specifically.
A friend of mine had just finished a year as an Au Pair in the south of France, and hearing her stories convinced me that this was something I needed to do. Well, the living in France part, not the Au Pair part. I found a job teaching English to adults instead.
And what an experience it was. I lived with a retired French couple in a small village in eastern France. My hosts, Gerard and Sophia, embraced French food culture and loved to share this with their curious new house guest.
I learned so much about French food, culture and cooking from them.
And there were others too. The people and families I met, dined with and talked to for hours along the way. I always was a sponge for information and the French love the opportunity to share their food and culture with those who are interested.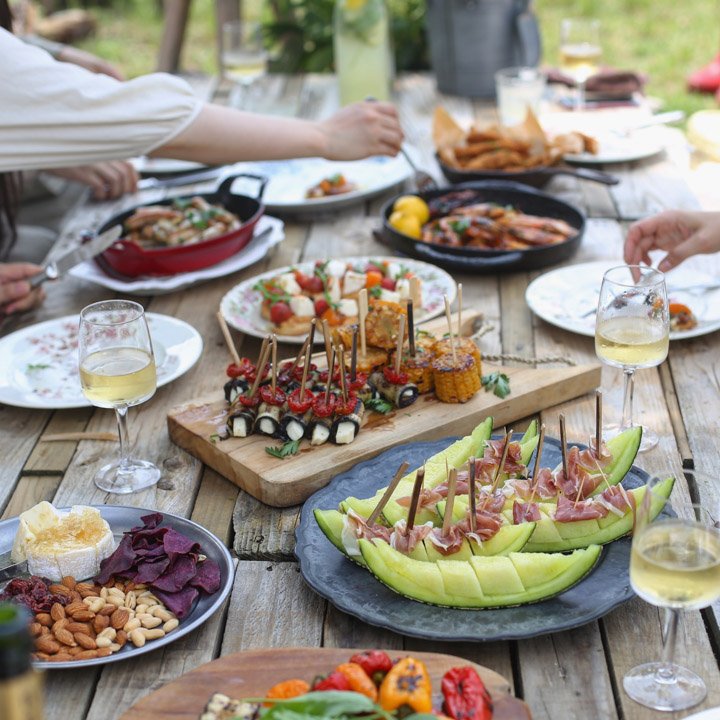 You can read more about my journey over here, but before you do, let's dive into three things I learned about food from the French. There were actually more than three btw!
3 Things the French Taught Me About Food
1. Cook with the best ingredients, and let them shine
Ingredients are celebrated in France in a way I haven't encountered elsewhere.
Knowing where to find the best of anything is a point of pride in French food culture.
It would not be uncommon for a mealtime discussion to revolve around the butter selected to make the crust of the quiche, if it came from Brittany, which is known for having the best butter in the country (or the world depending on who you ask).
The French have a great deal of respect for high quality ingredients. This could be the jambon on the baguette, the vegetables to make the soup, the salt to season it, or the bakery where the bread was made.
Knowing where to find the best of anything is a point of pride in French food culture.
Starting with ingredients that are delicious, by their own merit, means that the best meals are surprisingly simple. And this allows those ingredients to shine.
Time and time again I was astounded by how delicious the most "simple" dishes actually were. The French know that when ingredients are chosen for quality and flavor first, it's not necessary to season meals to death.
Ask anyone who has been to France about a bakery-made baguette with ham and butter.
2. Eat to enjoy the food, not to "fill up"
The French eat to enjoy the food, rather than to "fill up" their hungry stomachs.
In fact, eating in order to be "full" was frowned upon. If you had a second helping of dinner it should be because the meal was so delicious, not because you're still hungry.
Here in the United States we often say "I'm so full" after a delicious meal. Or we might respond with "I'm too full" if offered a second helping.
In France that phrase is tacky. Instead you would say "No thank you, I've eaten enough."
Eat to enjoy the food (and great food should be very enjoyable!).
My French hosts, Gerard in particular, loved to share about French food culture and how the French eat. I remember on our way to a dinner party hosted by a very formal French family, he gave me a heads up that if I am offered a second helping of a dish it is only appropriate to accept after being offered three times.
I don't know that three was a magic number, it was more so the act of insisting to decline rather than jumping at a chance to gorge oneself on the food. He added that if I do take another helping, I should say it's only because the food is so delicious.
In other words, you're not having another helping because you want to fill up your stomach, you're having another helping for the experience of enjoying more.
And friends, it happened. It happened exactly as he described it while sitting at a long table in a beautiful courtyard with twenty plus other people. And …of course I wanted more, this was some of the best food I'd ever had in my life!
But I waited until it was offered three times before I accepted with "only because the food is so delicious" (spoken in French of course). Every head at the table turned towards me remarking on my fine etiquette.
I kid you not.
3. Dining is an experience, savor it
If you're a slow eater, like me – or put better, someone who enjoys savoring their meal and good company, you've probably experienced a waiter or waitress clearing all the plates around you while you still have your fork in your hand.
Treat dining like an experience to savor, rather than a rest stop.
It's a strange thing here in the United States and Canada, in Europe it doesn't happen. Not in the years I visited anyway.
Meanwhile, back on this side of the pond, checks are arriving before they're requested, entrees interrupt the appetizer, dessert suggestions come while you're still enjoying your steak. The general rushing of it all. The mindset that eating is a chore you complete (and as quickly as possible please), rather than an experience to savor.
Drives me crazy.
In France, dinner often included multiple courses and lasted several hours. Meals weren't hurried or distracted. A special occasion wasn't required to enjoy conversation and wine and cheese.
A special occasion wasn't required to enjoy conversation and wine and cheese.
No one (not even the children), left the table until the last person was done. You would believe my shock on witnessing that play out. For them this was normal.
Final Thoughts about French Food Culture
I certainly learned a lot more than 3 things about French food culture when I lived in France. Years later I still bring what I learned to my own cooking back in the United States, and the recipes I share here at Fed by the Farm.
Local, organically-grown or raised farm food is certainly not simple to produce. A lot of heart and soul and hard work goes into growing the vegetables I eat, and raising and butchering the meat.
Once those ingredients are in my kitchen, I want to create dishes that let them shine.
The star of the meal is the beautiful pasture raised chicken, or the fresh organic squash – not a fancy recipe.
This is the way it was in France. Families remarking about the ingredients. The food as the hero.