I talk a lot around here about shopping at the farmers market. So today I thought I'd show you what a typical farmers market haul looks like for me.
I'm fortunate to live near a city that hosts a vibrant farmers market every Saturday morning. And in addition to that large market, there are also several smaller farmers markets in neighboring suburbs and towns.
During the growing season, the farmers market is where I buy most of my vegetables and meat, as well as honey, sourdough bread and sometimes eggs.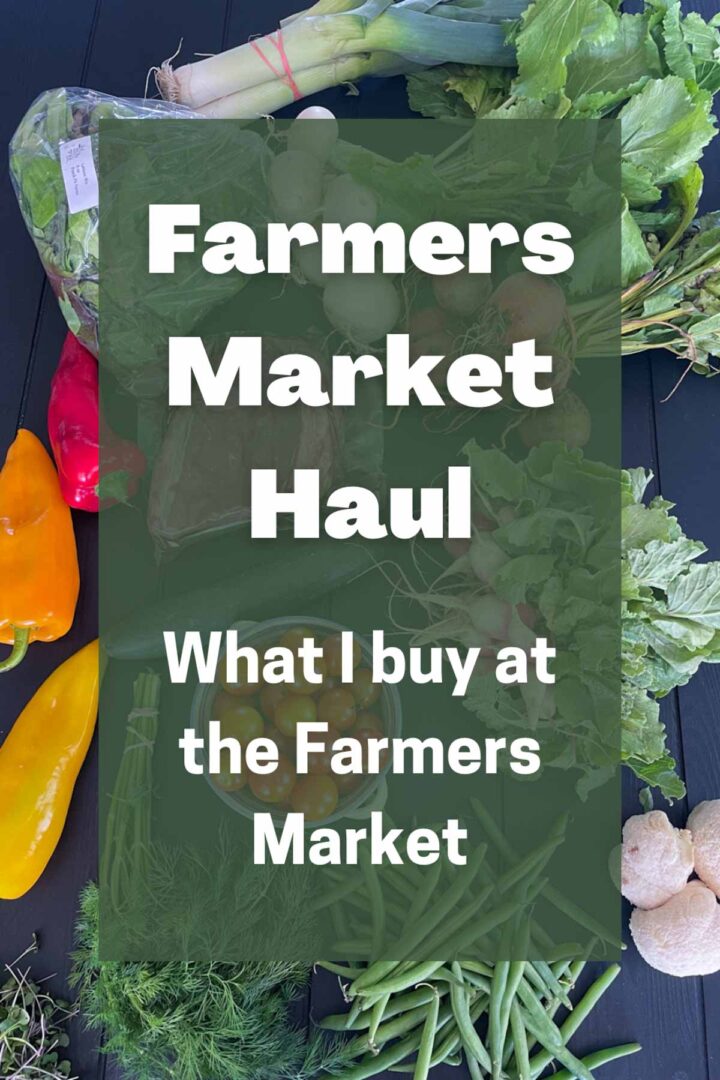 To find a farmers market near you I recommend searching the National Farmers Market Directory. And before you go, read through my tips on how to spot fake farmers at the farmers market.
Let's dive in!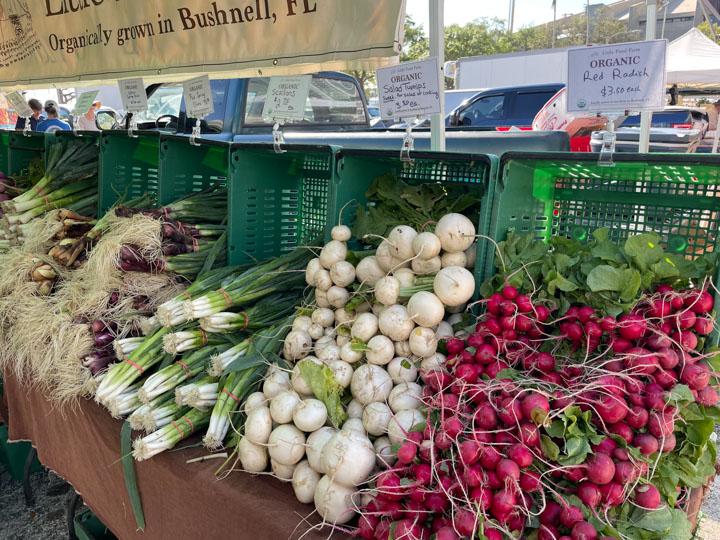 The large Saturday morning market that I go to every other weekend is a little piece of heaven for someone who loves farmers markets as much as do. Aside from pantry staples, I can get an entire grocery order there!
Vendors at the Farmers Market
5 family-owned vegetable farms!
1 meat farm (poultry, eggs, beef and pork)
A mother-daughter duo who raise their own bees to produce honey
A small-business owner that grows and sells micro-greens
A small-business owner who sells her own fermented veggies and kombucha
A lady that grows just ginger and turmeric
3 bakers (with long-fermented sourdough bread)
and so much more!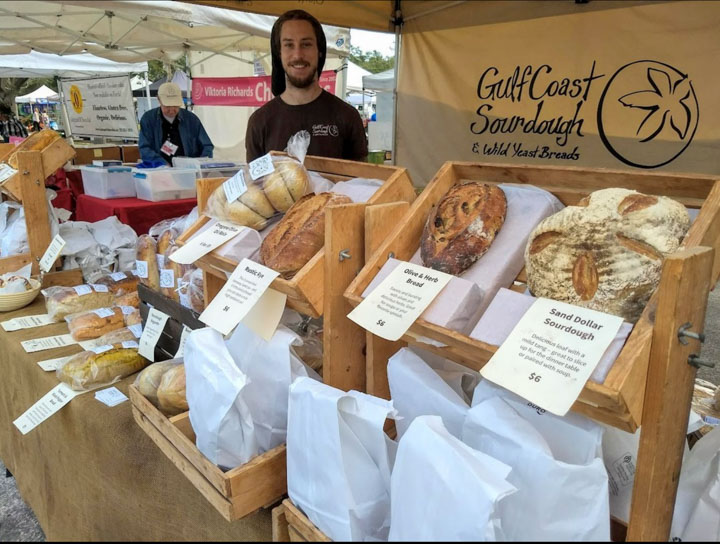 My main farmers market is a bit of a drive and requires navigating heavy city traffic, so I usually go every other weekend and buy two weeks worth of food. I'd prefer to go weekly and have fresher produce, but city driving (and parking) is not my joy.
I also sometimes go to a smaller neighborhood farmers market in between weeks if I just need a few things.
A Typical Farmers Market Haul
So let's take a look at what I buy at the farmers market. There will always be lots of organic vegetables, a loaf of sourdough bread and most of the time a cut or two of pasture raised meat. I'm just feeding one person so it goes a long way.
Farmers Market Haul #1 (Total Cost $55.25)
For example, here is what I bought on my last trip to the farmers market.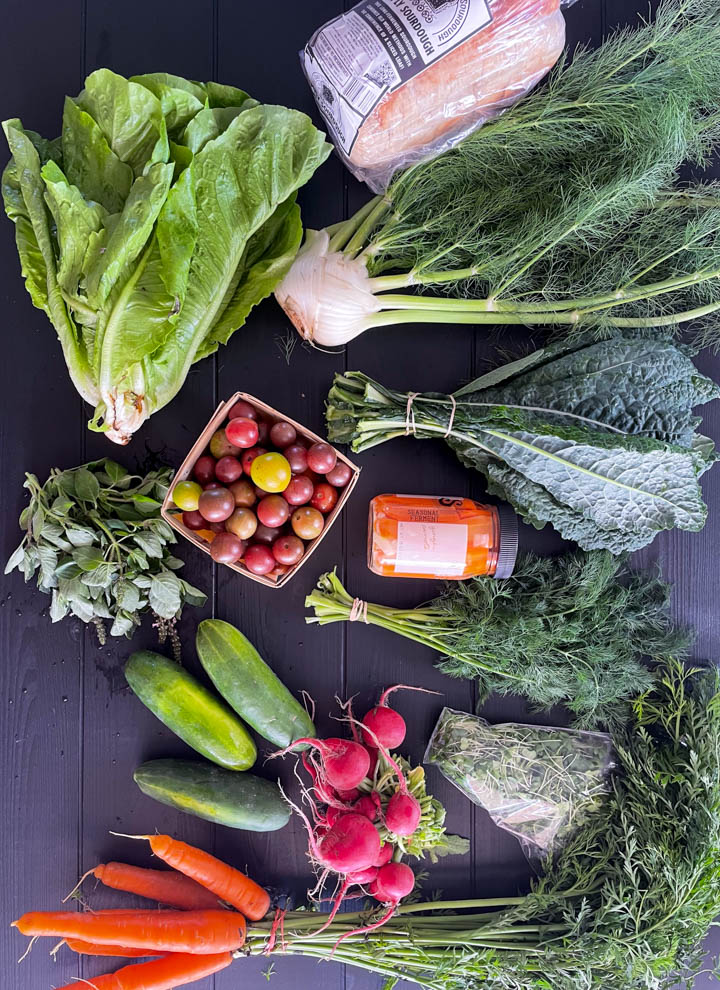 Clockwise from the top:
Loaf of long-fermented sourdough bread (from my favorite local baker) $7
Fennel (I use the stems in bone broth and I roast, or chop up the bulb in salads) $2.50
Lacinato kale (in soup and stir-fried) $4
Fermented carrots (I make my own ferments but these carrots are a treat) $12
Fresh dill (usually chopped up in salads) $2
Micro-greens (so freakin healthy, I put them in my salad) $3.50
Carrots $3.75
Radish (for salads) $3.50
Cucumber (also for salads) $3
Tulsi holy basil (I dry the leaves to make an amazingly delicious and healthy tea) $3
Cherry tomatoes $4
A head of romaine lettuce (I bought two, one isn't shown) $7 for two
Farmers Market Haul #2 (Total Cost $67)
Here is another farmers market haul that I brought home recently.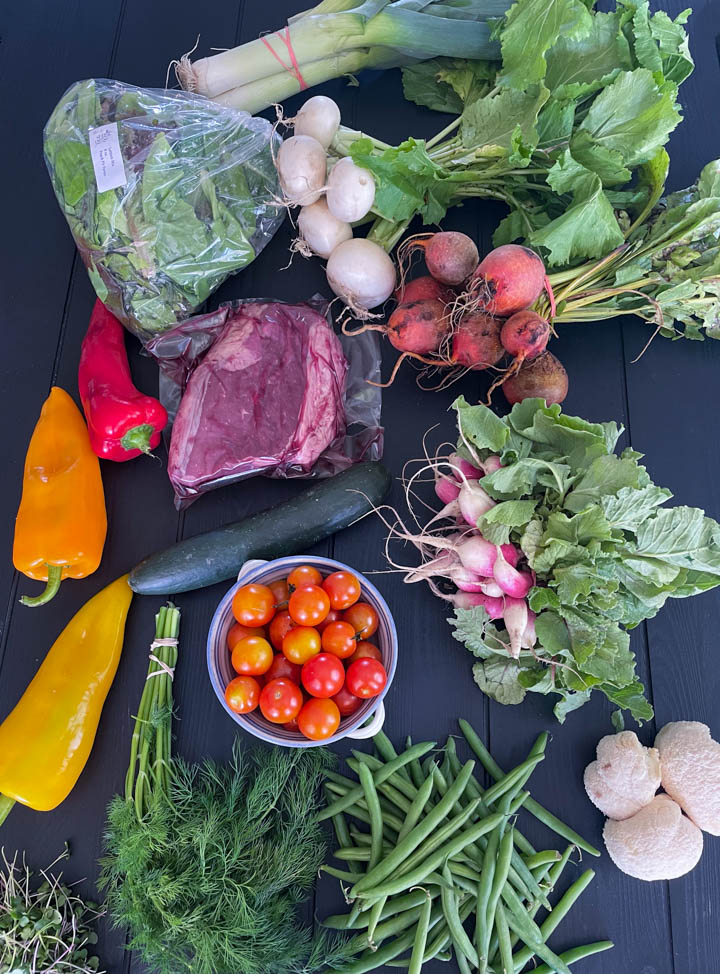 Clockwise from top:
Leeks (I made potato and leek soup)
Salad turnips (used in beef stew plus recipe testing)
Golden beets (roasted golden beets)
French breakfast radishes (I use them in salad and anywhere I'd use regular radishes)
Lions mane mushrooms (sliced and pan-fried)
Green beans, cherry tomatoes, fresh dill, micro-greens
Sweet peppers (in salads, stir-fries and roasted sweet peppers)
Cucumber
Grass-fed chuck roast, 2 pounds (beef stew recipe)
Mixed baby salad greens from a local farm
That last haul included a 2-pound grass-fed chuck roast that cost $25. I made a beef stew with it which yielded 8 good-sized meals. That's only $3.13 per meal for the meat.
Farmers Market Haul #3
Here is one of my farmers market hauls from last year. A different variety of finds based on what was in season at the time.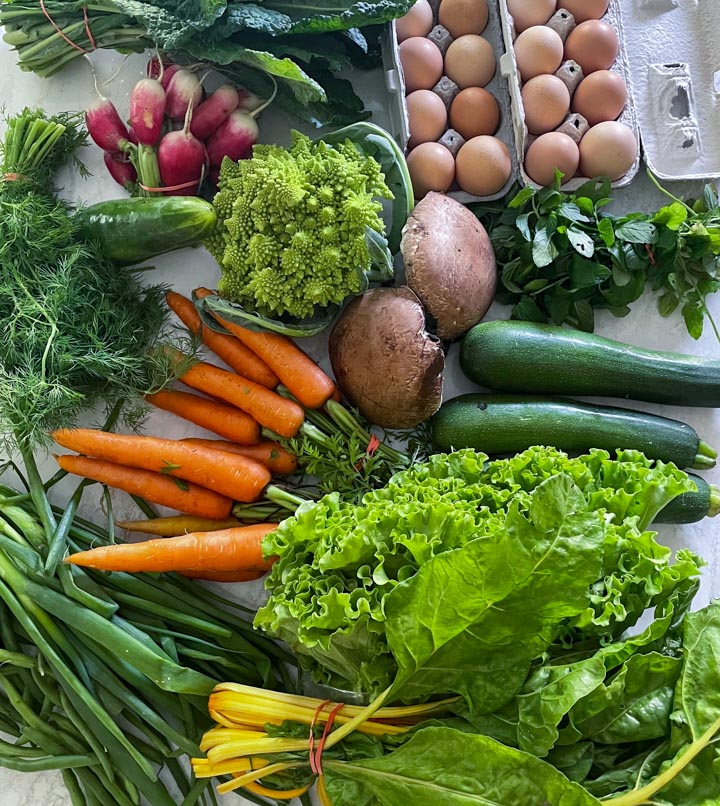 Includes:
Lots of salad fixings
2-dozen farm fresh eggs
Portobello mushrooms
Romanesco cauliflower (looks like a broccoli/cauliflower mix)
Zucchini
Fresh herbs
Swiss chard
Green onions
A Small Farmers Market Haul
Sometimes I just need a few things and will head to a small neighborhood farmers market to see what they have. Like this day recently when I ran out of lettuce and vegetables.
I found a beautiful head of locally-grown organic cauliflower, some spinach, lettuce and starfruit. Starfruit is abundant right now in Florida and I LOVE IT on salads.
Total cost: $13, all organic.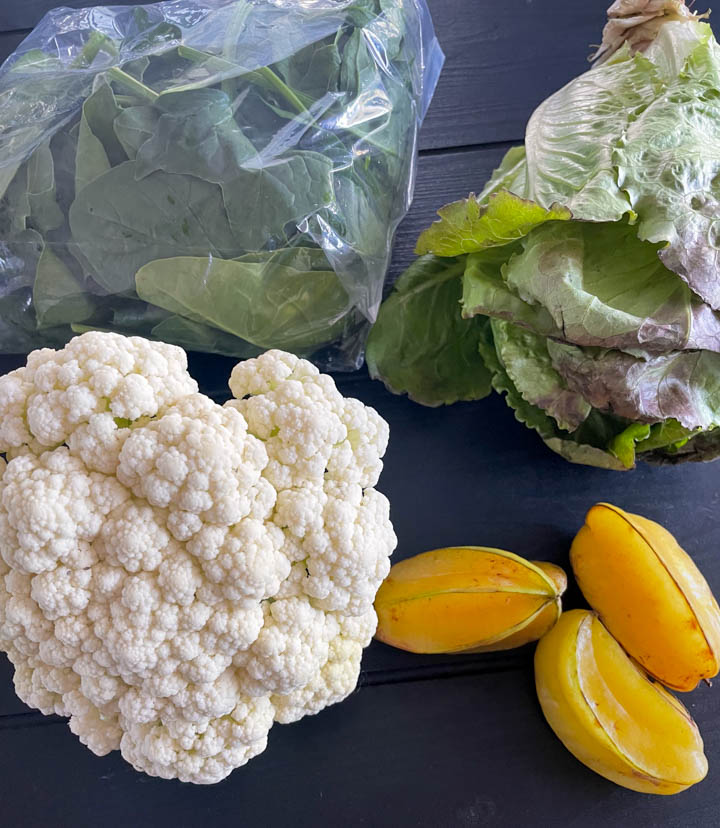 What I Buy at the Farmers Market
1. Organic Vegetables
As you can see in the photos above, the bulk of what I buy at the farmers market is local, organic vegetables. I eat a lot of vegetables and a lot of salads!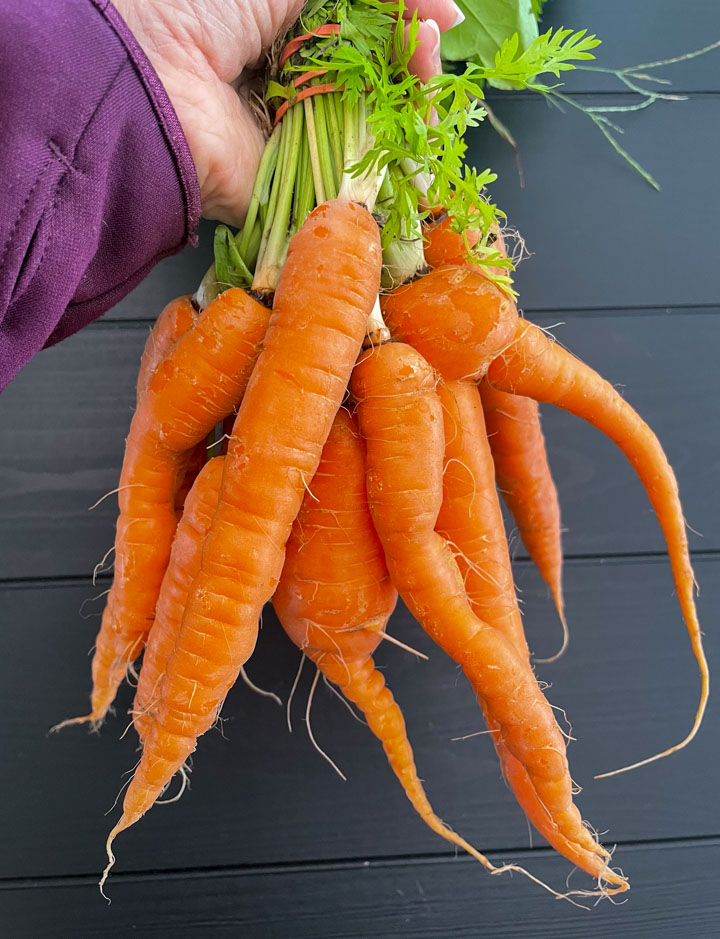 During the growing season I have a salad every day for lunch. If you find salads boring and bland I'd urge you to try buying your ingredients from local growers.
The taste is entirely different. I recently had to buy cherry tomatoes at the grocery store – they were organic and still tasted pretty flavorless.
My salads include a variety of fresh toppings and a homemade vinaigrette. I usually toast a piece of sourdough bread and serve some kind of protein on the side.
Wondering if it costs more to buy these veggies at the farmer market? Check out my price comparison between the farmers market and the grocery store.
2. Raw Honey
Another thing I buy at the farmers market is honey. I only buy honey when I can source it directly from local beekeepers and the farmers market is a great place to find truly local honey!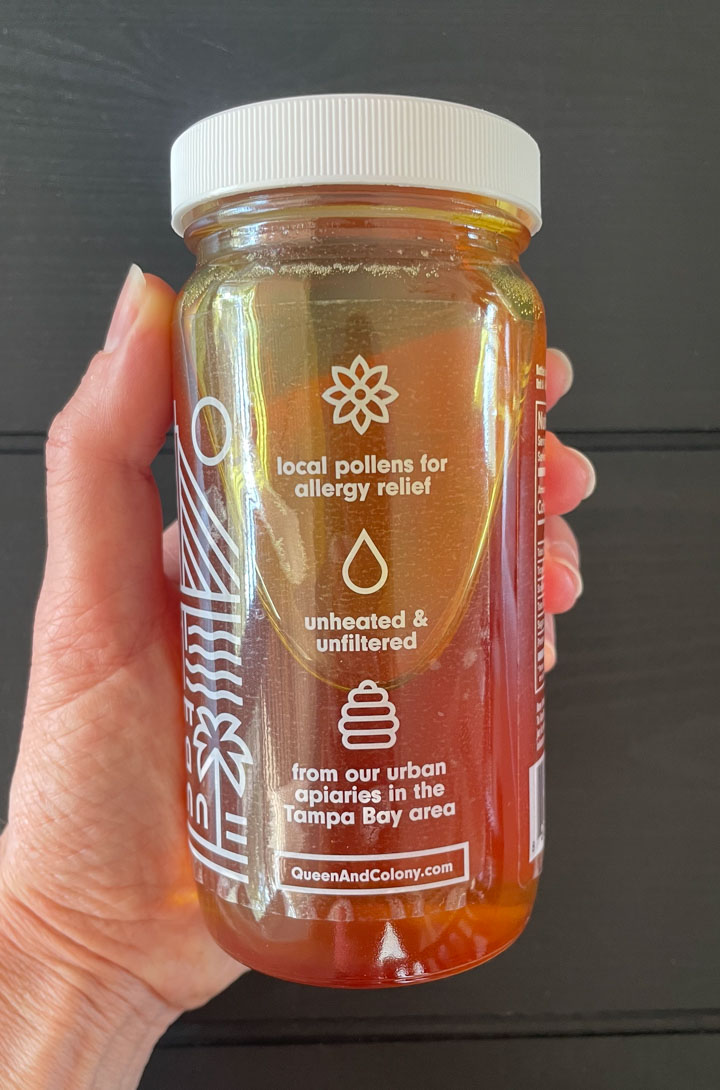 3. Pasture Raised Meat
I'm lucky and grateful to be able to buy pasture raised meats from local family farms at the farmers market.
I've almost entirely stopped buying factory-farmed meat at the grocery store at this point.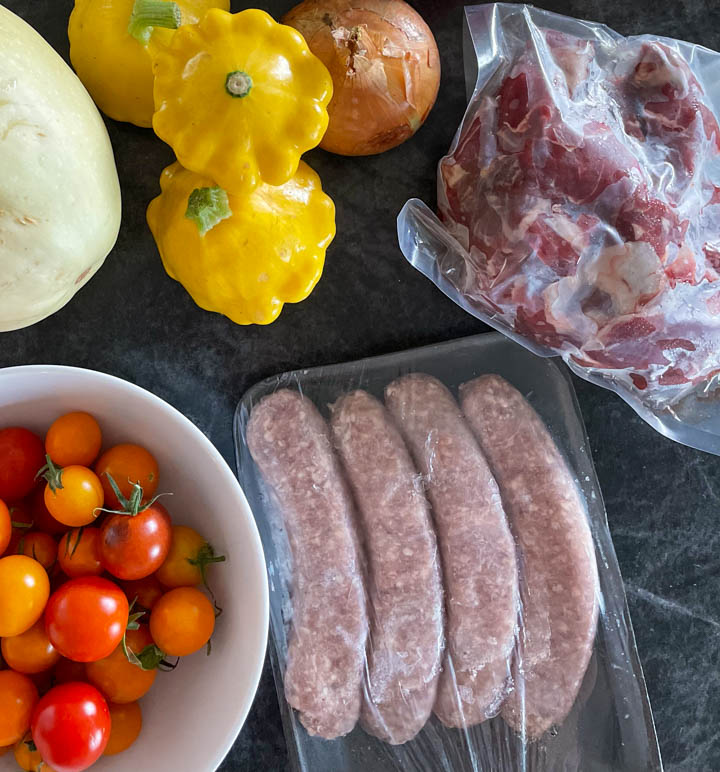 Depending on what market you go to, you may find any or all of:
Whole pasture raised chicken
Various cuts of chicken such as chicken breast and thighs
Grass-fed steaks, roasts and ground beef
Pork, such as chops and sausage
Grass-fed beef liver
About once a month I buy a whole chicken (3-4 pounds) at one of the farmers markets I attend. I find it more cost effective and satisfying to buy the whole chicken rather than individual cuts.
When buying a whole chicken I get the meat AND then I simmer the bones to make a healthy bone broth. Check out my whole roasted chicken recipe here.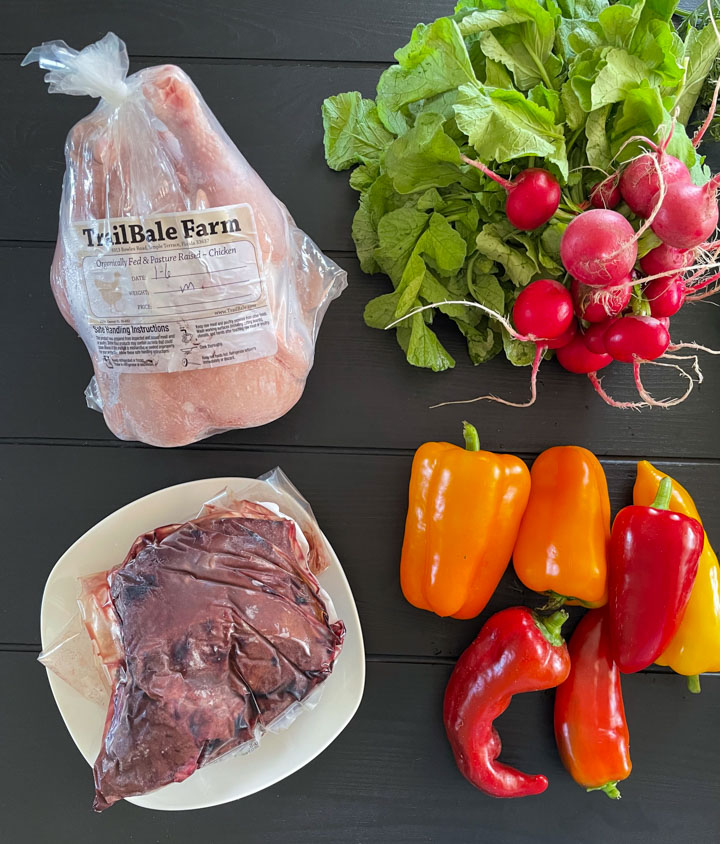 A 3 to 4 pound whole chicken costs $28. Depending on where it falls in that weight spectrum and what meals I make, I get 4 to 6 meals out of a single chicken. I then get another 6-ish bowls of the soup I make with the bone broth.
I also buy organic, grass-fed liver and various cuts of steak at the farmers market.
4. Pasture Raised Eggs
As you may know, the price of chicken feed has skyrocketed, and so has the price of eggs with it.
Farmers market eggs are no exception. In fact, small farmers feel the rising cost of feed the most because they don't have access to the same bulk discounts as the large factory farms.
When I can get a dozen pasture raised eggs at the farmers market for under $8 I'll buy them. Otherwise I stock up on pasture raised eggs at the grocery store when they go on sale.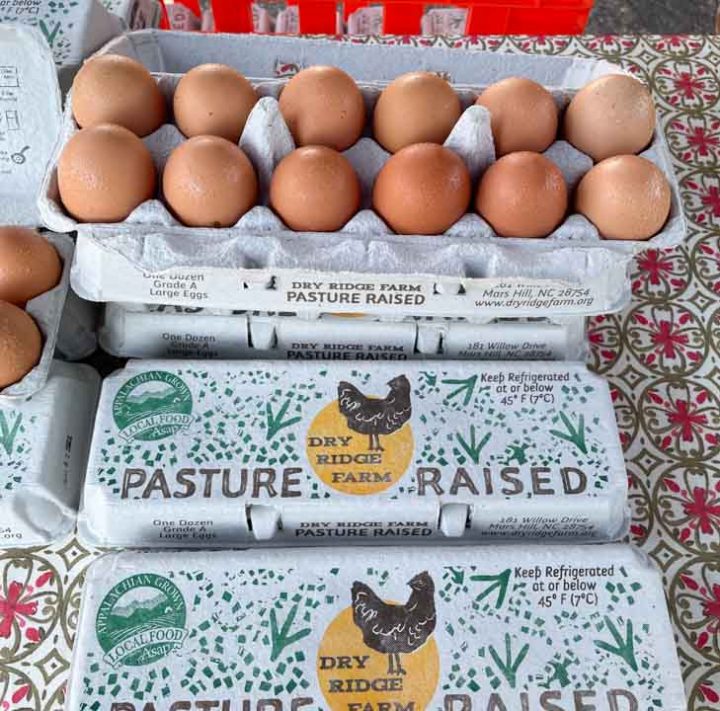 For me there's nothing like farm fresh eggs that I know were laid by happy hens that get to spend their days foraging outside on open pasture.
5. Mushrooms
If you go to a large farmers market you're bound to find someone selling mushrooms they've grown or foraged. I occasionally buy mushrooms at the farmers market, but not every trip.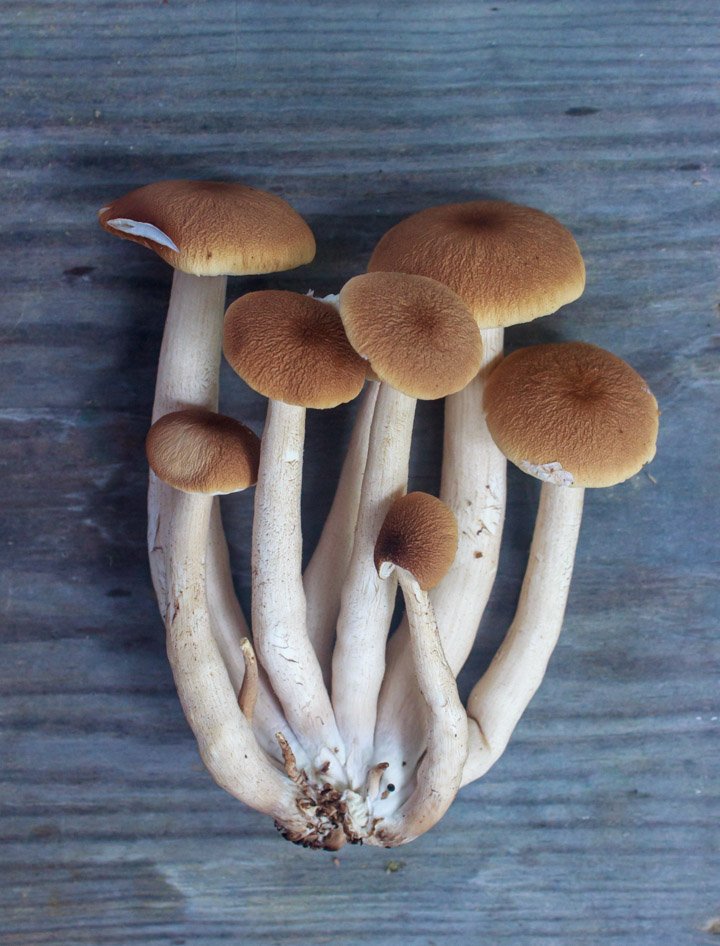 Some of my favorite mushroom varieties to buy at the farmers market are pioppini, portobello and cremini (baby bella). If you happen upon pioppino mushrooms I have a delicious pioppino mushroom recipe on this blog.
Final Thoughts
So there you have it. A run down of what I buy at the farmers market.
Depending on where you live and the season, your farmers market haul will look different from mine. And it will certainly change throughout the season, which is part of the fun.
I hope this run through inspires you to try the same. There is nothing like buying freshly-picked and soil-grown produce directly from the farm.
More Farmers Market Articles