Buying pasture raised eggs directly from nearby farms is one of the ways I've become more connected to the food I eat. There are so many things to appreciate about pasture raised eggs, which I'll get into in this guide.
If you're new to buying pasture raised eggs, you may be wondering what pasture raised eggs are. Or about the different pasture raised egg brands you see at the grocery store. Keep scrolling, or use the table of contents below to get to what you're most interested in.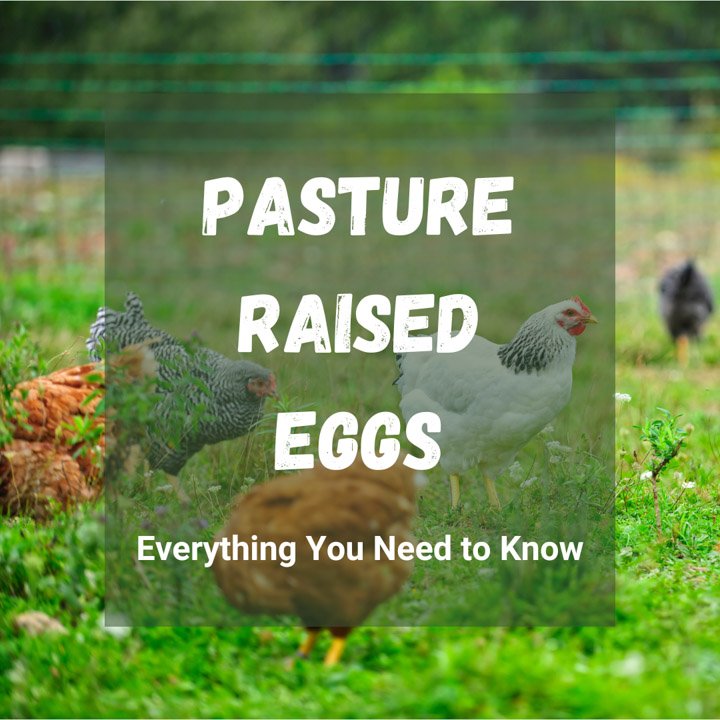 Table of Contents
What are Pasture Raised Eggs?
If eggs are labeled as pasture raised it should mean they were laid by hens that spend their days outside on pasture where they can freely forage for bugs and grasses, exercise and enjoy lots of space to roam.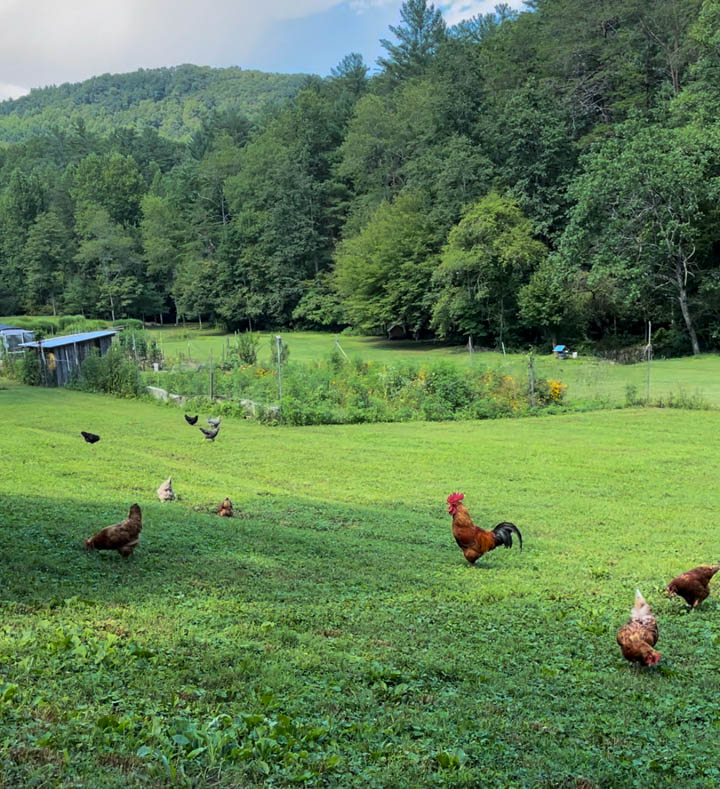 They will have a barn or chicken coop to go to at night and as needed to seek protection from predators, lay their eggs, perch and find supplemental food and water.
That said, unlike the "free range" and "cage-free" label, "pasture raised" is not monitored by the U.S. Department of Agriculture. This means that "pasture raised" is a marketing claim. So, it's up to consumers to do our research and be sure the eggs we buy have the qualities that matter to us.
What is pasture rotation?
Many egg farmers that sell pasture raised eggs also practice pasture rotation.
Pasture rotation means the hens are rotated to different areas of the pasture every few days or weeks, to prevent over-grazing and give the vegetation time to regrow. Without pasture rotation, the fields would turn to dirt as hens devour pretty much everything in sight!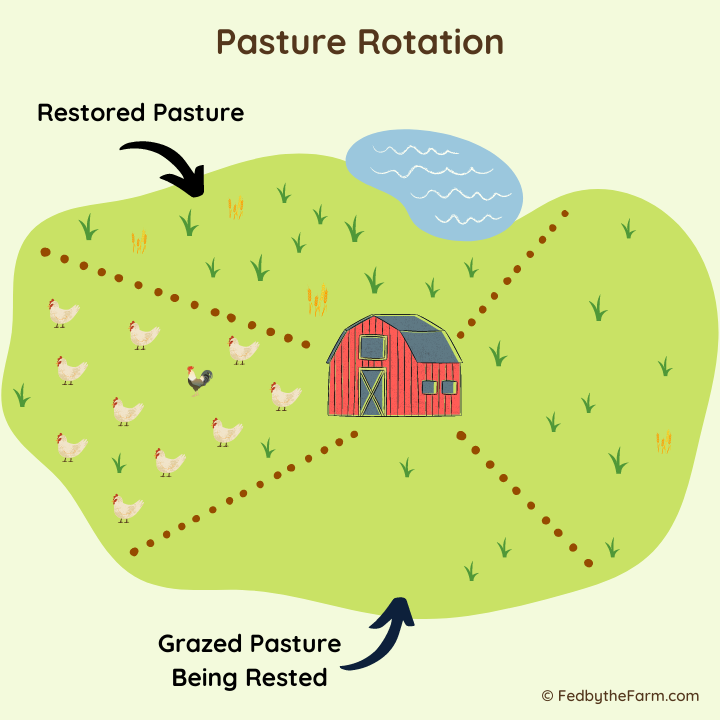 Why I Prefer Pasture Raised Eggs
I prefer pasture raised eggs over free range and cage-free eggs for a couple of reasons:
1. Animal welfare – I like knowing the eggs I buy are laid by hens who get to live the best life possible. They do not live in cages like egg-laying machines. They get to roam around outside and do the things that come naturally to them…taking dust baths, eating bugs, exercising and socializing with each other (hens are very social!).
2. Pasture raised eggs are healthier – Eggs laid by hens that spend time outdoors were found to have 3 times the vitamin D3 compared to eggs from hens that do not have access to the outdoors. Researchers at Penn State found that compared to eggs laid by caged hens, eggs produced by pastured hens have more than twice the omega-3 fatty acids and twice as much vitamin E.
3. Support farmers who share my values – I find it satisfying to support farmers who share my values around the humane treatment of animals, healthy food and doing the right thing. A farmer who chooses pasture raised over cage-free or even free range hens, is taking on extra work and extra expense in the name of what they believe in. I admire this dedication.
2 Types of Pasture Raised Eggs
"Pasture Raised" is a marketing term and may not always look like the photo on the egg carton. Like most things in agriculture, there is large scale pasture raised and small scale pasture raised.
This is why it's important to know what matters to you, and then you can decide where to buy your pasture raised eggs.
Let's dive into the different types of pasture raised eggs.
1. Truly outdoors pasture raised
If you're lucky, these are the eggs at your farmers market. The farms have a few hundred, or thousand hens that are tended to by a small crew of people. This often consists of the farmer and their immediate family.
Ideally, the pastures are not sprayed with pesticides, and the hens are fed a soy-free organic diet when they aren't foraging on pasture.
In this type of truly outdoors operation, smaller clusters of hens are kept in mobile hen houses and wire fencing is used to block off an area of pasture around them. This keeps the hens in and ground-level predators out.
The hen house is on wheels and moved around the pasture, along with the fencing, every week or every couple weeks to give the hens access to fresh pasture.
Truly outdoors, combined with organic soy-free feed, is what I consider the best of the best of pasture raised farming.
The hens truly spend their days on open pasture, which is what makes pasture raised eggs so nutritious and desirable. They are not over-crowded, and there are numerous openings on the chicken coops so the hens can get out with ease.
As you can see, moving around hundreds of hens and multiple chicken coops is resource intensive and harder to scale. It requires more land, and more labor. Which is why you'll see it less at large pasture raised chicken farms.
2. Large scale pasture raised eggs
These farms will have closer to 10,000 plus birds. They usually consist of a fixed barn surrounded by multiple fenced-in sections of pasture. Doors on the barn are open all day and the hens should be given access to different pastures over time, per the pasture rotation model.
Based on my research, this is the type of setup used by the farms that partner with the pasture raised egg brands found at the grocery store.
You're less likely to see the mobile hen house setup in an operation of this size. That said, it's possible that some of the farms that the big brands partner with do employ it. Unfortunately that information is not readily available.
The downside of all the hens living in a central barn is that some hens will chose to stay inside the barn all day rather than forage on the pasture. Or, if it's too crowded, they may have difficulty getting outside.
If the hens don't spend the day on pasture you lose some of the benefits of those pasture raised eggs.
Organic vs. Non-Organic Pasture Raised Eggs
Some farms sell eggs that are organic in addition to being pasture raised. What's the difference between organic and non-organic eggs? Organic eggs are laid by hens that are fed only organic non-GMO feed, and non-organic eggs are laid by hens whose feed is not organic.
Where to Buy Pasture Raised Eggs
1. Direct from farms: My preferred place to buy pasture raised eggs is directly from small farms at the farmers market.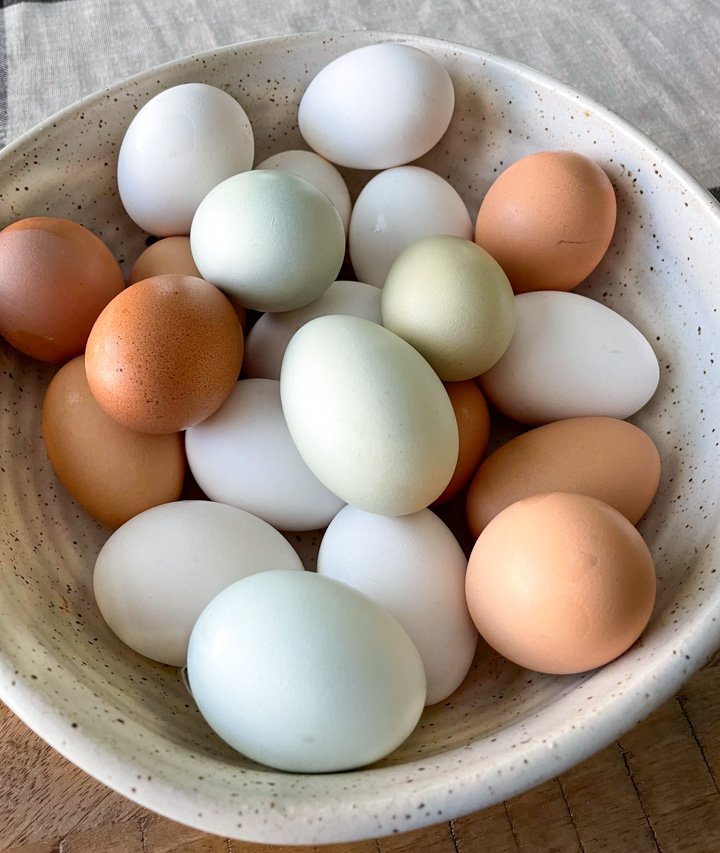 Be aware though, just because eggs are sold at the farmers market does not mean they live on rotated pastures. Some eggs at the farmers market are from free range hens (fixed chicken coop and outdoor area of limited size). Others may be from families that raise backyard chickens.
Some farms sell their pasture raised eggs direct to consumers onsite if you visit their farm.
2. Grocery Store: You can also buy pasture raised eggs at the grocery store, and I'll talk more about that below.
3. Online: Or, you can even buy pasture raised eggs online from the Hitzfield family who created their own brand of pasture raised eggs and sell them direct to you at Fresh Egg Co.
If you'd like a more comprehensive answer, I wrote a whole guide about how to find farm–fresh eggs.
Pasture Raised Egg Brands at the Grocery Store
Depending on where you live, it may be hard to find local farms selling pasture raised eggs. In that case the grocery store may be your only option for pasture raised eggs.
I do sometimes buy pasture raised eggs at the grocery store and feel good about the brands I support this way.
So I wanted to do a run down for you of the different pasture raised egg brands you're likely to see at the grocery store. I scoured each company's website and read news articles to get this information. I hope it'll save you some time and bewilderment when shopping for pasture raised eggs at the grocery store.
All of the pasture raised egg brands I cover below are either Certified Humane or American Humane Certified which means the hens:
have at least 108 square feet of outdoor space per hen
have free and easy access to fresh feed
are kept on pasture 12 months of the year for at least 6 hours per day
pasture must be rotated periodically
1. Trader Joe's Pasture Raised Eggs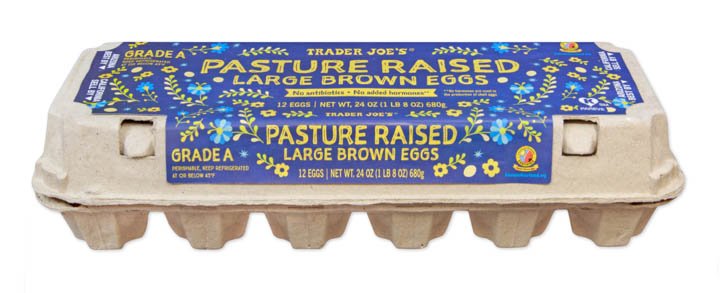 Trader Joe's sells their own brand of pasture raised eggs. Fortunately, with a little digging you can discover that they are transparent about where those eggs come from. Trader Joe's pasture raised eggs come from Carol's Eggs.
The Carol's Eggs brand is also sold at Trader Joe's and is a sister company to Pete and Gerry's Organics.
So let's get into some details about Trader Joe's pasture raised eggs. The hens live on a network of farms on the east coast that seems to be clustered in Virginia.
They are Certified Humane, which means that each hen must have access to at least 108 square feet of outdoor space for at least 6 hours per day. That said, keep in mind that Virginia experiences winter, so how much time the hens actually choose to go outside is up for debate.
The hens are fed a mixture of corn and soy that is not organic and may contain GMOs. Only organic feed can be guaranteed non-GMO.
Highlights
Certified Humane
Farms located along the north east coast
Feed: not organic, contains corn and soy
2. Vital Farms Pasture Raised Eggs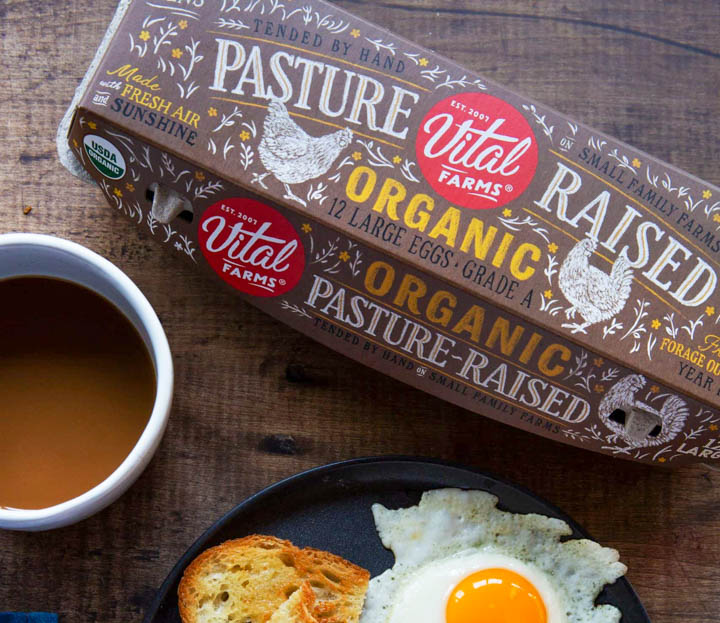 Vital Farm eggs are one of my go-to brands when I buy pasture raised eggs from the grocery store. I appreciate that they have an organic option, that they practice pasture rotation and that their hens live in areas of the country where they can forage outside, even in the winter.
The Vital Farms model is similar to the others I've covered, in that they partner with a network of (over 275) farms that produce pasture raised eggs. The eggs are picked up from these independent farms and brought to a central location to be washed, packed and shipped out around the country and then to a grocery store near you.
Vital Farms farms are located in what they call the "pasture belt". The pasture belt is an area of the country where hens can be outside year round. Vital Farms claims it's neither too cold, nor too hot.
How many hens per farm?
Vital Farms claims their partners are "small family farms". Naturally I wondered how small and family-like these farms are. I wasn't able to get exact numbers. BUT according to their 2020 year end stakeholder report, Vital Farms had 200+ farms in their network with 2.5 million hens.
A little math and that averages to 12,500 hens per farm. In contrast, the average caged hen facility houses 60,000 plus hens in one shed.
To see video footage of a Vital Farms farm, go here and type of the name of the farm on your egg carton. Some you can try are: Valley View, Dogwood Acres, J&D Farms.
Highlights:
Certified Humane
Certified B Corporation
Pasture rotation every 21 days
Feed: organic and non-organic options, contains corn and soy
3. Consider Pastures Eggs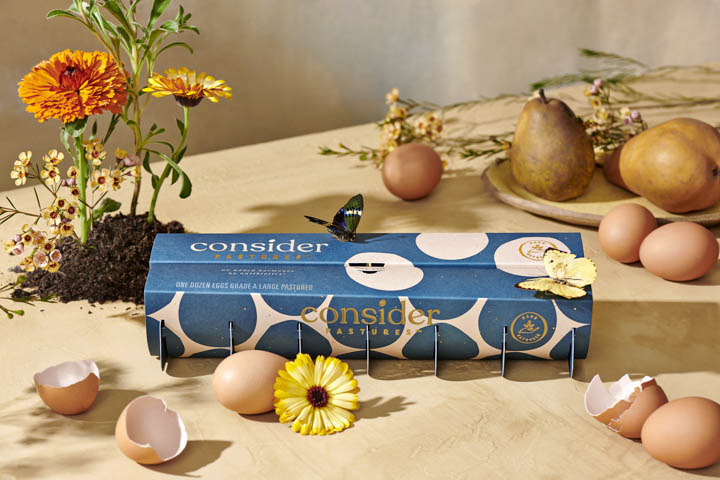 Consider Pastures sells pasture raised eggs sold at Earthfare, Whole Foods, Harris Teeter, Winn Dixie and more. They are the brand, not the farm. Consider Pastures partners with a network of egg farmers on the east coast who produce pasture raised eggs.
In order to partner with Consider Pastures, these farms must meet selection criteria and commit to regenerative agriculture. Aside from their unique packaging, it is this commitment to regenerative agriculture that Consider is using to set themselves apart.
Their employees visit all of the farms in their partner network annually, and provide ongoing support to their farmers in implementing and maintaining the regenerative practices. Pasture rotation is an important tenet of regenerative agriculture.
Consider Pastures does not have an organic option.
Highlights:
Certified Humane
Certified B Corporation
Regenerative agriculture
Feed: not organic, contains corn and soy
4. Handsome Brook Farms Pasture Raised Eggs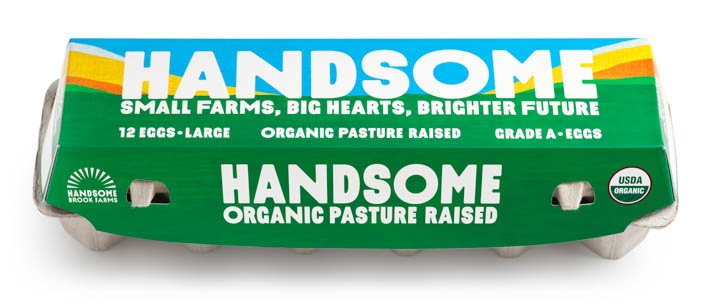 Handsome Brooke Farms partners with a network of more than 75 farms across the midwest that raise pastured hens. Their eggs are USDA certified organic, and American Humane certified.
Handsome eggs are laid by hens kept on rotated pastures with access to a barn throughout the day and night. From dawn til dusk the barn doors are opened to the fields so the hens can forage outside.
When they are not outside eating bugs and grass, Handsome hens have access to an organic soy and cornmeal feed inside the barn.
Keep in mind that the midwest, where the hens are located, experiences winter. So how much time they chose to spend on the pasture during those months is a question.
Highlights:
Certified organic
American Humane Certified
Rotated pastures
Feed: organic, contains corn and soy
How to Save Money on Pasture Raised Eggs
You've probably noticed that pasture raised eggs come with a price premium. And when you see the extra steps these farmers take in order to honestly sell pasture raised eggs you can see why.
Here are a couple tips for saving money on pastured eggs:
1. Look for Store-Brand Pasture Raised Eggs
Trader Joe's and Aldi are two grocery stores I know who sell store-brand pasture raised eggs. Unfortunately, you don't know who their supplier is, and the pasture raised claim isn't monitored by the FDA, so it comes down to trust. If you don't mind the unknown, buying store-brand pasture raised eggs is one way to save a few dollars on a dozen eggs.
2. Buy Pasture Raised Eggs Only When on Sale
Keep your eye out for sales to save a few dollars on your favorite pasture raised egg brands. Then check the best before dates and stock up on the amount you think your family will consume in that time.
3. Buy Eggs Directly from a Small Farm
Another option, depending on where you live, is to buy directly from the farm. In rural areas I see small family farms selling eggs for $4 to $5 a dozen. In more urban areas I notice the cost is higher.
Summary
In summary, pasture raised eggs, whether purchased from a local farm, or the grocery store, are a wonderful alternative to conventional eggs. Eggs laid by hens that spend their days outside are more nutritious, and the pasture rotation model of agriculture is good for the land and good for the animals.
As more consumers like you and I chose to buy only pasture raised eggs, demand for the product will increase. Moving us, as a country, away from the inhumane situation that is the caged (and even cage-free) egg industry.
If you'd like more information about the chicken farming industry, I also wrote all about pasture-raised vs organic vs free range chicken meat.
I hope this content has you feeling more empowered when buying eggs. As always, know what's important to YOU and ask questions. Remember, "pasture raised" is a marketing claim.
Thank you for reading!