It's that time of year. The end of May brings the end of the farmers market season in the St. Petersburg and Tampa area of Florida where I live. I never forget how lucky I am to spend winter in a place where crops and farmers markets are thriving from October til June!
I get to cook and eat fresh, local produce all winter long. But don't move here, it's getting crowded and super duper hot. 🙂
Unlike much of the rest of the country, southern Florida summers are too wet and too hot for most vegetable crops to grow. Oh there will still be okra, some squash, certain greens and lots of tropical fruit – but many of the farm fields are now fully harvested and the soil's being planted with cover crops.
The farm-to-table recipes, shopping and cooking will continue here at Fed by the Farm as I'm heading north bound for the summer in a couple weeks. It has been a dream of mine to spend an entire summer doing what I call "reverse snow birding" (get it?).
Let's take a look at some highlights from the 2022/2023 farmers market season here in St. Petersburg, and Tampa Florida.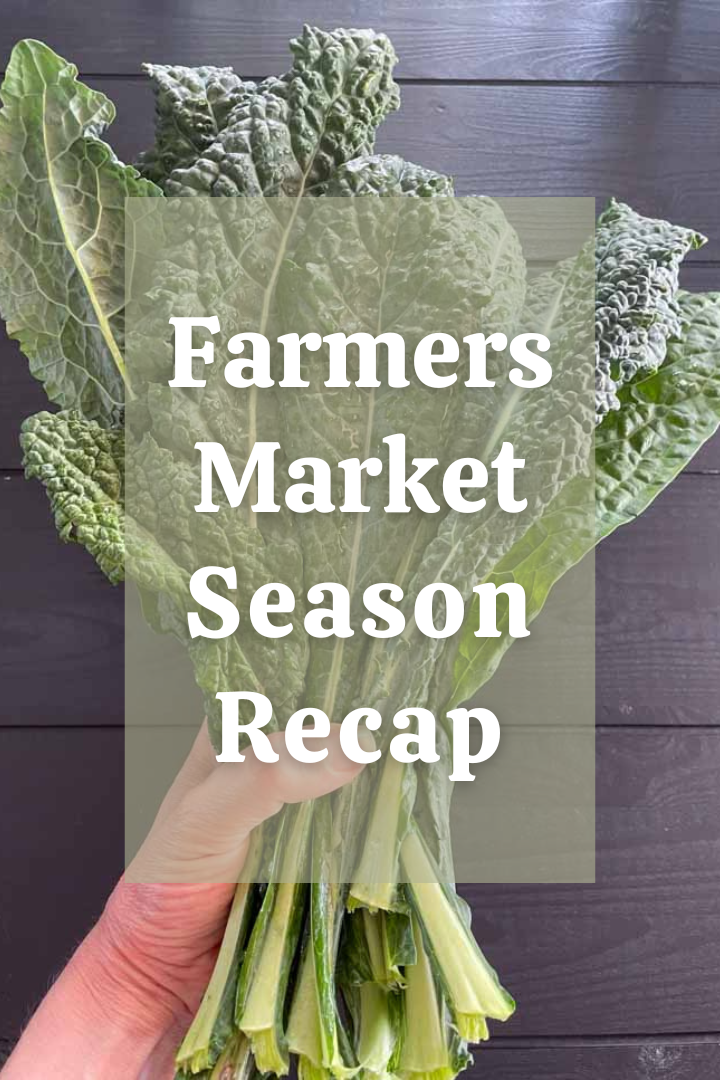 Between October and June I buy most of my produce and almost all of my meat from real farmers markets in St. Petersburg and Tampa. I eat incredibly well and healthfully thanks to the hard-working and passionate organic farmers near me.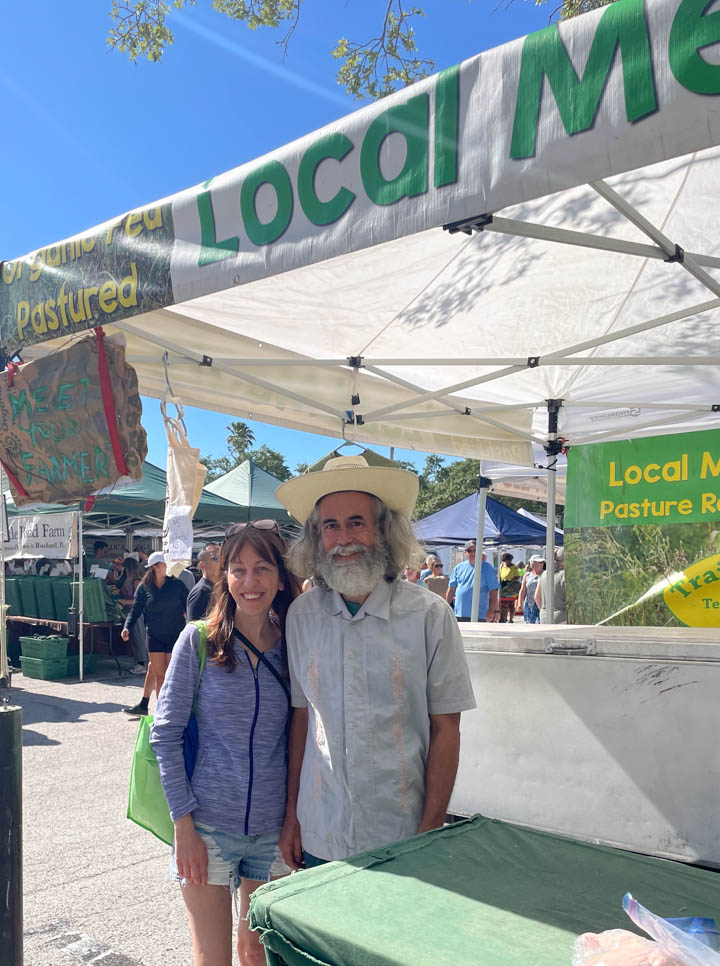 Soil-grown food, that is picked when ripe, tastes so much better than grocery store produce. I encourage anyone and everyone to pay a visit to a farmers market near you this summer and experience the difference.
And before you go, check out my 15 Farmers Market Shopping Tips.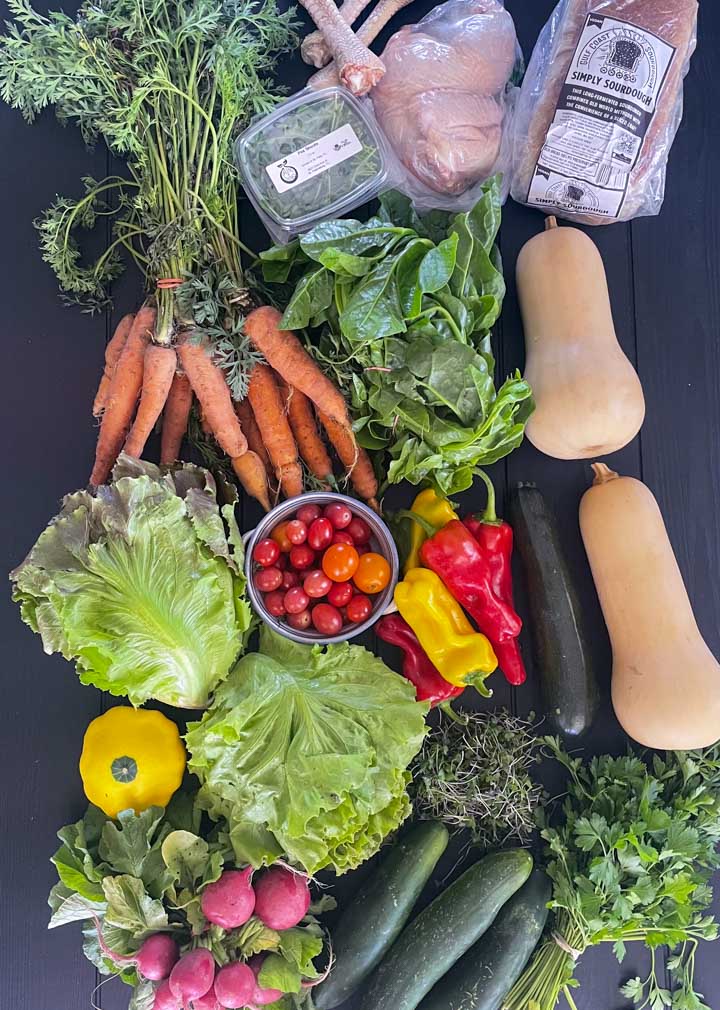 During the past 8 months I regularly bought all kinds of food at farmers markets in St. Pete and Tampa, including:
Pasture-raised chicken
Salad fixings
Veggies: squash, tomatoes, spinach, onion, eggplant, sweet potatoes
Fresh herbs: dill, thyme, basil, rosemary, parsley
Mushrooms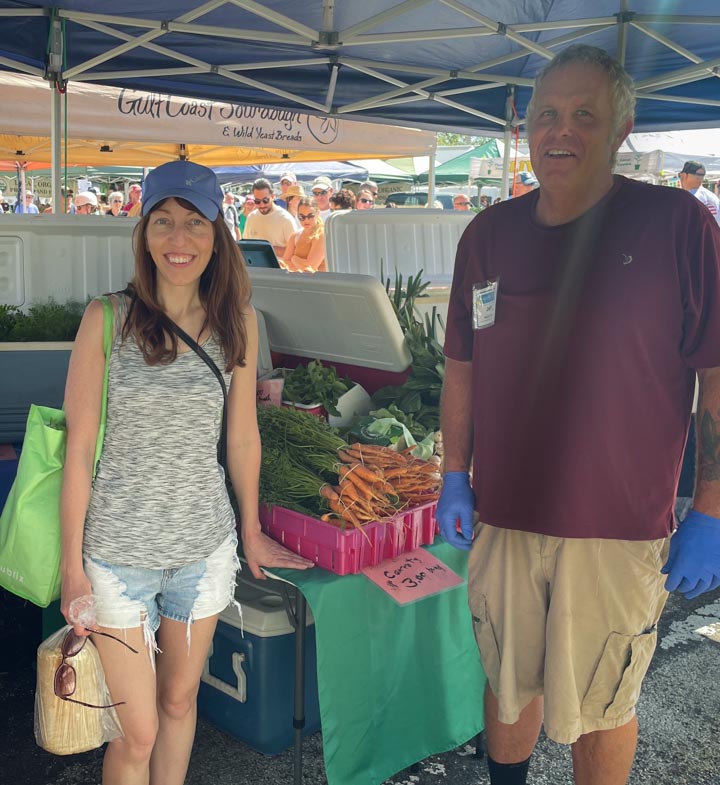 Let's dive in and take a closer look at the farmers markets I shop at, and what you'll find if you go.
My Favorite St. Petersburg Area Farmers Markets
1. Saturday Morning Market St. Petersburg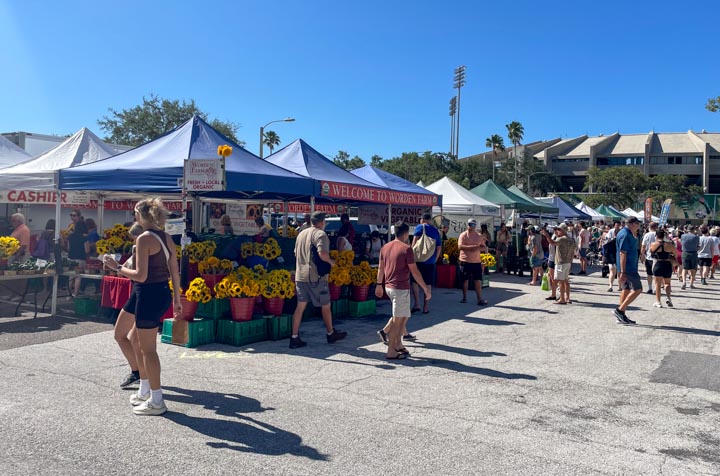 The main farmers market that I frequent is the Saturday Morning Market in St. Petersburg. I prefer this market because it has a good variety of real farms that show up. I can also get pasture-raised meat at the Saturday Morning Market, as well as real sourdough bread and local honey.
During this farmers market season, the Saturday Morning Market in St. Petersburg was home to:
6 local farms that use organic farming practices
A sweet family that grows and sells citrus fruit (oranges, grapefruit, lemons, etc.)
Florida Fruit Cooperative (they harvest fruit from local fruit groves and farms)
2 pasture-raised meat farmers
Local apiary (Rebecca's Bees)
Family-owned business that grows micro-greens
3 bakers that make sourdough bread, the traditional way
St. Pete Ferments (wild-fermented sauerkraut, kimchi, kombucha and more)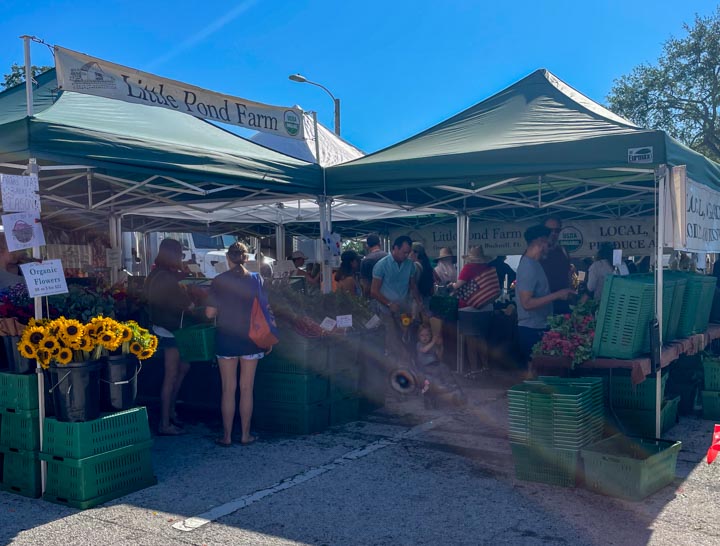 As an FYI, in the far corner of the Saturday Morning Market in St. Pete, there is also a large vendor selling produce.
They do bring in a lot that was grown in Florida, but they are not a farm and they did not grow it. They also sell produce that was clearly shipped in from elsewhere (shiny red bell peppers and Hass avocados, I'm talking to you!).
The small local organic farmers are on the opposite corner of the market. Just a heads up in case you wind up at the other spot first. I sometimes grab a couple things there if I really need something that isn't available at the others.
Here's how to recognize farmers market vendors that aren't real farms.
2. Sweetwater Farm
Another place I shop is Sweetwater Farm in Tampa. They host a small farmers market on Sunday afternoons. It's a peaceful place to visit and soak up farm vibes right in the city.
There is a real community feel here and everyone is so friendly. I mean, if you're lonely and down Sweetwater Farm would be the place to go. 🙂
At Sweetwater Farm I get delicious pasture-raised beef from Calvin of CCW & Sons if he has recently slaughtered a cow. Seriously, his beef is remarkably good, but don't go buying it all on me.
I also get veggies from the farm, and their farmers market vendors. Sweetwater is a small farm, so the produce selection is very limited. But it makes a nice outing and they always have live music on Sunday afternoon.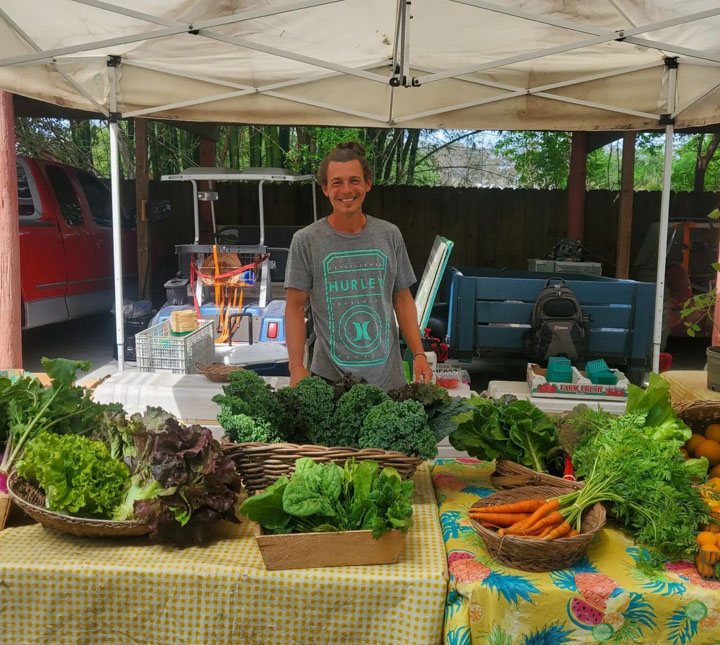 In addition to their own produce, Sweetwater farm carries a selection of beef from Providence Cattle Company (also a great source for pasture raised beef!) and whole chickens from TrailBale Farm in their freezer!
3. Meacham Urban Farm
Meacham is another urban farm in Tampa. They are located near downtown Tampa in a community that was a federally declared food dessert.
If you live nearby, Meacham Urban Farm is a neat place to visit. They'll let you walk around, and there are chickens onsite that you can watch from the outside of their fence.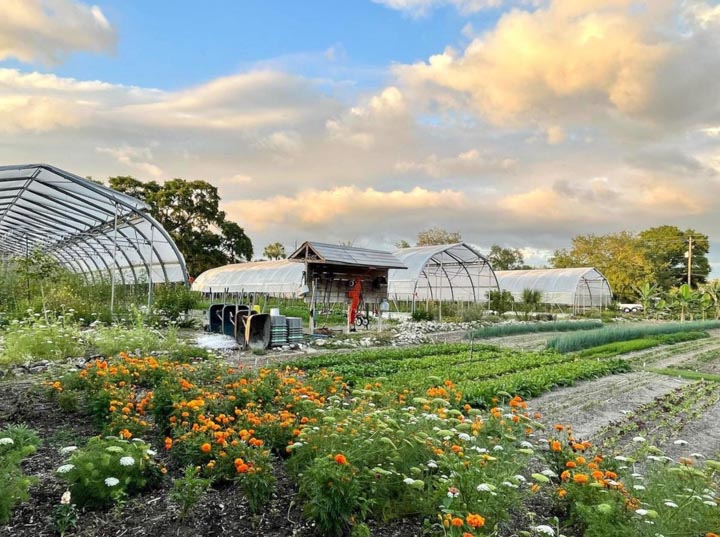 I shop at Meacham a couple times a season when I need a few things to get me through to the next Saturday Morning Market in St Petersburg. Their farm is open on more days and hours than just Saturday morning, so it's pretty convenient, especially if you live nearby!
At the farm you can buy whatever produce they're growing that's in season, as well as produce they bring in from other organic farms in Florida. You'll also find ferments, sourdough bread, local fruit and pasture raised meats from TrailBale farm.
In my experience, the prices here seem to be higher than at the farmers market in St Pete.
4. Dunedin Saturday Morning Market
Dunedin hosts a vibrant market every Friday and Saturday Morning. I rarely go because there is only one real farm (Life Farms) that vends there, so it's not possible to get an entire grocery order. It is a good option if you're in the area and just need a few things. There are lots of other artisan vendors to check out as well.
Be aware that there is a produce wholesaler/reseller at the Dunedin Downtown Market every week. If you buy from them you're pretty much getting the same thing as you would at the grocery store. Which may be OK if you're not looking to buy from local farms. Here's an article I wrote about how to spot fake farms at the farmers market.
—
There are certainly more than four farmers markets in the St. Petersburg and Tampa area, these are just the markets I shop at. For a full list, check out Tampa Bay Markets.
Wondering what it costs to buy food at the farmers market? Keep reading and I'll share.
How Much it Costs to Shop at the Farmers Market in 2023
If you aren't a regular farmers market shopper you may be wondering how much it costs to shop at the farmers market. Or, if the farmers market is more expensive than grocery stores like Publix.
I actually did a price comparison of the farmers market versus the grocery store last October that I recommend checking out. I compared the price of the produce I buy at the farmers market in St. Petersburg to the price of produce at the grocery store (Publix).
In short, I discovered (to my surprise) that I am saving money by shopping at the farmers market.
Finding out that I'm saving money at the farmers market surprised me because everything I buy is organically grown, in soil and such high quality. Grocery store produce does not compare, even if it's grown organically. I know because I sometimes need to buy things at the grocery store.
Much of the organic produce you find at grocery stores was grown indoors hydroponically and not on traditional farms like you get at the market.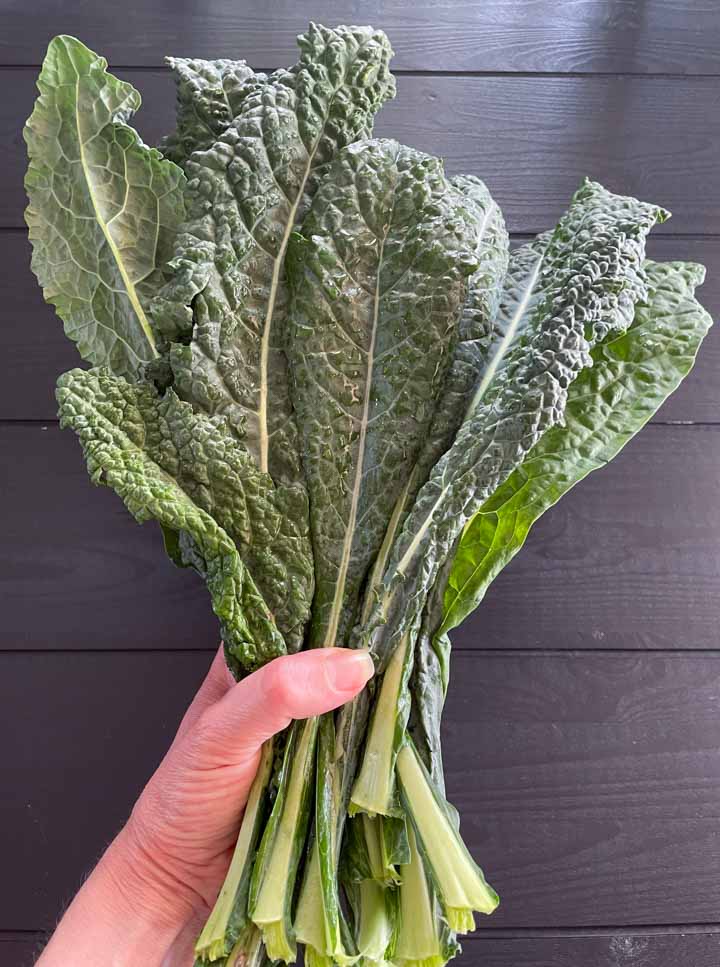 As far as how much I spend at the farmers market? This season, over the course of 8 months I spent $1450 at various farmers markets between the first of October and the end of May. That includes pasture-raised meats as well as produce, sourdough bread and honey.
This year I spent $1450 at farmers markets over 8 months.
Worth noting that I'm feeding a household size of one person, plus the occasional friend for dinner.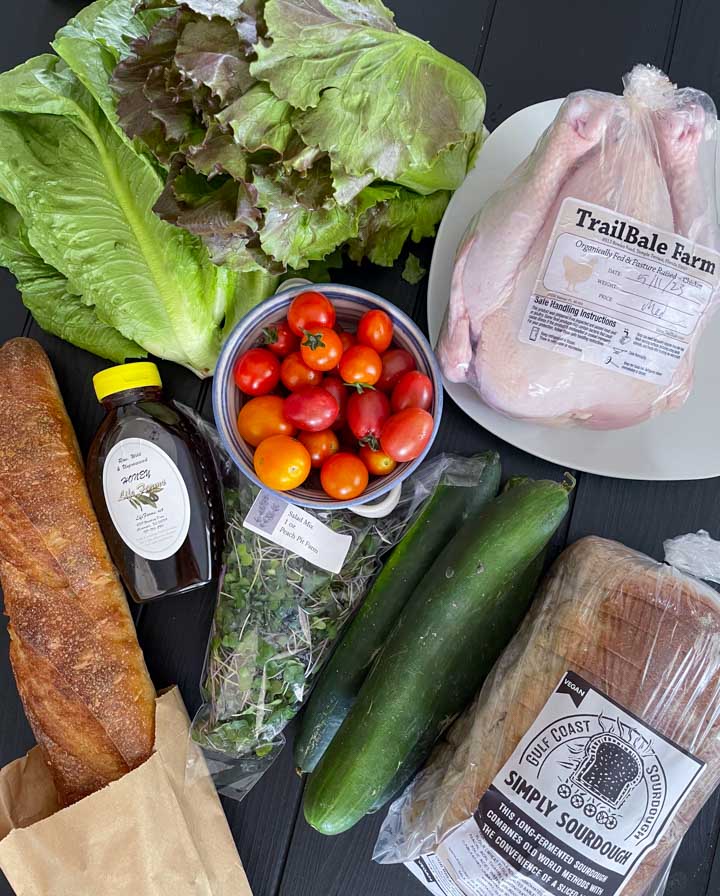 Farmers Market Recap – Final Thoughts
If you live in the St. Petersburg or Tampa area I hope you'll stop by the Saturday Morning Market in October, or any of the other farmers markets I mentioned.
Don't live in the Tampa Bay area? I recommend the National Farmers Market Directory to find a farmers market near you. And I provide all kinds of farmers market shopping advice in my blog!
Happy shopping this summer!