These blistered shishito peppers are a quick and easy snack you can whip up while dinner's in the oven. Simply sauté whole shishito peppers with olive oil, salt and garlic…that's it!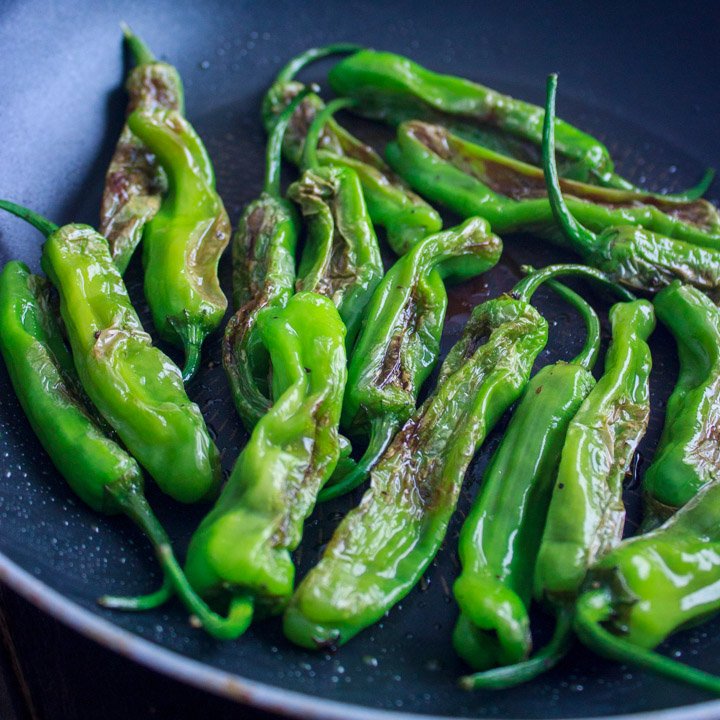 Shishito peppers are a recent discovery of mine. As someone who does not enjoy spicy foods, I stick to Cubanelle and bell peppers, assuming all others are HOT HOT HOT.
Then recently I was at a farmers market and noticed someone stuffing a grocery bag full of these bright green and uniquely shaped peppers.
When you see someone buying that many of something it makes a person curious. So I struck up a conversation asking how he cooks them.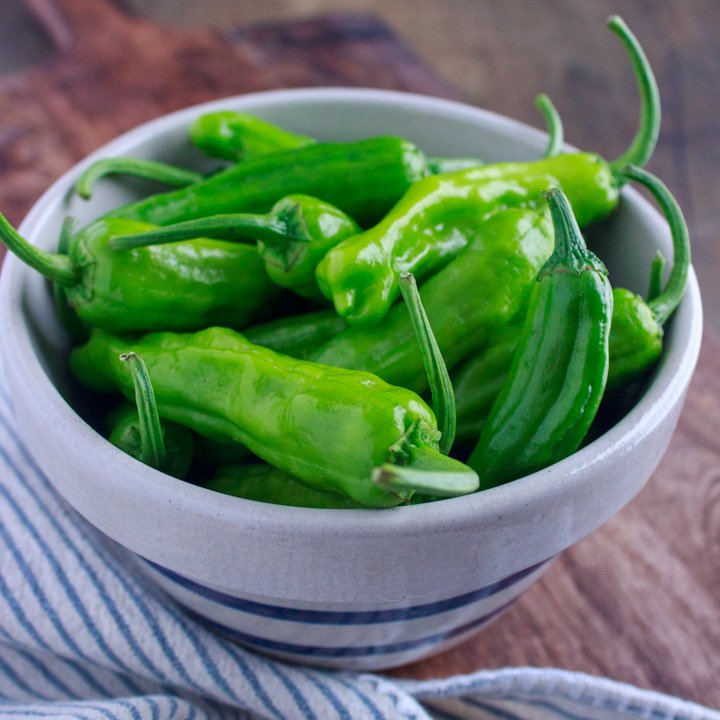 He grinned explaining that he simply sautés shishito peppers with a little oil and salt and they are delicious. So delicious that upon hearing our conversation, the farmer selling the shishito peppers chirped up in agreement that a simple sauté is all that's needed.
Farmers are always such a great resource about the food they sell and it's one of the perks of buying directly from the farm.
I asked how spicy they are and was surprised when he said that shishitos usually aren't spicy at all.
BUT, he added – they are considered the Russian roulette of peppers. Every once and awhile you'll get one that packs a punch when you bite into it.
I logged this into my memory bank and continued on my way.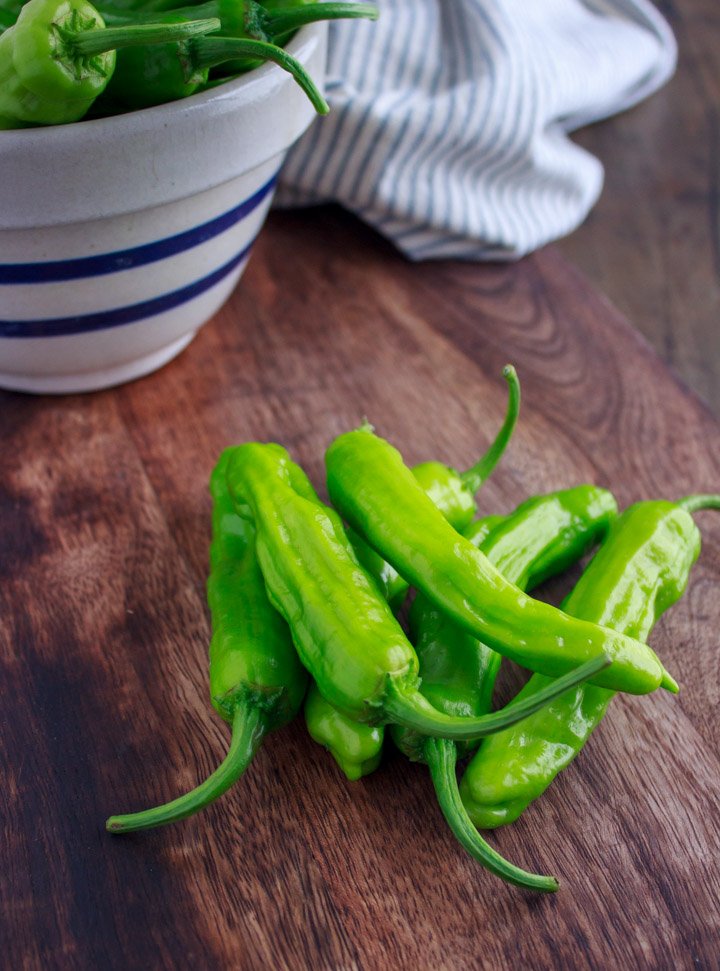 Fast forward a couple weeks and, while at an entirely different farmers market, I see a customer dumping pint after pint of shishito peppers into his bag.
As it turns out, he's a baker and uses them in focaccia. But he also loves to just eat them on their own after a quick sauté.
I was sold. So I grabbed a pint eager to try something new and delicious!
What does blistering a shishito pepper mean?
Before I dive into the how to blister shishito peppers, here's a quick explanation.
Blistering is what happens when thin-skinned are sautéed at a medium-high heat. The skin literally forms blisters that brown and then blacken. Though it sounds unappetizing it's really delicious!
You can see blisters starting to form on these shishito peppers in my pan.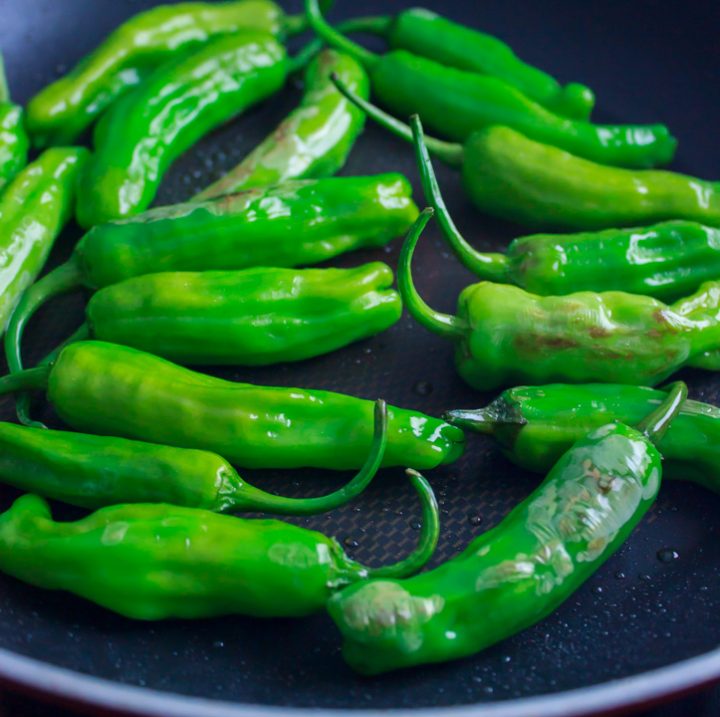 The key to a perfect blistered shishito pepper is to keep them moving in the pan over medium-high heat. If the heat is too low, they won't blister or get those delicious brown spots, and if it's too hot they'll just burn.
Green beans are another vegetable I love to blister – check out my quick sautéed green beans recipe if you'd like to try them.
How to Blister Shishito Peppers
These little guys are a quick and easy pre-dinner snack. Just be sure you're not distracted while sautéing them – they cook quickly and need to stay moving in the pan.
1. Prepare shishito peppers to sauté.
This recipe assumes half a pound of shishitos, which is about 20 to 25 individual peppers.
Place the peppers in a colander and give them a quick rinse under the tap. Then pat them well to dry. Any water that remains on the skin will cause the hot oil to spatter.
No need to cut them and be sure to leave the stems intact. You'll use the stem to grab and hold them when nibbling!
2. Heat your pan and add the oil.
Heat a large, non-stick frying pan over medium high heat. My stovetop runs hot, so I set the knob on 6 out of 10.
When your pan is hot, add 1 tablespoon of oil. Wait for it to shimmer.
3. Add the shishito peppers to the hot oil and sauté.
When the oil begins to shimmer, carefully add the shishito peppers and toss them almost continuously.
The heat will work its magic and start creating blisters on the skin very quickly. These blisters then brown and blacken.
4. Add salt and minced garlic.
Watch the shishito peppers closely and when they are almost done to your liking (less than ten minutes), add 4 pinches of salt and a medium clove of minced garlic.
Sauté for another minute then remove them from heat.
FYI about the garlic: The garlic is optional but does give depth of flavor to the mild peppers. I've blistered shishitos with and without garlic and find them a bit bland without.
5. Remove from heat and serve immediately.
Blistered shishito peppers are best hot and fresh, so dig in.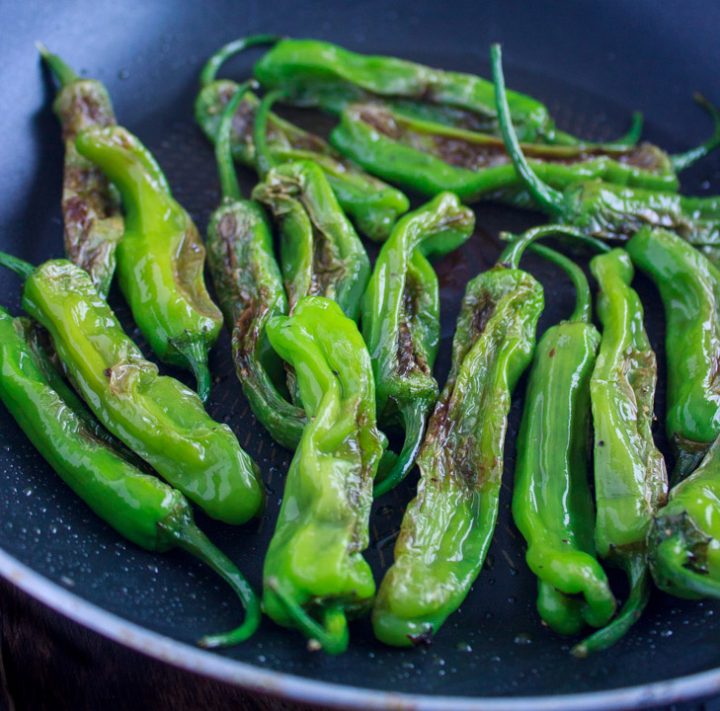 Do not be alarmed when they shrivel up as soon as you remove them from the heat. The air inside the peppers expands while cooking and contracts as they cool.
A quick Q&A about Shishito peppers
What do shishito peppers taste like?
I find the taste of a cooked shishito pepper to be quite mellow. The flavor is there, but it isn't strong. Shishitos have thin skin and flesh, and are soft and juicy to bite into when cooked.
Are shishito peppers spicy?
Though they are a chili pepper, most shishito peppers are not spicy at all – just a little warm. And this is coming from someone who is very sensitive to spicy things. But every once and awhile you'll get one that is spicy. How spicy? Not very, even I don't mind.
According to the Scoville scale, the heat rating of a shishito pepper is 50 to 200 heat units, which is practically nothing. Bell peppers are rated zero and Jalapeños are 2500 to 8000.
How will I know if a shishito pepper is ripe?
Ripe shishito peppers are shiny, bright green. Though, if not harvested at this point they will ripen further and turn red. Red shishito peppers can still be eaten. A ripe shishito pepper has bumpy skin that is firm to the touch. They're about the size of your thumb, and can be three to five inches long.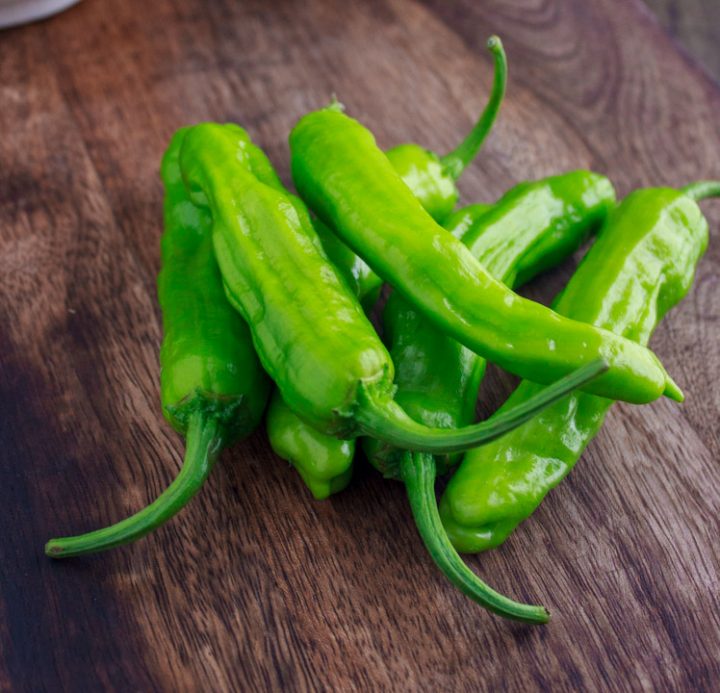 When can I find shishito peppers at the farmers market?
Shishito peppers require warm weather to thrive and are a pretty easy crop to grow here in the United States during the summer months.
I've spotted shishito peppers at farmers markets in Ohio and North Carolina in July and August. In Florida, where I live most of the year, you'll find them at farmers markets during winter when it's warm but not soaked with rain.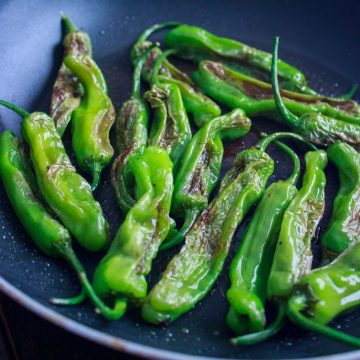 Blistered Shishito Peppers
These blistered shishito peppers are a quick and easy snack you can whip up while dinner's in the oven. Simply sauté whole shishito peppers with olive oil, salt and garlic…that's it!
Ingredients
1/2

lb

shishito peppers

1

tbsp

oil

4

pinches

salt

1

clove

garlic, minced
Instructions
Rinse the shishito peppers with water and pat well to dry.

Heat a large, non-stick frying pan over medium high heat.

When the pan is hot, add the oil and wait for it to shimmer.

Carefully add the shishito peppers to the pan and toss them almost continuously while they blister and brown.

When the shishito peppers have brown spots on all sides, add the salt and garlic and toss for another minute.

Remove from heat and serve immediately.