Hello!
This is where I'll share my favorite kitchen gadgets and tools that I use for cooking the recipes here at Fed by the Farm.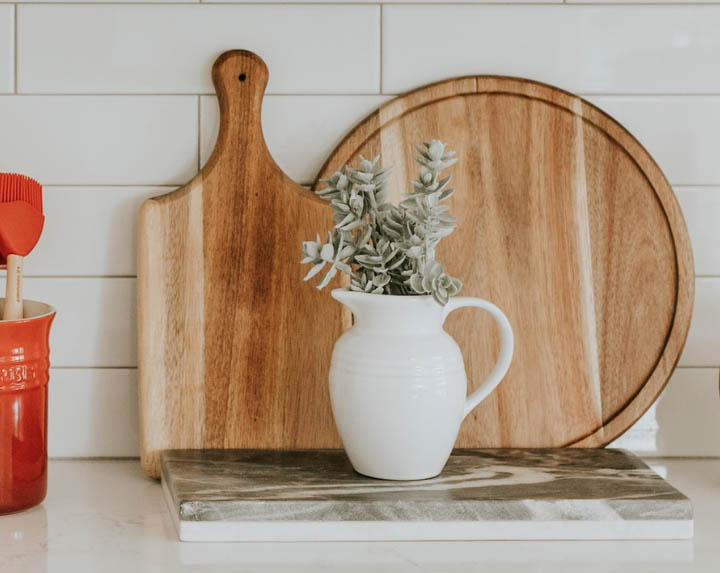 I'm actually a minimalist when it comes to the tools, gadgets and dishes I keep in my kitchen. I find it very satisfying to open a cupboard and see just a few things, neatly organized and that I use on a regular basis.
As a minimalist I also prefer to keep fewer high-quality kitchen gadgets, over lots of cheaper things that may only have one use. This means I do A LOT of research before bringing a new tool or gadget into my kitchen!
And that is research you can benefit from. I hope this list of my favorite kitchen gadgets saves you time and makes your cooking all the more enjoyable!
My Favorite Kitchen Gadgets
These are all gadgets, tools and dishes that I own, and use in my kitchen regularly. Some of the links below are affiliate links. This means that, at no cost to you, I may earn a commission if you purchase these products.
I've had lots of cutting boards over the years…thin and flexible, wooden, thick and sturdy, small medium and large. Last year mine were so worn, warped and discolored I was ready to replace them. This time I knew I wanted thick and sturdy. I also decided that for now, one great cutting board is all I need.
Afters reading in depth comparison reviews of different cutting boards, I chose this OXO Good Grips cutting board. I've been using it for about a year and love it. Yes it has become a bit discolored from cutting carrots and beets, but it's super functional and just the right size for an every day cutting board.
As a minimalist I procrastinated buying a rolling pin until this year! It's such a specific kitchen tool and I don't often roll out pie dough or cookie dough. When I did, I always just reached for a wine bottle or straight-edged glass.
Then this year I started baking more galettes (like my blueberry galette) and decided to invite a new rolling pin into my kitchen. This 18-inch french rolling pin is the perfect size for rolling out galette and pie dough. It's very easy to clean, much easier than an old-fashioned rolling pin with handles.
I traded in my full size Ninja blender for this little guy and I couldn't be happier. The thing that drove me nuts about a full size blender is it was such a pain to clean. And it was bulky to store and haul out any time I wanted to use it.
I use my Ninja mainly to make smoothies, but also for homemade nut milk and hummus. When I need to puree larger quantities (like soup and salsa) I turn to my immersion blender which I'll share with you next.
Ever since I lived in France years ago and learned how to make homemade pureed soups (like butternut squash soup), an immersion blender has been a staple in my home.
I love that I can simply stick it in a pot and puree the contents. And if I don't want to completely puree something (such as salsa) I just give it a couple quick pulses to create a chunkier texture.
This particular immersion blender I'm linking to isn't the exact model I have. It's a newer version and pretty close to mine which, has been discontinued.
As is typical for an over-thinker like me, I spent a lot of time reading reviews and in careful consideration before buying a mandolin.
The main thing I use a mandolin for is shredding up cabbage for homemade sauerkraut. And nothing does that better than a mandolin.
I opted for this slim, space-saving design instead of a larger mandolin set that comes with all kinds of different blades. I have a few different OXO Good Grips products in my kitchen and highly recommend this mandolin if you just need something for slicing.
I bought this handy little scale last year after my last kitchen scale stopped working. I use it several times a week and mainly for recipe creation at Fed by the Farm. What I love about it is I can alternate between ounces, grams and pounds with the push of a button. It also has a handy feature that lets you exclude the weight of a bowl so you're only measuring the contents.
I love this thing! I use it all the time for everything from roasting a whole chicken in the oven to making stew on the stovetop. I bought the 5.5 quart dutch oven because I needed something large enough to roast a chicken with a lid.
I specifically bought this CorningWare dutch oven because I could use it on my ceramic stovetop to brown meats (without risk of scratching the cooktop). Then put the lid on and move it to the oven for roasting. Brilliant!
If you want a dutch oven, but can't use cast iron on your cooktop, I highly recommend this.
Heads up – this is THE BEST garlic mincer I've ever owned. Forgot those hand-held garlic presses that require a rock climber's grip strength. They also turn the garlic to mush rather than mince, and are a pain in the butt to clean. You need this little guy. It is so fun to use, makes perfectly minced garlic and is a breeze to clean. I'm in love.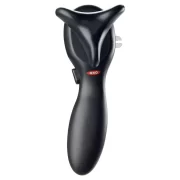 I absolutely love this can opener. Truth be told it was a stretch to pay over $20 for a can opener but it was worth it.
Prior to this I had a Pampered Chef can opener that was received as a gift. I was spoiled by that thing, but had to replace it after a breakup in which he got the can opener as part of splitting our assets. 😀
Frugal as I am, I first bought a run of the mill KitchenAid. I used it once and the difference was night and day – I hated it. So I promptly set out for something as close to that Pampered Chef can opener and I found it in OXO at Target. This beauty is smooth as butter and worth every penny.
When I first started fermenting three years ago I invested in this fermenting kit. Fear of exploding jars got the best of me. I wanted some kind of lid system so I could set those jars of fermenting goodness aside on my counter and not worry about it.
As usual, I did a lot of research into a lot of different types of fermenting lids and this kit was the winner. I like that it includes fermenting weights to hold the food down and the lids are easy to clean and made of plastic so they don't rust. With the Easy Fermenting Kit I've made fermented okra, sauerkraut, dilly beans, fermented salsa and more.
While we're on the topic of fermenting, these are the pH strips I use to test with. They aren't just for kombucha, I use them to test fermented veggies as well. Most bad bacteria can't survive at ph lower than 3.0, so I wait til my ferments register below this before I move them to the fridge. I also prefer the taste at that stage. Foods fermented to higher pH levels don't taste sour enough for my taste buds.
I have a set of these Pyrex glass storage containers and use them all the time. I love that I can heat my food directly in the container and the glass makes them easy to clean or pop in the dishwasher.
As an FYI, I did try a similar set of Anchor storage containers that cost a few dollars less and did not like them as much as the Pyrex containers. It was mainly that the lids on the Anchor containers were made of a softer plastic that didn't pop on or off as easily as the Pyrex lids. I recommend investing a little more and going with Pyrex.