Cage-free, free range, pasture raised, happy hens – me oh my.
Browsing the egg section of the grocery store is a lot to take in these days!
It may leave you wondering what all these egg labels mean, which are based on reality, and which are marketing fluff.
Not to mention whether it's worth shelling out the extra money for eggs with more humane-sounding labels.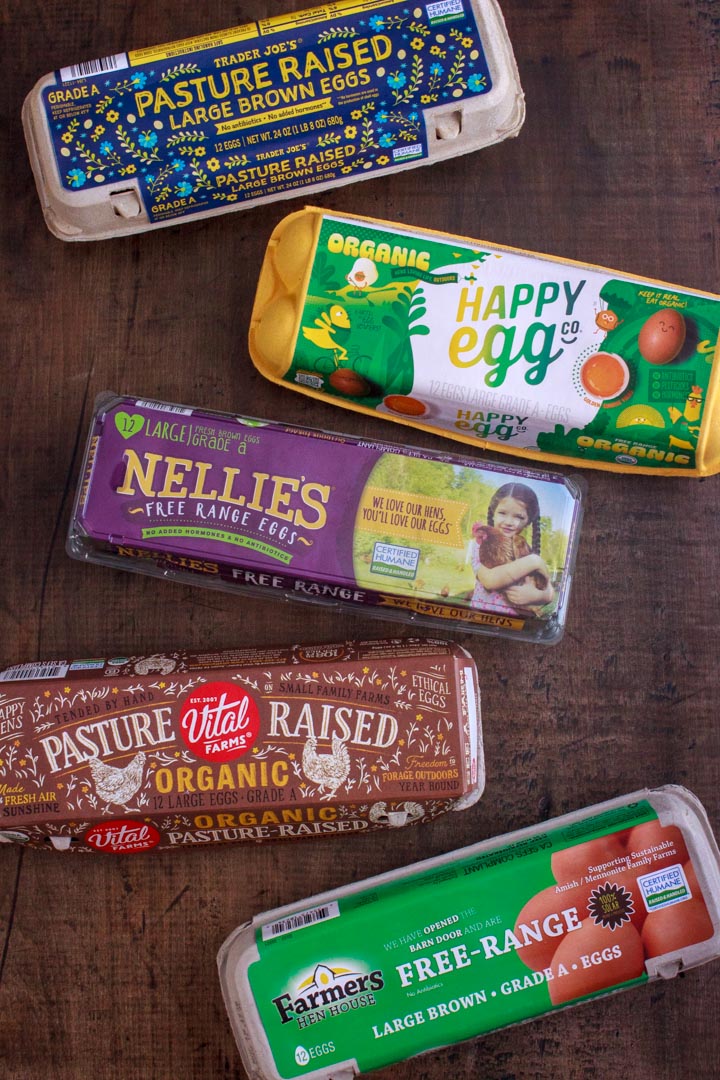 So let's dive into what the egg labels mean.
In this post:
Caged (Conventional Eggs)
Over 70% of eggs consumed in the United States were laid by caged hens as of the end of 2020.
This is considered conventional egg production and it represents the bulk of the egg cartons you'll find at the grocery store.
Each hen receives about half a square foot of space in her cage, which is less than a sheet of paper. Conventionally-raised caged hens are fed a diet of corn and soy.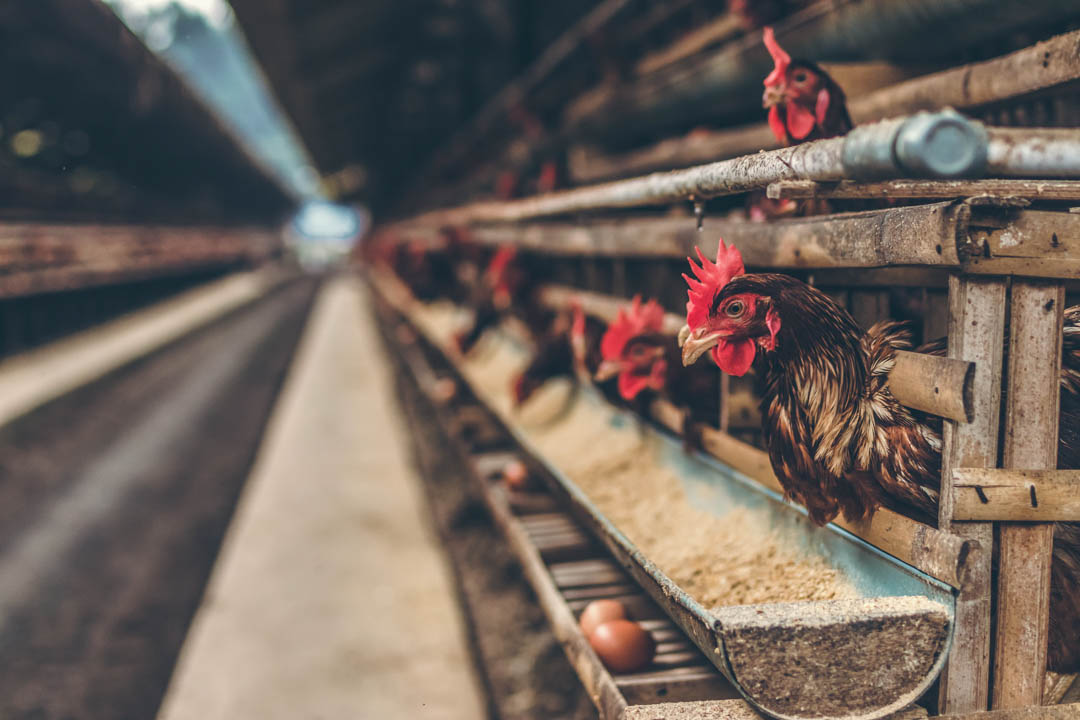 Cage-Free Eggs
Cage-free eggs were laid by hens who can roam indoors. According to the USDA egg-labeling guidelines, the indoor space must also "allow hens to exhibit natural behaviors and include enrichments such as scratch areas, perches and nests".
Unfortunately, being free from a cage may not look like many consumers expect. This is still large-scale factory egg production and the barns the hens live in are all too often overcrowded and dirty.
Not to mention that cage-free hens don't have outdoor access at all. Keep reading to find out how this impacts the nutritional value of eggs laid by indoor hens.
Free Range Eggs
In addition to not confining them to a cage, egg producers who sell free range eggs must give their hens continuous access to the outdoors during their laying cycle. Laying cycle refers to times in the hen's life when it is laying eggs.
The outdoor area they access can be fenced and covered with netting.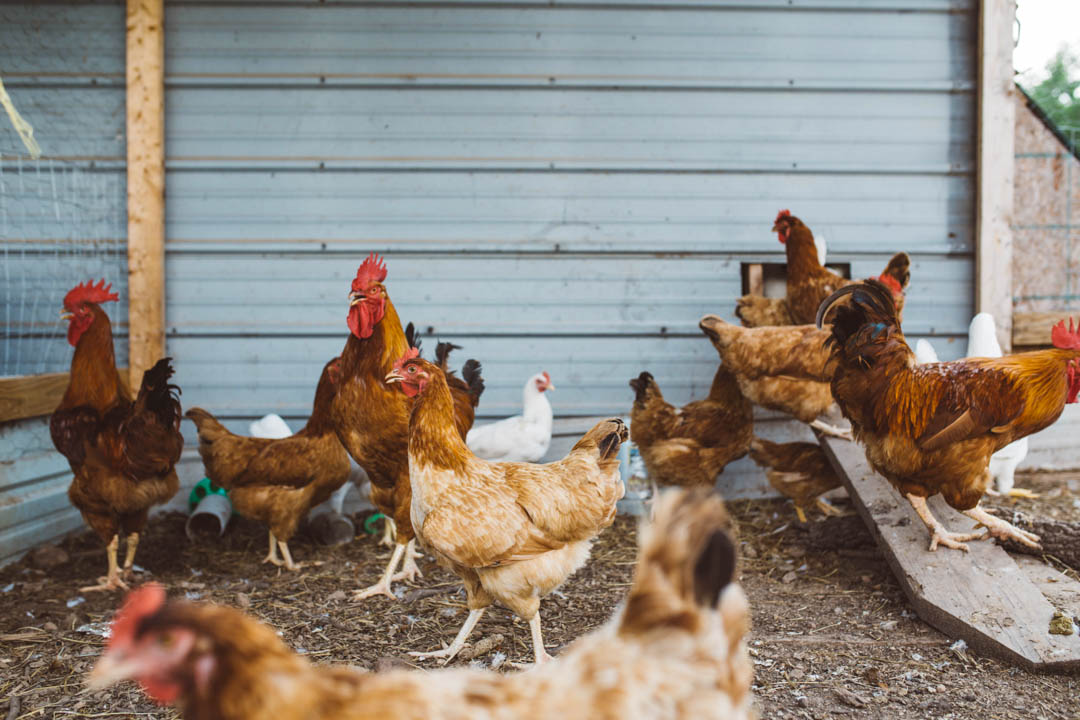 Hens who have access to the outdoors, are not only presumably happier, they also lay eggs with 3 times the vitamin D3 in their yolks compared to eggs laid by caged hens.
Though this finding was made in eggs laid by their 'study participant' hens, the scientists found much lower levels of vitamin D in the free range eggs they sampled from the grocery store.
This implies that just because the hens have access to the outdoors, it doesn't mean they actually go outdoors.
Critics of free range eggs say that in factory egg production, free range is not much different from cage-free except there's a door (of questionable size) open from the barn to the outdoors.
That's why I suggest that if the free range claim is important to you, it's worth doing a little research into the farming practices of the brand you're buying.
One way is to look for third-party certifications on the egg carton such as Certified Humane®. Certified Humane free range hens must be outdoors for at least 6 hours per day, weather-permitting and seasonally.
Pasture Raised Eggs
Pasture raised is not a term defined or monitored by the USDA or the FDA.
What you should expect when buying eggs with the pasture raised or pastured label, is that they were laid by hens who have plenty of space to freely roam outdoors all day, and forage for insects, bugs and grasses to eat.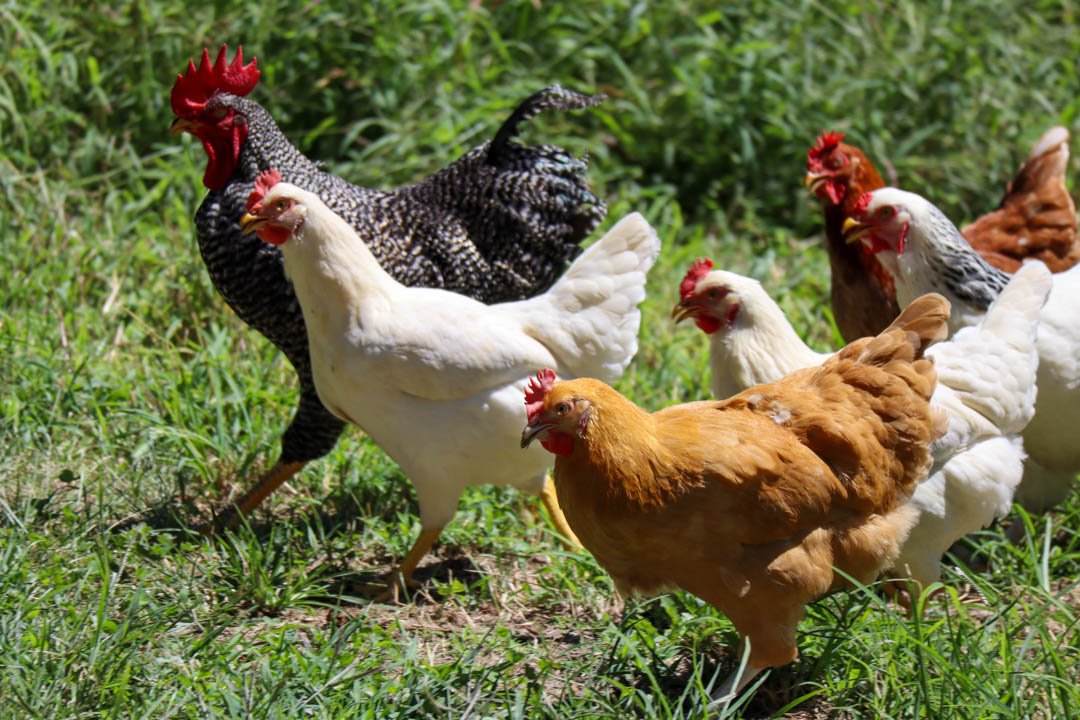 Their diet will also be supplemented with feed, which will be organic and non-GMO if the eggs are also labeled "organic", or some other feed mixture if not.
You'll pay more for the pastured raised eggs label, so you want to trust the farm you're buying from.
Eggs with the "pasture raised" and Certified Humane label that I mentioned above, must be laid by hens who are kept outdoors year-round. The farms also must:
Rotate the hens around the field
Provide an indoor space where they can go at night for protection
Have an average of 108 square feet of space per hen
According to multiple peer-reviewed studies (see below), eggs laid by pastured hens have a number of healthy benefits compared to their caged, cage-free and free range sisters.
Pastured eggs have substantially more vitamin D
A study whose results were published by the National Library of Medicine found that eggs laid by hens who were kept outdoors had almost 4 times the amount of vitamin D3 in their eggs compared to hens who did not have outdoor access. Hens whose time was indoors and outdoors had 3 times the amount of vitamin D3.
Pastured eggs have 2.5 times more omega-3
Another study of cage-free versus pasture raised eggs found that eggs laid by pastured hens had 2.5 times as much omega-3 fatty acids as those laid by caged hens.
What About Farmers Market Eggs
People interested in being more connected to their food are learning how to buy eggs from small farms that sell at the farmers market, or from friends who have backyard hens.
This is how I sometimes get my eggs.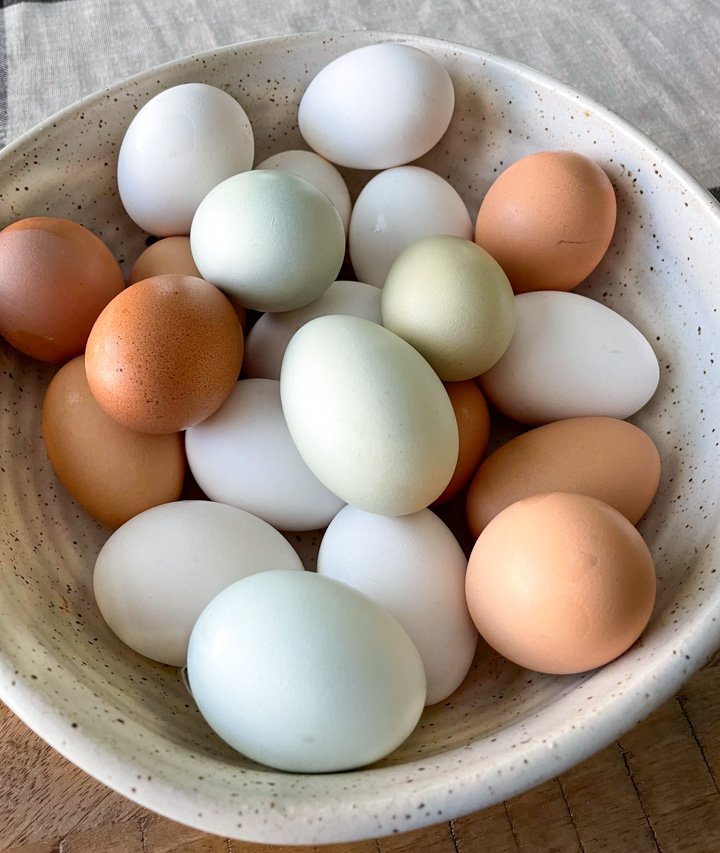 I do recommend asking the farmer a few questions based on what matters to you, such as…
how much time do their hens spend on the pasture
how many egg-laying hens do they have
what is their feed supplemented with when they aren't foraging
They may also be able to show you photos, or if you're lucky, invite you out to their farm to see for yourself! 🙂
Where to Learn More About Your Eggs
I mentioned the Cornucopia Institute in my article about how to find grass-fed beef. In addition to their beef scorecard, they also have an egg scorecard.
Many of the brands you'll see at the grocery store are on their list and graded. So I recommend checking it out. Just keep in mind that although the Cornucopia Institute does not charge farms to be scored, participation is optional and if a farm declines to participate they will receive a lower rating.
Another way to learn more about the egg production practices of your favorite egg brand is to visit their website.
In my experience there are a few brands who take a lot of pride in how the farms they source from treat their hens, and their overall farming practices, so it's worth reading up on what those farming practices are.
How to Save Money on Pasture Raised Eggs
You've probably noticed that pasture raised eggs come with a price premium. And when you see the extra steps these farmers take in order to honestly sell pasture raised eggs you can see why.
Here are a couple tips for saving money on pastured eggs:
1. Look for Store-Brand Pasture Raised Eggs
Trader Joe's and Aldi are two grocery stores I know who sell store-brand pasture raised eggs. Unfortunately, you don't know who their supplier is, and the pasture raised claim isn't monitored by the FDA, so it comes down to trust. If you don't mind the unknown, buying store-brand pasture raised eggs is one way to save a few dollars on a dozen eggs.
2. Buy Pasture Raised Eggs Only When on Sale
Keep your eye out for sales to save a few dollars on your favorite pasture raised egg brands. Then check the best before dates and stock up on the amount you think your family will consume in that time.
3. Buy Eggs Directly from a Small Farm
Another option, depending on where you live, is to buy directly from the farm. I follow some farming feeds on social media and see small family farms in rural areas selling their eggs for $5 a dozen.
—
I hope this article helps clear up some of the confusion or overwhelm the next time you're in the egg aisle of your grocery store or looking for a source for eggs.