Have you noticed the grass-fed label on butter and wondered what's the difference between grass-fed butter versus regular butter? Or perhaps you already buy grass-fed meat and are exploring the benefits of grass-fed butter and dairy products.
Is grass-fed butter worth it and why would someone choose grass-fed over regular butter?
Whatever your reason, these are questions I'll answer in this article – and more!
Welcome friend, I'm glad you're here.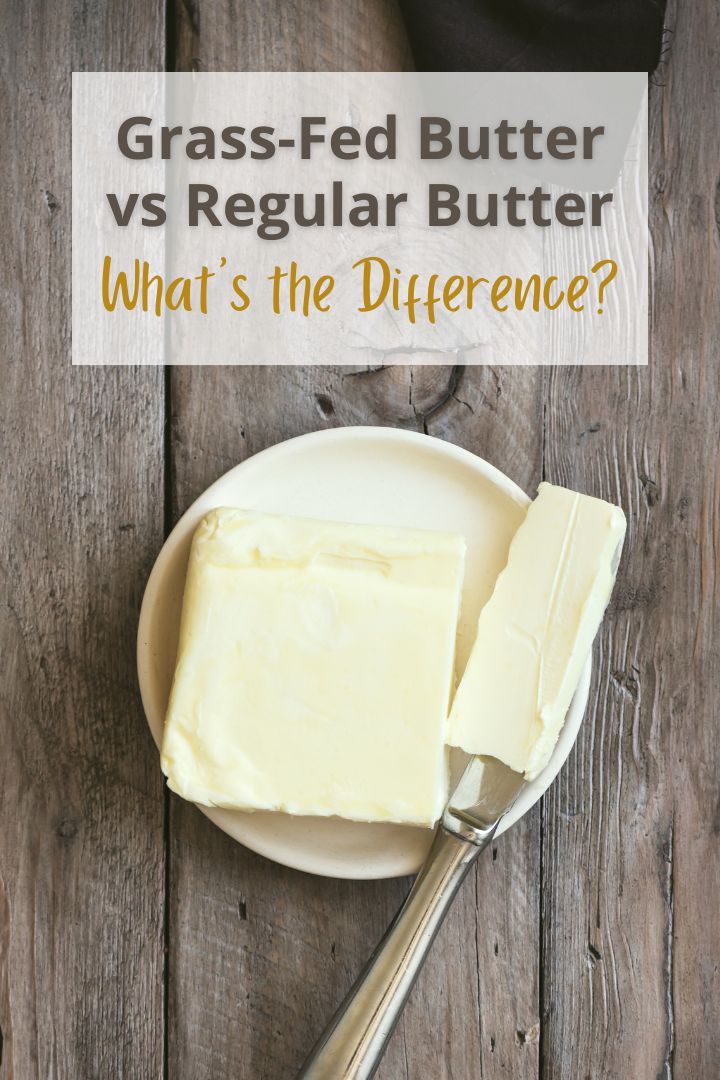 How Butter is Made: A Quick Primer
Is butter made from cows milk?
Nope, technically butter is made from cream not milk. When you milk a cow, both milk and cream comes out. The milk is non-fat and the cream is where all the fat (aka milk fat or butterfat) is.
Given a little time, the cream will separate and rise to the top of the milk. Dairy farmers skim this layer of cream off the top to make butter. Then the milk is sent off to be pasteurized for drinking.
Churning cream causes it to thicken and turn to butter.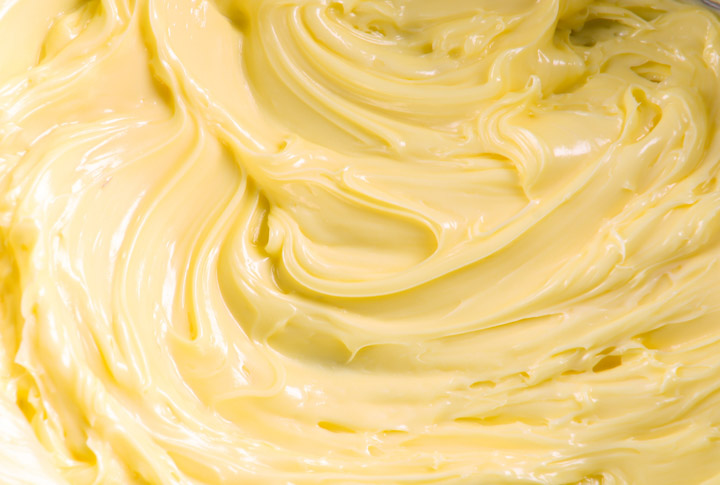 Traditional butter, like our ancestors have been making for thousands of years, has no added ingredients such as dyes and flavors. These days, most butters you buy at the grocery store have flavor added. (I'll get into the reasons why below.)
Salt is sometimes added to butter for flavor. But salt is entirely different from the "natural flavor" I'm talking about.
What is Grass-Fed Butter versus Regular Butter
Grass-fed butter is made from the cream of grass-fed cows. These dairy cows spend their days on pasture, or in some cases – in barns.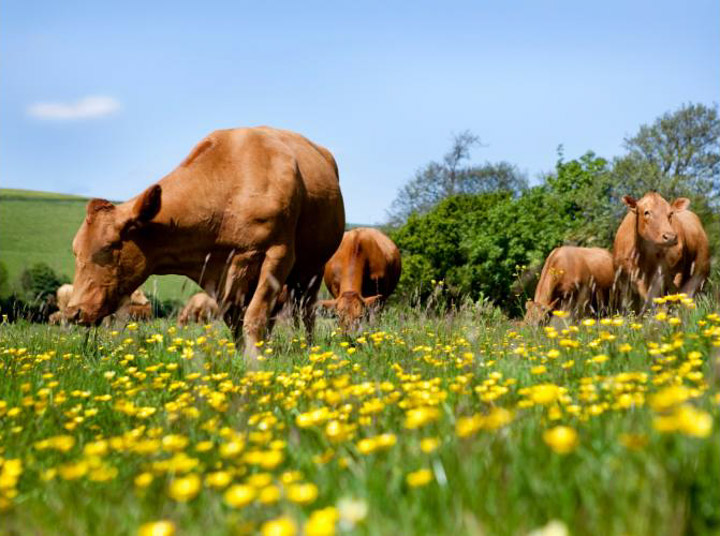 If they live in a barn, fresh and dried grasses will be provided for them.
But ideally, a grass-fed cow spends its days on pasture eating grass and forage. This is the case for most of the grass-fed butter brands I discuss later in this article.
On the other hand, regular butter that doesn't have a grass-fed label, is made with cream from cows that are grain-fed. This is most of the dairy cows within the American dairy industry.
Conventional dairy cows are not raised on pasture.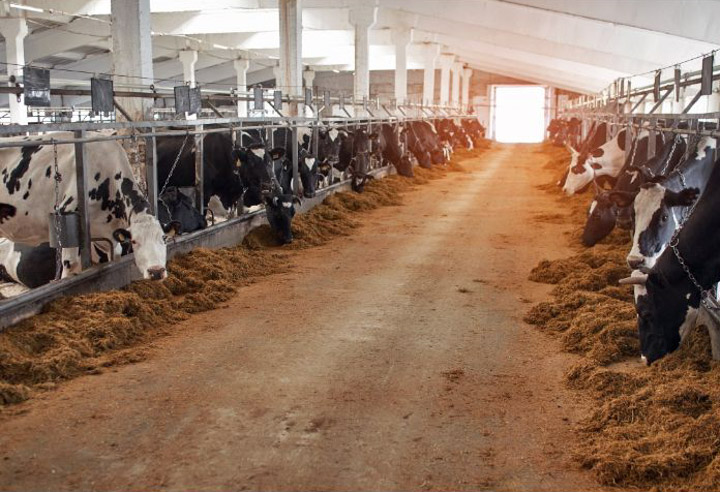 In conventional dairy farming cows are fed a mixture of grains (such as corn), grass and food processing byproducts. Byproducts are things like orange peels, spent barley from beer making and almond hulls.
Grain-based feed provides quick energy and is much cheaper than feeding cows grass. These conventionally-raised dairy cows usually spend their lives inside barns, but some may have access to an outdoor area.
Grain is not actually the natural diet for a cow. Cows are ruminant animals that have special stomaches designed for digesting the grass they eat when grazing on the land.
Eating grains can be painful for a cow and cause health problems such as acidosis and liver abscesses.
So what about health benefits, is grass-fed butter healthier than grain-fed butter? Let's explore that now.
Health Benefits of Grass-Fed Butter
Butter is often dismissed as an unhealthy food because it's high in saturated fat. But enjoyed in moderation, grass-fed butter in particular actually has a number of health benefits that you won't easily find in other foods. And certainly not in margarine!
What a cow eats does affect the quality of milk that it produces. Cows are like humans that way.
Studies consistently conclude that grass-fed butter has health benefits greater than butter from grain-fed cows. Let's look at some of those studies and findings.
1. Grass Fed Butter is Higher in Healthy Fatty Acids
Omega-3 fatty acids have many health benefits. In fact, Omega-3 fatty acids are an essential fatty acid that we need in order to survive. But our bodies do not produce essential fatty acids on their own, they must be provided by the food we eat.
Grass-fed butter is a good source of Omega-3. One analysis found that on average, grass-fed butter contains 26% higher levels of omega-3 fatty acids than regular butter. People who consume it regularly are less likely to suffer from anxiety AND depression.
Consuming enough omega-3 fatty acids has also been connected to reduced risk of macular degeneration, better brain health in babies, lower inflammation and a lowered risk of heart disease.
2. Grass-Fed Butter Contains 500% More CLA
Conjugated linoleic acid (CLA) is another essential fatty acid that occurs naturally in foods. But the primary dietary source of CLA for humans is meat and dairy from ruminant animals like cows.
The primary source of CLA for humans is meat and dairy from ruminant animals like cows.

Journal of Dairy Science
A study looking at the CLA in cows' milk found that 100% grass-fed cows had 500% more CLA in their milk fat than cows fed a diet of corn. Milk fat is what's used to make butter.
Multiple studies have shown that conjugated linoleic acid has anti-carcinogenic properties. It also reduces chronic inflammation and stimulates weight loss.
The scientist who discovered CLA, Micheal Pariza remarked that "few anti-carcinogens, and certainly no other known fatty acids, are as effective as CLA in inhibiting carcinogenesis".
Few anti-carcinogens, and certainly no other known fatty acids, are as effective as CLA in inhibiting carcinogenesis.

Micheal Pariza, Scientist who discovered CLA
(Grass-fed beef is also higher in CLA than grain-fed beef.)
3. Grass-Fed Butter is Rich in Beta Carotene
Grass is naturally high in beta carotene and when cows eat this grass they get a lot of beta carotene in their diet. Studies have found that as a result, grass-fed butter is higher in beta carotene than conventional butter.
Your human body converts the beta carotene you consume into Vitamin A (retinol). Vitamin A is good for eye health, a strong immune system and healthy skin.
4. Grass-Fed Butter is an Excellent Source of Vitamin K2
While leafy greens are a rich source of vitamin K (specifically vitamin K1), we can only get vitamin K2 from animal products such as dairy, and fermented foods.
And listen up because this is fascinating.
Grass and other plants get their green color from chlorophyll. And chlorophyll is loaded with vitamin K1…which is why leafy greens are such a great source of this nutrient.
When cows munch on grass, a special enzyme in their digestive track converts the chlorophyll to vitamin K2. The K2 is then passed into the cow's milk and excreted through the mammary glands.
Talk about the miracle of nature!
Studies show a person's risk of dying from heart disease falls by 9% if they consume 10 micrograms of vitamin K2 a day. This is partly because K2 activates a protein in our bodies called matrix GLA that removes calcium from our soft tissues (such as our arteries).
Vitamin K2 also activates osteocalcin which directs the calcium you consume to your bones (instead of your arteries). Insufficient intake of vitamin K has been linked to lower bone density in women and increased risk of bone fracture in men and women.
Vitamin K2 has also been found to slow or stop cancer cell growth!
Feeding cows, and other animals, a diet of grains is eliminating this vital nutrient from our food system.
—
Phew, that's a lot!
Just think of how conventional food production is degrading the nutritional value of our meat and dairy products. All by changing the diet of the cows.
When we disrupt the miracle of nature like this it's no wonder chronic disease is running rampant at levels unheard of in generations prior.
But there's more. The differences between grass-fed butter and conventional butter don't stop at health benefits.
Differences Between Grass-Fed and Regular Butter
Color
As I covered in the last section, grass-fed butter is higher in beta carotene than regular butter. This beta carotene is what gives the cream (and butter!) of grass-fed cows a characteristic yellow hue.
Regular butter from grain-fed cows is much more white.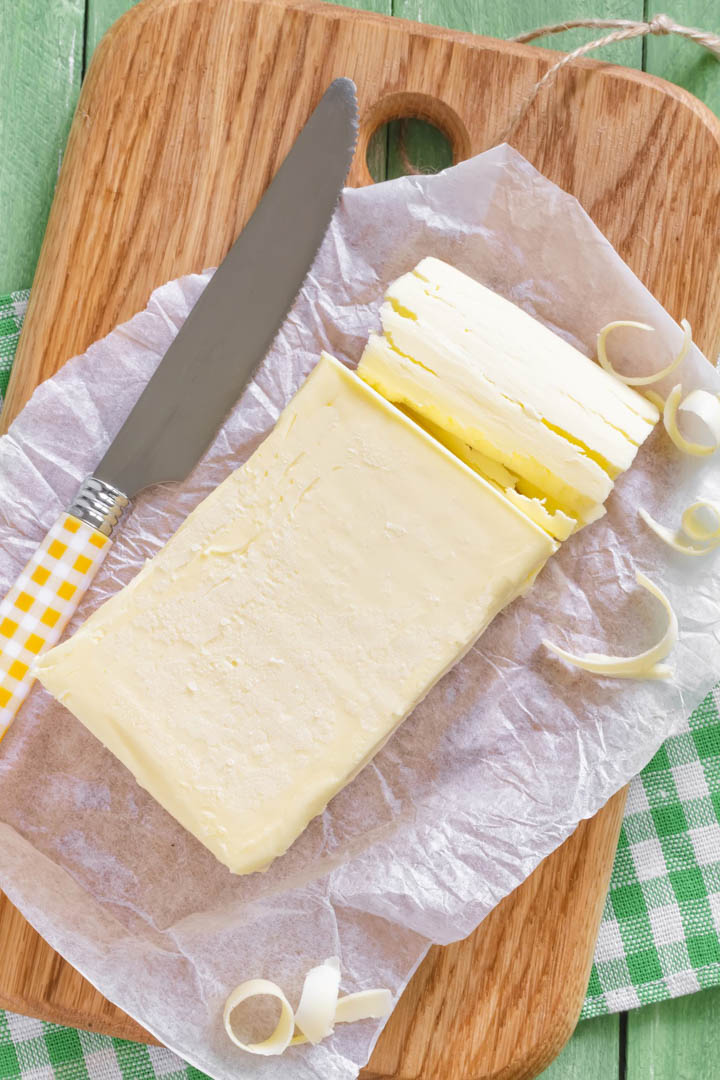 Grass-fed butter is yellow.
(Beta carotene is also what makes carrots orange btw.)
Taste
Fat gives butter (and whole milk) it's rich flavor and creamy mouthfeel. Nonfat skim milk is a great example of this – kinda watery and bland.
The higher the milk fat (aka butterfat) content of butter, the more flavorful it will be.
Most of the butter found in grocery stores in the United States is 80% milk fat and 16 to 18% water. By law, American-made butter must be at least 80% butterfat.
European-style butter on the other hand contains 82 to 85%+ milk fat, and less water as a result. (European butter must have a minimum milk fat content of 82% – it's required by their Food Safety Authority.)
Therefore, grass-fed butters made in European countries like Ireland (ex. Kerrygold) will have more fat and flavor than regular American butter.
One way to cut costs when making butter is by reducing the milk fat content. For this reason, cheaper butters tend to have a lower milk fat content. This leads to a more bland product and is why flavor is often added to regular butter to give it a richer taste.
Whereas premium butters like grass-fed butter tend to have a higher milk fat content and more butter flavor as a result.
Price
Grass-fed butter does cost more than regular butter.
For example a pound of Kerrygold grass-fed butter costs about $8.50 and a pound of regular butter costs $5.30 (Land O Lakes).
I've found this price difference between grass-fed butter and regular butter to be consistent across grocery stores and brands.
Added Flavor
Look at the ingredients list on a typical bar of butter at the grocery store and you'll almost always see "natural flavor".
As I explained in the 'Taste' section, cheaper butter usually has a lower milk fat content which makes it less flavorful. Manufacturers then add flavor to make up for this.
Premium butters like grass-fed butter have a higher milk fat content and don't need flavor added to get that rich buttery taste we expect.
Grass-Fed Butter Brands
Keep your eye out for the following brands of grass-fed butter at the grocery store.
1. Kerrygold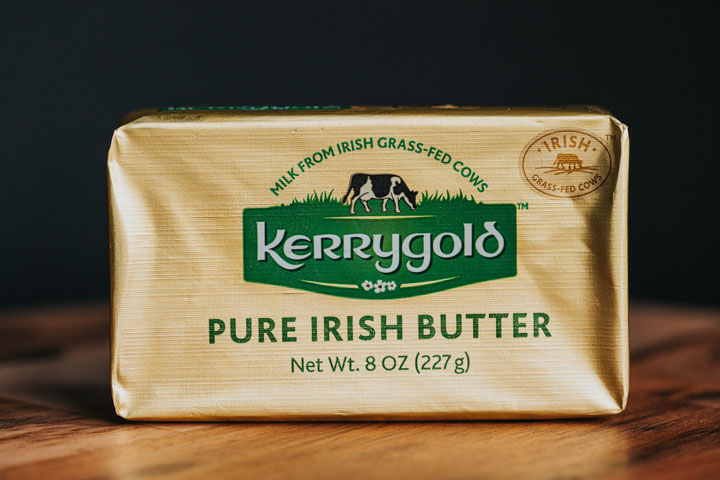 Kerrygold has its roots in Ireland and this is where all of their dairy cows are located. The butter is made with cream from grass-fed cows. Because of their climate and an abundance of fresh green grass, Irish dairy cows are able to spend much of the year outdoors grazing on pasture.
During winter, and bad weather, Kerrygold dairy cows are moved indoors and fed dried summer grass and other supplemental feed. So although Kerrygold butter is predominantly made with milk from grass-fed and pasture-raised cows, it is not 100% grass-fed.
The Kerrygold company works with a network of dairy cow farmers around the country to source the cream they use to make their Irish butter.
2. Truly Grass-Fed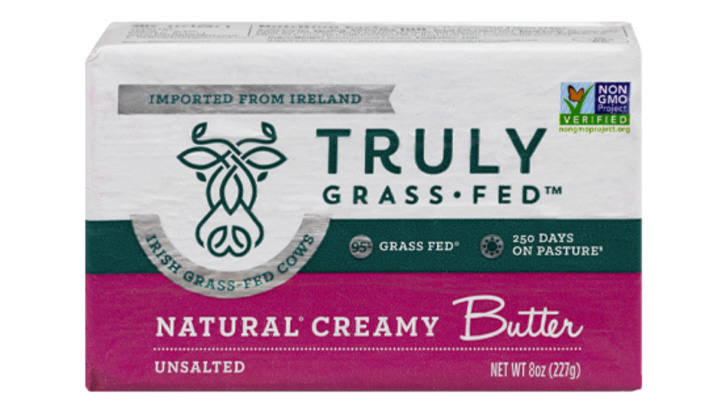 Truly Grass-Fed butter is also from Irish dairy cows. According to their website, their dairy cows are 95% grass-fed and graze outside on grassy pastures for about 250 out of 356 days a year.
Truly Grass Fed butter is non-GMO, free of growth hormones and antibiotic free. Antibiotic free butter means that if the cows get sick and receive antibiotics, their milk is not used to make butter until it tests free of antibiotics.
Truly Grass Fed works with a network of 3000 dairy cow farmers across Ireland to source the cream used to make their butter.
3. Maple Hill Creamery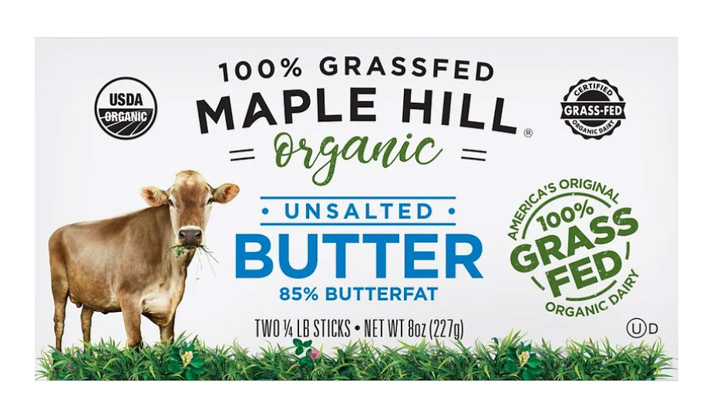 Maple Hill Creamery butter is 100% grass-fed and organic. 100% grass-fed means they only eat grass once they are weened from their mother's milk. Maple Hills Creamery cows are not fed grain, corn or soy.
And per organic standards, their dairy cows are not treated with growth hormones and the pastures they graze on are not sprayed with pesticides.
During the grazing season, Maple Hill cows are on pasture all day eating naturally growing grasses. Keeping true to the 100% grass-fed promise, their dairy cows are fed only dried or fermented grasses during winter when they can not be out on pasture.
4. Kirkland Grass Fed Butter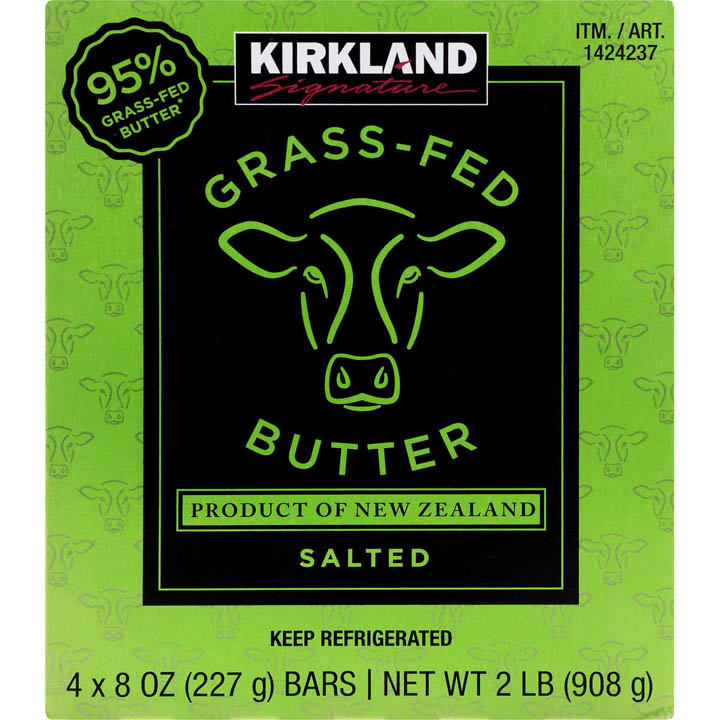 If you're a Costco member you've probably noticed the Kirkland brand of grass-fed butter and maybe wondered if it's as good as Kerrygold butter.
Kirkland grass fed butter is 95% grass-fed and from dairy cows in New Zealand.
Like Ireland, New Zealand is a country with high animal welfare standards and lots of green pasture to raise grass-fed cows. In fact, New Zealand is a popular source for 100% grass-fed beef that you buy here in the United States.
The downside of Kirkland grass-fed butter is they do not have an unsalted option. So even though I've had a Costco membership in the past, I do not buy Kirkland grass fed butter because I prefer unsalted butter.
5. Gay Lea Butter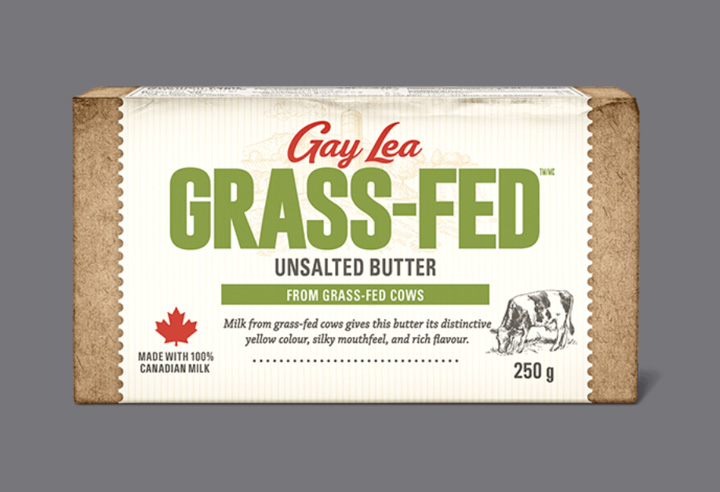 Gay Lea is a brand of grass-fed butter you'll find on grocery store shelves in Canada. The cream used to make their butter is from Canadian dairy cows.
Unfortunately, the term "grass-fed" is unregulated in Canada and Gay Lea Foods does not disclose what percent of their cows' diet is grass. Nor do they disclose whether the cows live on pasture or in barns.
I scoured their website and made multiple unanswered calls to their headquarters to find out. I've since sent them an email and will update this section if I hear back.
FAQ: Grass-Fed Butter
Is Vital Farms butter grass-fed?
Vital Farms butter is not grass-fed. According to the Vital Farms website, their dairy cows are fed a mixture of pasture, dried grass, grain and other supplements.
It's also important to note that Vital Farms butter is not from pasture-raised cows. While some of the dairy cows spend time on pasture, pasture-raised is not a requirement of the Vital Farms butter brand. According to the Vital Farms website, most of their dairy cows live inside barns.
Like Kerrygold and Truly Grass Fed, Vital Farms works with a network of dairy farms to source the cream for their butter. The Vital Farms network of dairy farms are all in the United States.
Even though Vital Farms butter is not grass-fed or pastured, they vow to have high standards for animal welfare. All of their partner farms must adhere to FARM Animal Care Standards. But to me, if cows are not on pasture there is room for improvement.
Does grass-fed butter have less saturated fats than regular butter?
We know that grass-fed butter is higher in unsaturated fats (healthy fats) than regular butter. But what about saturated fats – does grass-fed butter have less?
To answer this question, I looked for research that studied the saturated fat content of grass-fed butter versus regular grain-fed butter. I was surprised that I could find no such studies related to this comparison.
And maybe it doesn't matter whether grass-fed butter has or doesn't have less saturated fat than regular butter. The myth that saturated fat is bad for your heart has been debunked many times in recent years.
Where to buy grass-fed butter?
If you want to buy grass-fed butter there are a couple options for where you can find it.
As much as I love to shop at farmers markets, I haven't run across grass-fed butter at any I've been to.
I buy grass-fed butter at the grocery store. I've also found locally-made grass-fed butter at small markets, like the Amish markets in the Mid-West.