These delicious ground bison recipes will inspire you for dinner this week. Keep reading to learn what's to love about bison meat and why you may want to try it in your journey to being more connected to where your food comes from.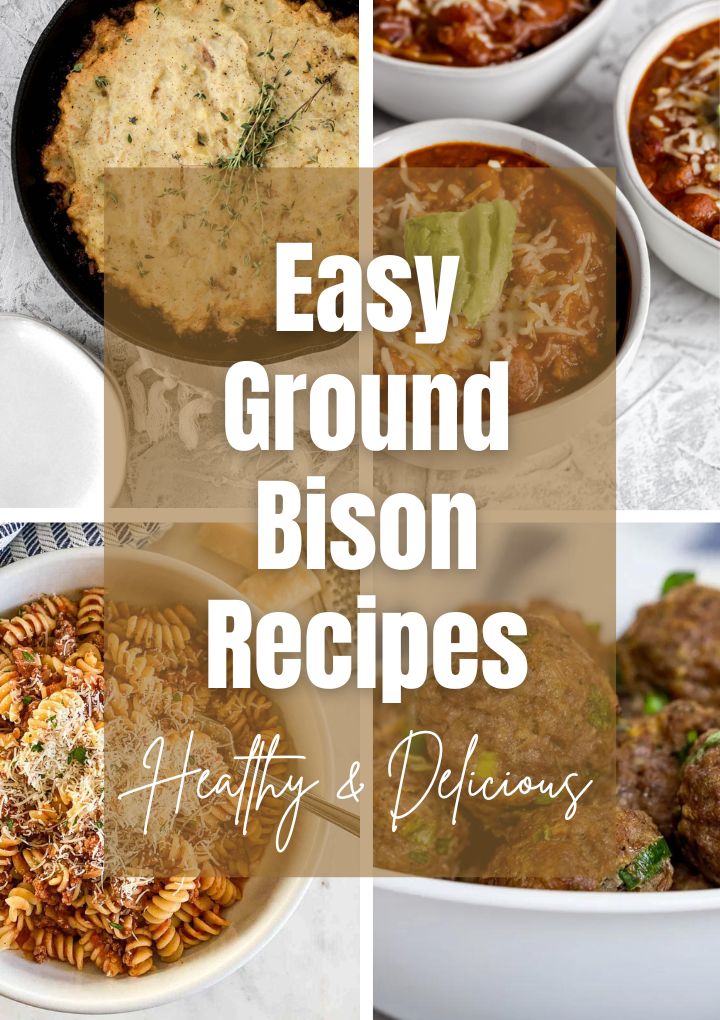 Roam Ranch is the inspiration behind this ground bison recipe roundup. If you haven't read their story I highly recommend taking a detour, then coming back here.
I first learned about Roam Ranch through an interview that the co-founder gave on one of my favorite podcasts. In 2017, Taylor and Katie Collins bought 450 acres of land in Texas that had been desecrated by industrial farming.
The soil was devoid of nutrients as a result of over tilling and wide spread chemical and pesticide use. It was considered "unsalvageable". The founders set out to restore the land by introducing wild bison, rabbits, deer and other animals to emulate the natural biodiversity of the land. It is a resounding success.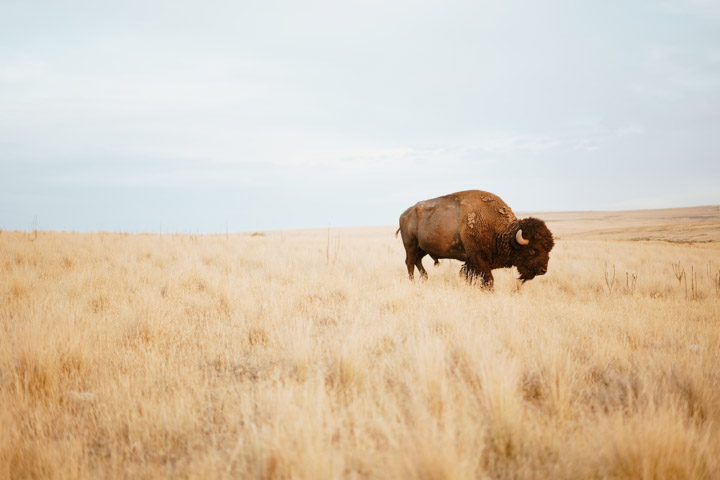 Table of Contents:
What Does Bison Taste Like?
Bison meat tastes similar to lean ground beef. It's a little lighter and it has a perceptibly sweet flavor that you don't get in beef.
Some consider ground bison to be a healthier alternative to ground beef because it's a lean meat. But 100% grass-fed and pasture raised beef is also lean. In my opinion, field-raised bison is comparable to pasture-raised regenerative beef in terms of the quality of the product.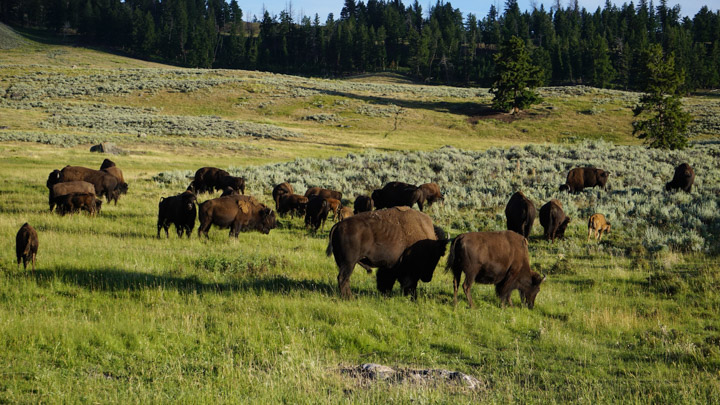 Truth be told, any recipe you have that's made with ground beef can also be made with ground bison. You can make bison shepherd's pie, bison chili, bison hamburger and macaroni…the options are endless.
Simply sub out the other ground meat and replace with ground bison. Suddenly you have a whole slew of easy ground bison recipes to try.
Ground bison is a great way to mix it up and try something new.
Delicious Ground Bison Recipes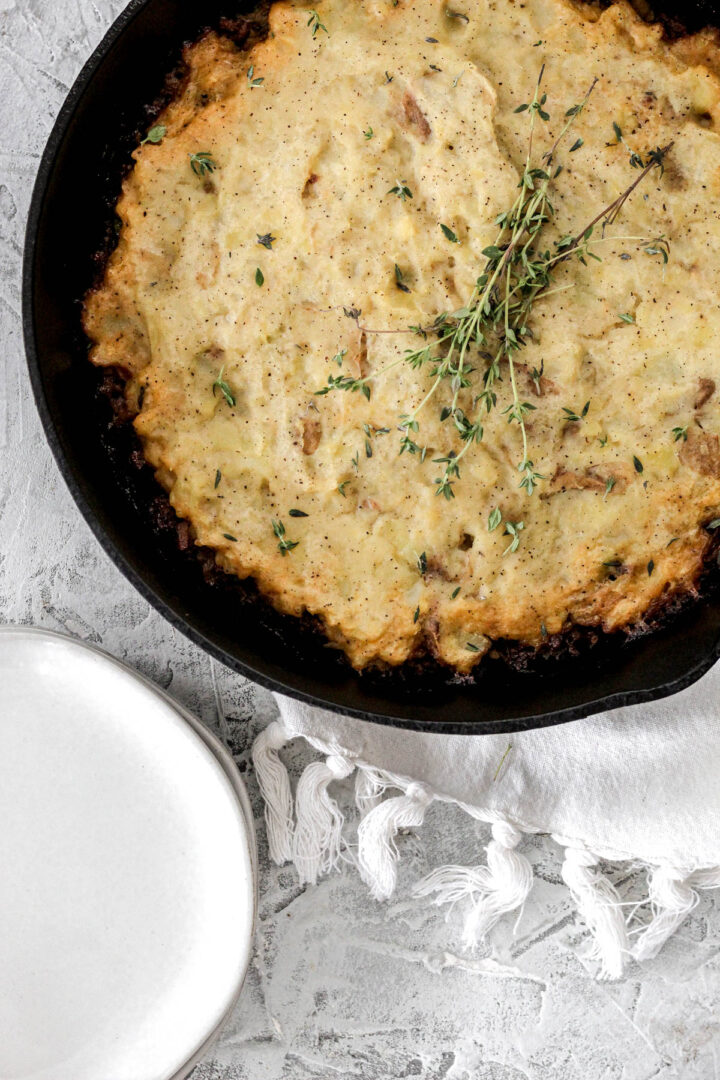 This shepherd's pie recipe is Whole30 and paleo friendly. It's made with ground bison, nut milk, grass-fed ghee and coconut aminos. (Yes, all types of potatoes are Whole30 compliant.)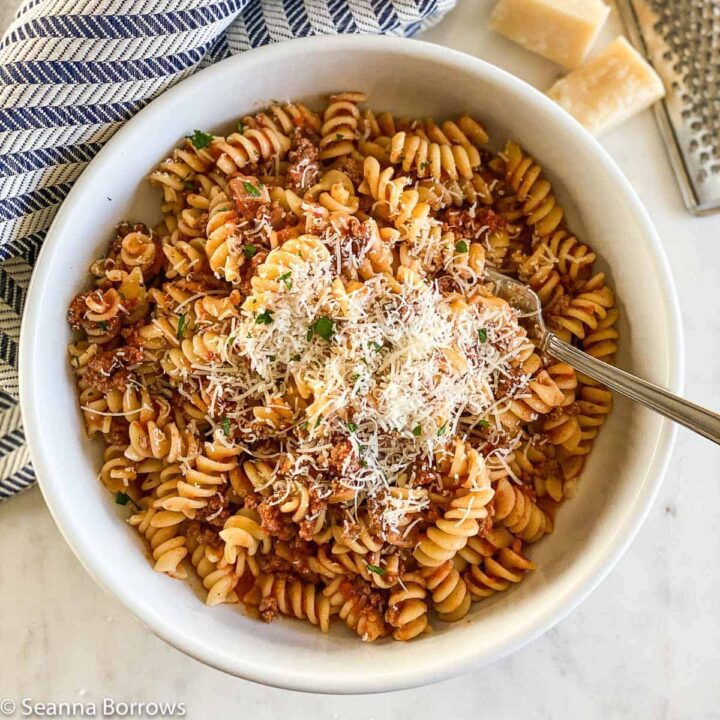 This simple homemade pasta sauce is super easy to make and flavorful too! Or sub out the ground beef in your favorite pasta sauce recipe and you have bison pasta.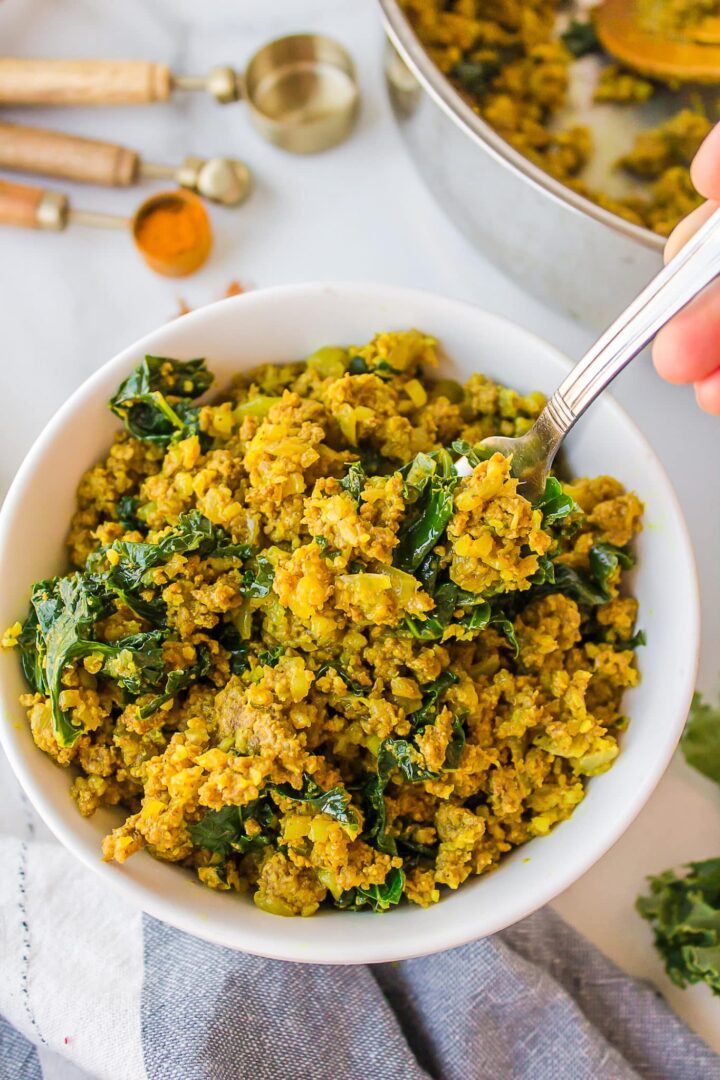 This healthy meal is perfect for paleo and low carb diets. Lean bison meat and cauliflower rice combine with yellow onion, kale and spices for this delicious recipe.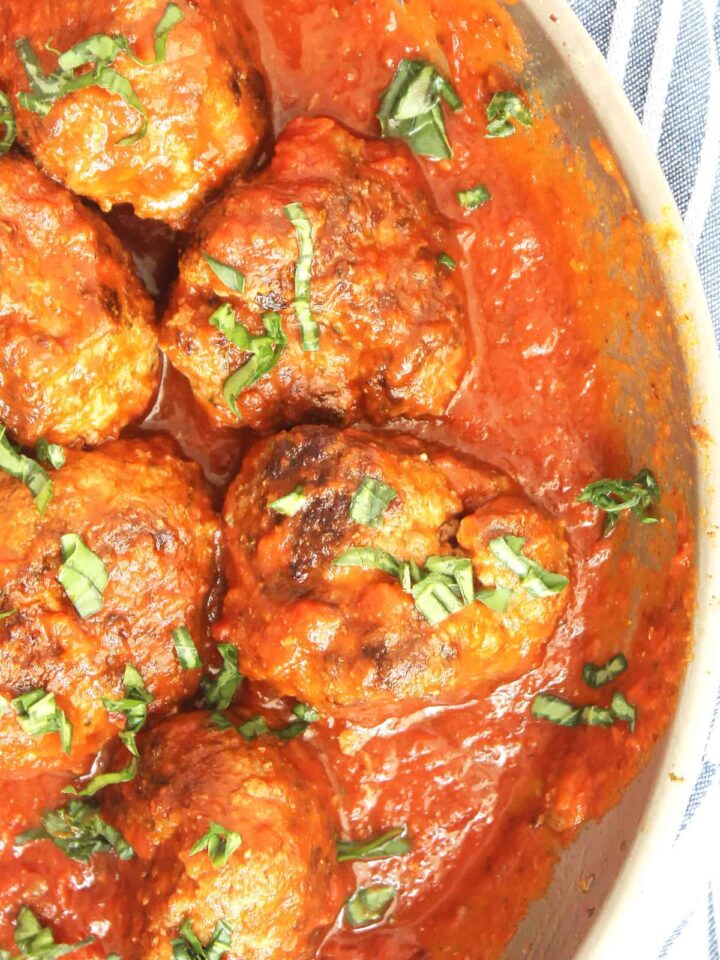 Combine ground bison with Italian seasoning, Worcestershire sauce and egg to make these delicious meat balls that pair perfectly with marinara sauce. Serve them over pasta, white rice, cauliflower rice or on their own as an appetizer.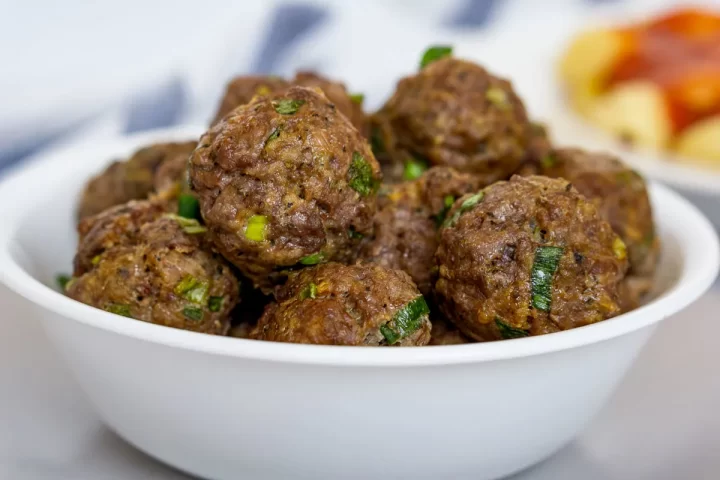 A healthy bison meatball recipe with simple ingredients and variations to try. Includes a recipe for Italian style bison meatballs served with marinara sauce and Asian-style with garlic, ginger and soy sauce. Yum! These meatballs can be cooked in the air fryer or baked in the oven – instructions are provided for each.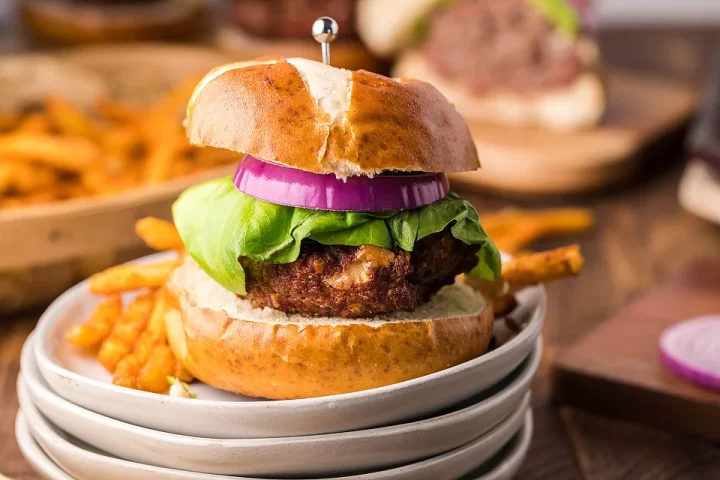 Ground bison, red onion and gorgonzola blue cheese come together to make a mouth-watering bison burger. Serve this juicy burger with a side of roasted sweet potatoes as the ideal entree for a cookout.
Don't like blue cheese? Here is a bison burger recipe that's topped with caramelized onions in balsamic vinegar, and cheddar cheese. Sun-dried tomatoes add a unique flavor to this burger recipe, but can be omitted if you're not a fan.
Here is a chili recipe made with ground bison and 2 types of beans. Instructions are provided to cook it on the stovetop in your dutch oven, or in a slow cooker.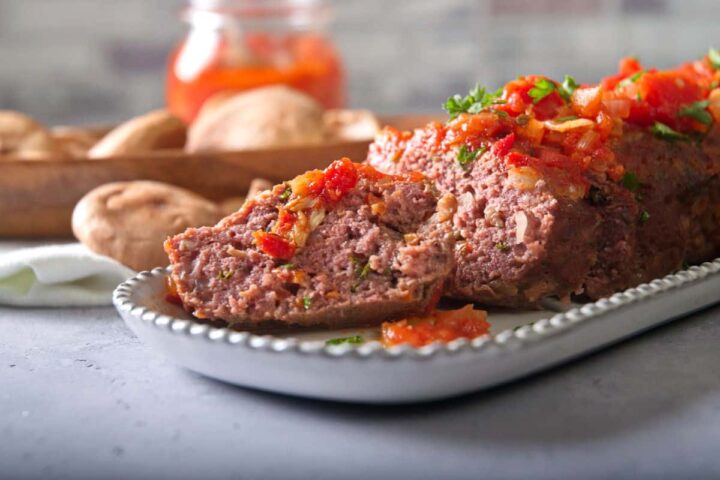 An easy meatloaf made with ground bison meat and topped with your favorite marina sauce. This ground bison recipe is gluten-free, dairy free and keto! It's made with cremini mushrooms, red bell peppers, onion and fresh parsley.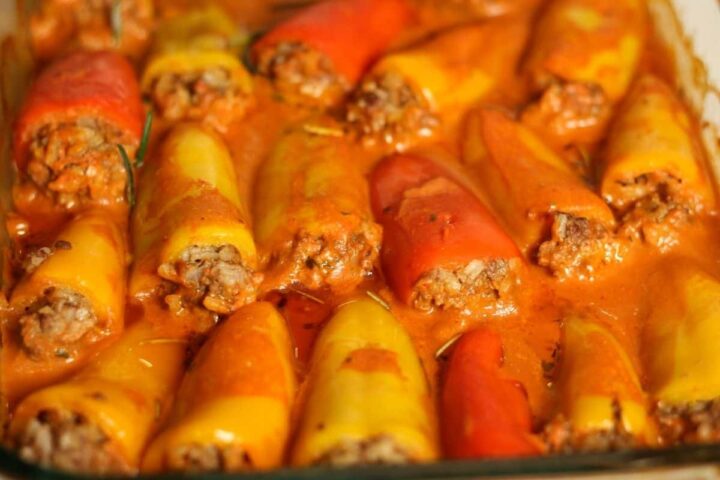 Stuffed peppers in a rich tomato sauce is a staple dish in Ukranian culture. This traditional recipe is made with a variety of fresh and dried pantry spices mixed with cooked rice.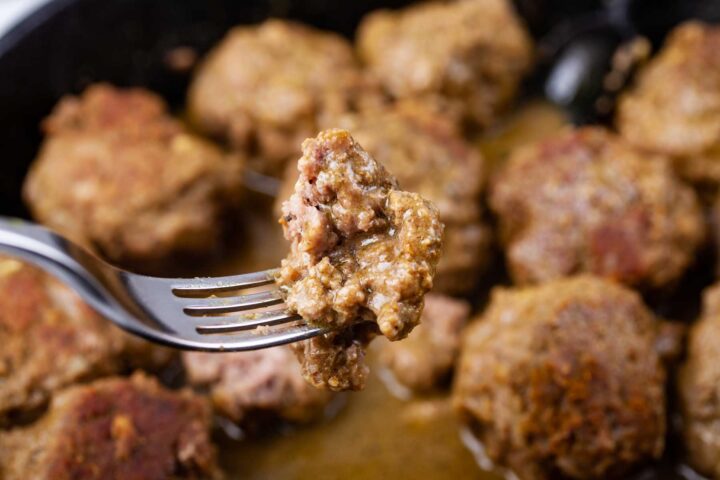 Another variation on homemade meatballs made with lean ground bison, onion powder, black pepper and almond flour. Topped with a delicious homemade curry sauce.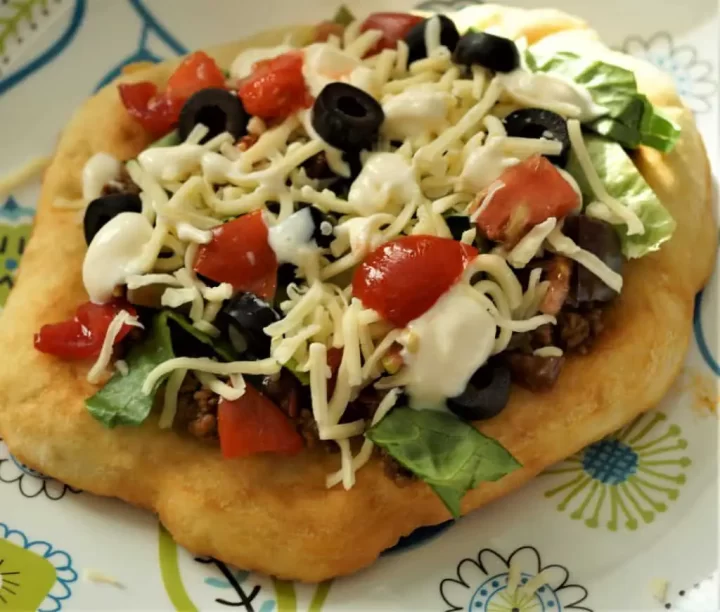 These tacos are made with a homemade chili powder seasoning and can be topped with black beans, sour cream and diced tomatoes. What really makes this recipe unique is the use of a homemade Navajo frybread, but you can also use regular taco shells if you prefer.
For more easy ground bison recipes, check out my round up of grass-fed ground beef recipes and sub in ground bison instead.
Where to Buy 100% Grass-Fed Bison
I've curated this list of where to buy bison meat online so that it only includes 100% grass-fed and pasture-raised bison.
These farms and ranchers leave their bison to graze naturally on the land for the duration of their lifetime.
Force of Nature is co-owned by the husband and wife team behind Roam Ranch. They are the inspiration behind this ground bison recipe round up.
Force of Nature works with a limited number of specially selected ranchers who practice regenerative agriculture and raise 100% grass-fed bison on the land they steward.
The price of ground bison is currently $13.99 through Force of Nature. Shipping price varies based on the amount of your order.
Like the other companies in this list that sell bison meat online, North Star Bison partners with bison farms in the Unites States to source their meat. I like that their network is small (just 10 farms) and they closely monitor the practices of each farm.
North Star Bison sells 100% grass-fed bison that are raised regeneratively on the land and field-harvested. There are no feedlots here. Their ground bison is $15.95 per pound plus shipping.
The Honest Bison partners with 777 Bison Ranch in South Dakota to source their regeneratively raised 100% grass fed bison. (100% grass fed bison is grass-fed and grass-finished.)
And there are no feedlots – the Bison graze on natural grassland. The price of ground bison is currently $15.99 a pound through The Honest Bison. Shipping price varies based on the amount of your order.
– Grocery Store
You can also find ground bison in the meat department of your local grocery store.
Great Range Premium Bison is one of those brands that is commonly found in grocery stores across the country. Great Range purchases their bison from American ranchers. The bison are then transported to their facility where they are slaughtered and processed into ground bison and other cuts of bison meat.
No matter what brand of bison you buy at a grocery store, be sure to read the packaging and make sure it's 100% grass-fed and raised on the land. Feedlot bison is less common than feedlot beef, but it does still exist.
How the American Bison Restores the Land
Bison meat comes from bison, also known as the American buffalo.
At one time, tens of millions of American bison roamed the Great Plains and were an invaluable part of the ecosystem before overhunting nearly drove them to extinction. Today this majestic animal is making a comeback on private and public grassland.
Bison's natural behaviors create depressions in the soil that rainwater settles in. This provides habitat for amphibians and drinking water for other animals.
Bison feed almost exclusively on grasses. Because grasses grow quickly they can take over lands and drown out other plants. As the bison eat grass, this creates openings for other plants to flourish – improving the biodiversity of the soil.
Certain birds actually use bison droppings as camouflage and use bison fur to build their nests.
Bison's massive heads and shoulders literally plow through the snow creating paths for smaller animals such as elk and antelope. They also open up spaces to grasses underneath the snow for other animals to graze.
Bison waste, that they excrete while roaming over the land, provides valuable fertilizer to the soil.
FAQ: Bison Meat
How healthy is bison meat?
Bison meat has a comparable nutrient profile to grass-fed beef.
A 100-gram serving of grass-fed ground bison meat provides 20 grams of protein, 146 calories and 7 grams of fats (source). Whereas a 100-gram serving of grass-fed ground beef provides 19 grams of protein, 198 calories and 13 grams of total fat (source).
You might have heard that bison meat contains less saturated fat than beef. This is accurate, even when comparing grass-fed ground bison meat (3 grams of saturated fat) to grass-fed ground beef (5.3 grams of saturated fat).
Does bison meat contain hormones?
The U.S. government prohibits the use of growth hormones in bison.
Why is bison meat so expensive?
It's true, bison meat is more expensive than beef and even 100% grass-fed beef. The reason bison meat is more expensive is because there is less supply. Raising bison also requires a great deal more land than raising cattle, especially feedlot cattle.
In the United States we have about 400,000 bison, of which 70,000 are harvested per year. On the other hand, the US beef industry comprises 90 million head of cattle and slaughters about 125,000 per day.
Conventional grain-fed beef: $5 to $8 per pound
Grass-fed ground beef: $10 to $12 per pound
Grass-fed bison: $13 to $16 per pound