These healthy ground beef recipes will help you put more grass-fed ground beef on your table. And yep, they are actually healthy.
I created this recipe round-up because ground beef is one of the more accessible grass-fed beef cuts. So it's nice to have some healthy and delicious recipes to make with grass-fed ground beef!
I describe these ground beef recipes as healthy, and my standards for a healthy meal are quite high. In my home, healthy meals are:
Made with real food – The grass-fed ground beef recipes on this page are made primarily with real food ingredients. That means mostly whole foods, though I did make some exceptions for pantry staples such as soy sauce, vinegar and oil.
From-scratch – All of the grass-fed ground beef recipes on this page are made from scratch. And though we aren't taking shortcuts with processed ingredients, I was careful to choose recipes that I knew would still be easy to make, or at least relatively easy. After all, you want dinner tonight.
Made with quality ingredients – In this case we are starting with pasture-raised grass-fed ground beef. If you're used to conventional ground beef leaving you feeling weighted down and gross, you'll find grass-fed ground beef lighter and cleaner.
In case you're not sure where to buy grass-fed ground beef, I published a list of my top choices for the best place to buy grass-fed beef. It includes local and online options.
Or, you might like to read my guide to finding grass-fed beef near you.
Now let's get to the drool-worthy part!
15 Grass-Fed Ground Beef Recipes that are Actually Healthy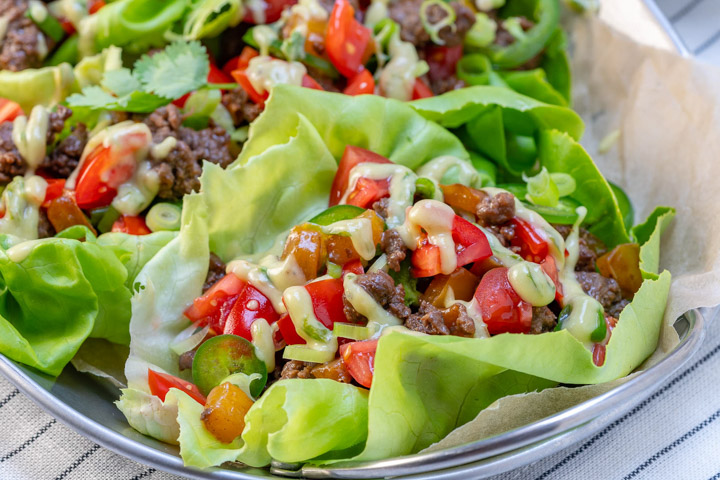 I knew I'd love this grass-fed ground beef recipe as soon as I saw Rachel's photo of it.
All those fresh veggies, in the right season you can get pretty much everything you need to make it at the farmers market!
Omit the jalapeño if you don't like spicy things and you have yourself a healthy ground beef recipe perfect for warm summer nights.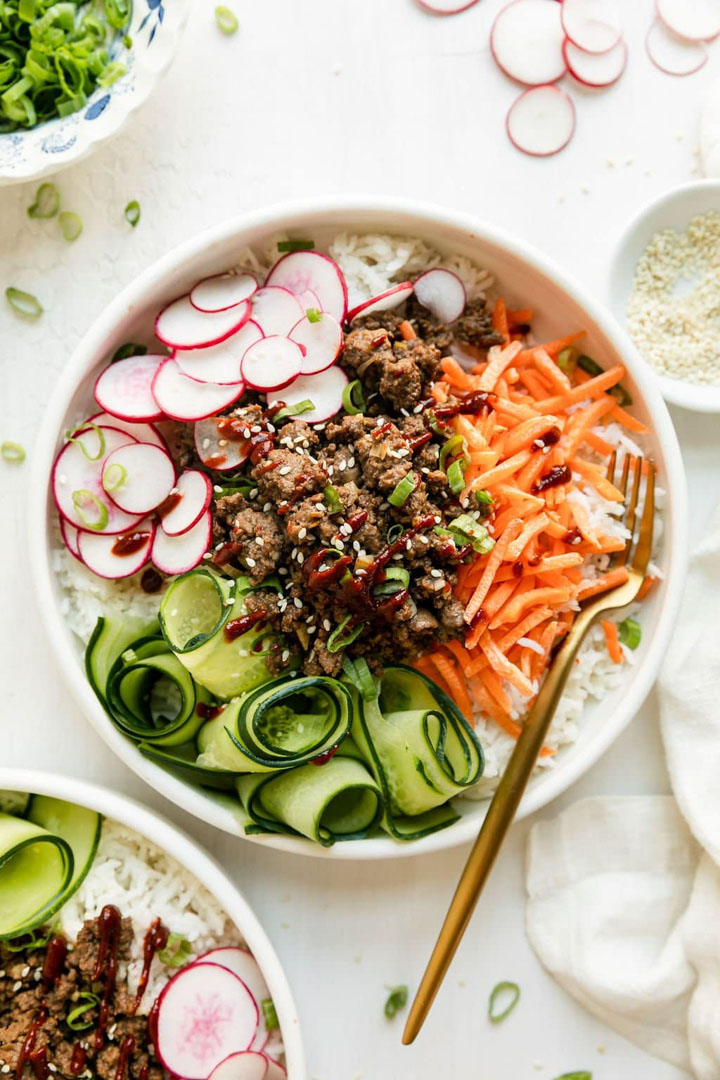 Bowls – could we call them the meal of the decade?
It's like taking the contents of a wrap and serving it over rice or greens instead of inside a pita.
I'm happy to say I found you a delicious grass-fed ground beef bowls recipe made with all sorts of healthy ingredients!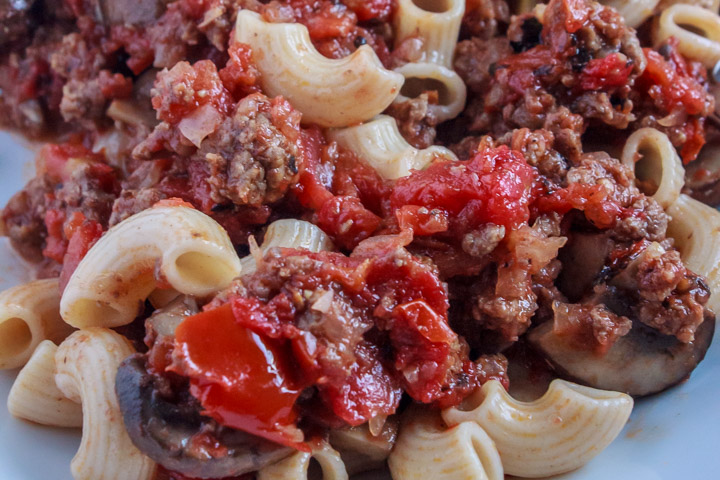 This grass-fed ground beef recipe is a Fed by the Farm original.
If you're looking for something easy and flavorful to make with ground grass-fed beef, hamburger and macaroni is probably my favorite recipe to whip up!
And it only requires a few ingredients to make this easy dinner.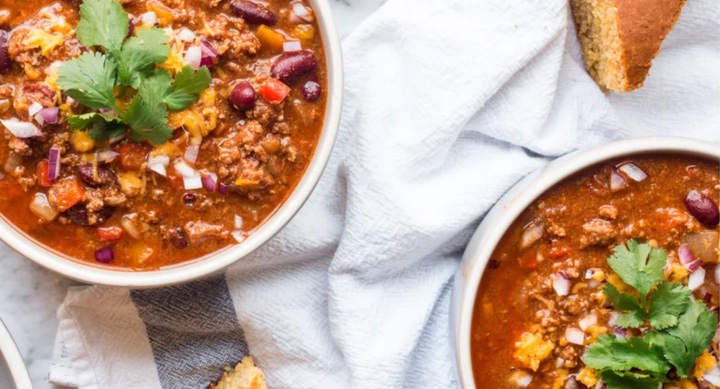 Chili is a classic dish that can be made with grass-fed beef. It also works well if you do meal prep on the weekend because chili reheats so nicely.
Like all the grass-fed beef recipes on this page, this one is made from-scratch with simple ingredients.
And there's a secret ingredient – ground coffee! Yes a small amount of ground coffee in chili is a thing and helps balance the spicy flavors from the chili powder.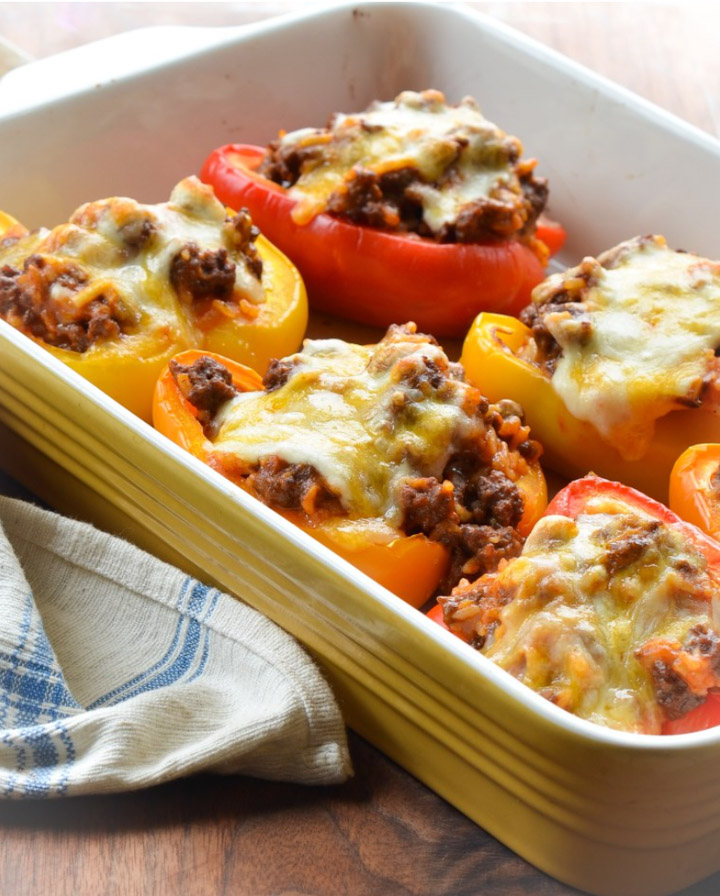 Yum! If you thought stuffed peppers might be complicated to make, this simple recipe made with American grassfed beef will change your mind.
Just a few simple ingredients, most of which you probably already have in your kitchen, makes this a great meal for a busy weeknight!
And you can get the grass-fed beef and bell pepper at your farmers market.
Tip: Be sure to use a nice quality cheese, ideally made with grass-fed milk. I find generic cheese can be greasy and leave you feeling heavy.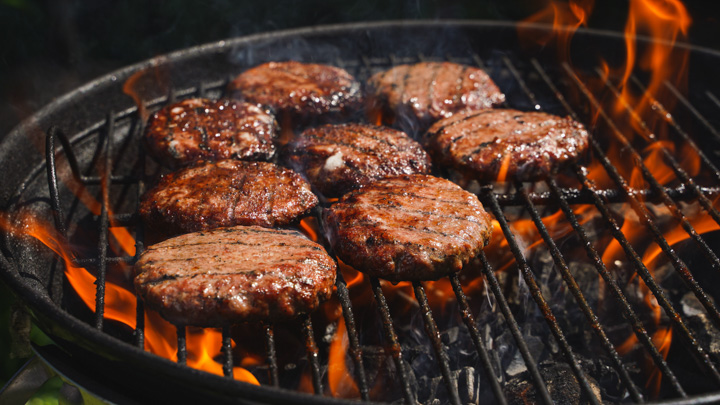 I knew when I was putting together a round-up of grass-fed ground beef recipes it would have to include a burger recipe!
And I nailed it – well actually, Shannon over at the Radical Homemaker nailed it.
I love her appreciation of natural food. And, like me, she really gets that when you start with quality ingredients you don't need to season them to death in order to create a delicious meal.
Thank you Shannon for showing us how to perfectly grill a grass-fed beef burger at our next barbecue!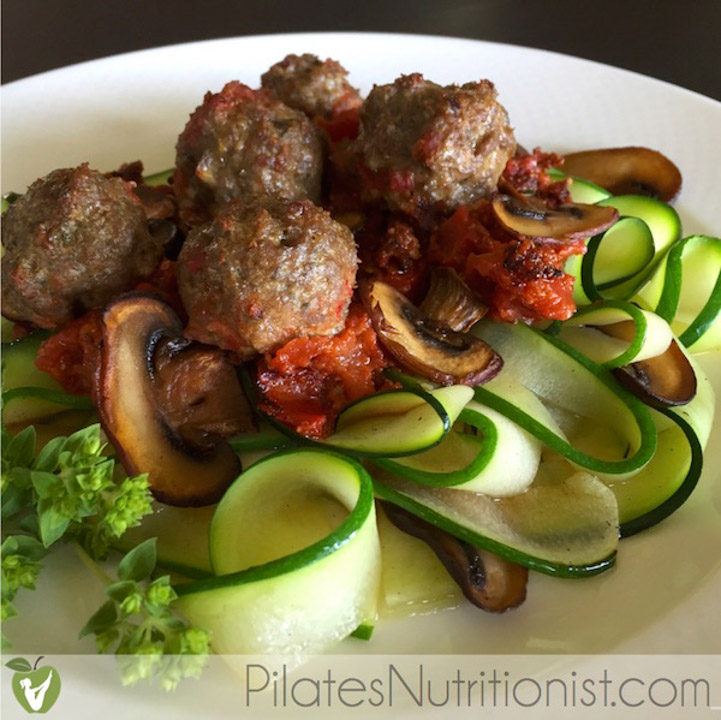 This grass-fed beef meatballs recipe was created by registered dietician and nutritionist Lily Nichols.
I love that it's a meatballs recipe without breadcrumbs! So many meatball and burger recipes use breadcrumbs, but they really aren't necessary. It's just filler.
I've been making homemade meat balls and burgers for years and never use breadcrumbs. And they do not fall apart. I appreciate Lily's healthy approach to food and recommend checking out her recipe.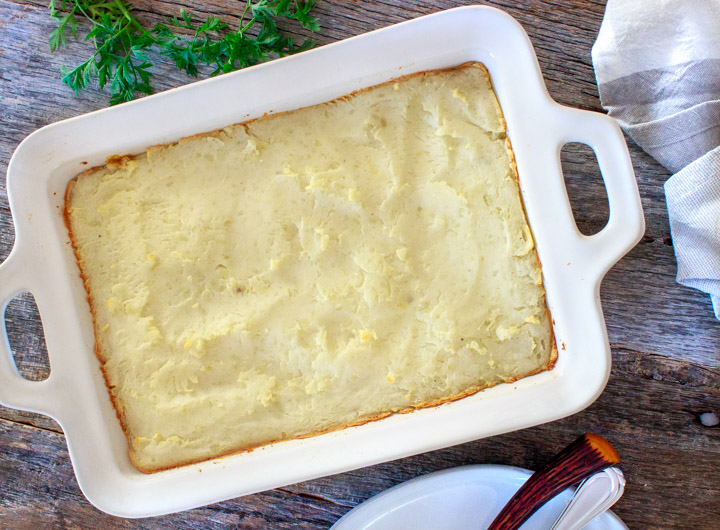 Flavorful grass fed ground beef and homemade gravy, topped with creamed corn and velvety mashed potatoes, all baked together in one dish.
Shepherd's pie is a great dish to make for meal prep as it tastes just as good when reheated the next day!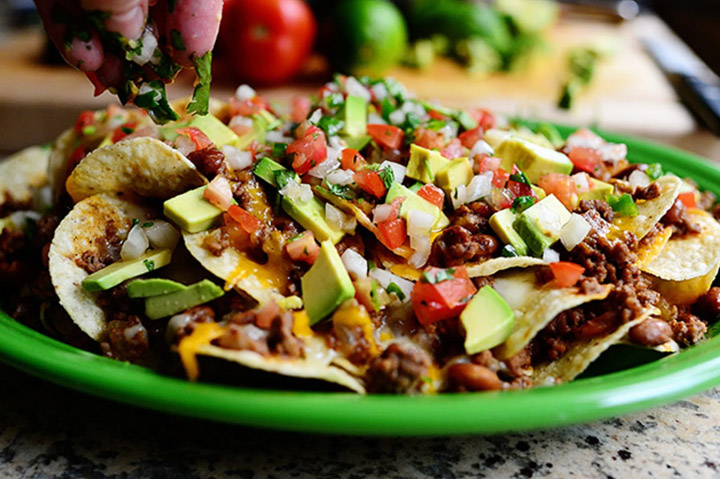 Wait – "loaded" and "nachos" in a list of healthy recipes. Have I lost my integrity? Absolutely not.
Think about this…these nachos are loaded with: grass-fed beef, beans, onion, dried herbs, real tomatoes, fresh cilantro, avocado and cheese. Fresh ingredients that we wouldn't stick up our nose at.
If you make them with grain-free tortilla chips, or any tortilla chips that aren't made with inflammatory oils, then I call this a healthy recipe.
Taco salad makes such a great meal during farmers market season…fresh corn, cherry tomatoes, lettuce, radish, fresh herbs.
You can get so much of what you need at the farmers market and the rest is pantry staples you may already have on hand.
I consider taco salad one of those healthy meals that's popular at restaurants but less common in home kitchens. This recipe will change that and bring taco salad home!
No list of healthy grass-fed ground beef recipes would be complete without a taco recipe!
This recipe includes homemade taco seasoning, and as with all the other recipes in this list, the ingredients are simple and nutritious. Well, except taco shells, they wouldn't be at the top of my list of healthy foods but they are far from terrible.
You'll love this healthy and delicious grass-fed ground beef stir-fry.
Bok choy is abundant at the farmers markets and this easy recipe is a great way to use it. Serve with cauliflower rice for fewer net carbs.
This recipe for zucchini boats is made with fresh and simple ingredients: grass-fed ground beef, zucchini, onion, fresh herbs, tomato, rice and fresh mozzarella cheese.
It takes just 20 minutes of prep time and 30 minutes in the oven.
So delicious!
This Greek-inspired recipe is a yummy twist on meatballs and made with Grass Run Farms 100% grass-fed beef.
The recipe includes how to make homemade tzatziki sauce too!
Are you not drooling just looking at that picture?
This healthy ground beef and broccoli recipe is made with straight-forward ingredients and is ready in 20 minutes.
I often find broccoli at the farmers market so this would be a nice farm-to-table dinner to make for your whole family.
This delicious ground beef and summer squash skillet is a healthy dinner you can make with fresh vegetables from the farmers market.
It's also an easy one-pot meal, so clean up is a breeze. All you need to make it is grass-fed ground beef, fresh tomatoes, summer squash (ex. zucchini), onion, dried oregano and a little salt and pepper to taste.
—
Tips for Buying Grass-Fed Ground Beef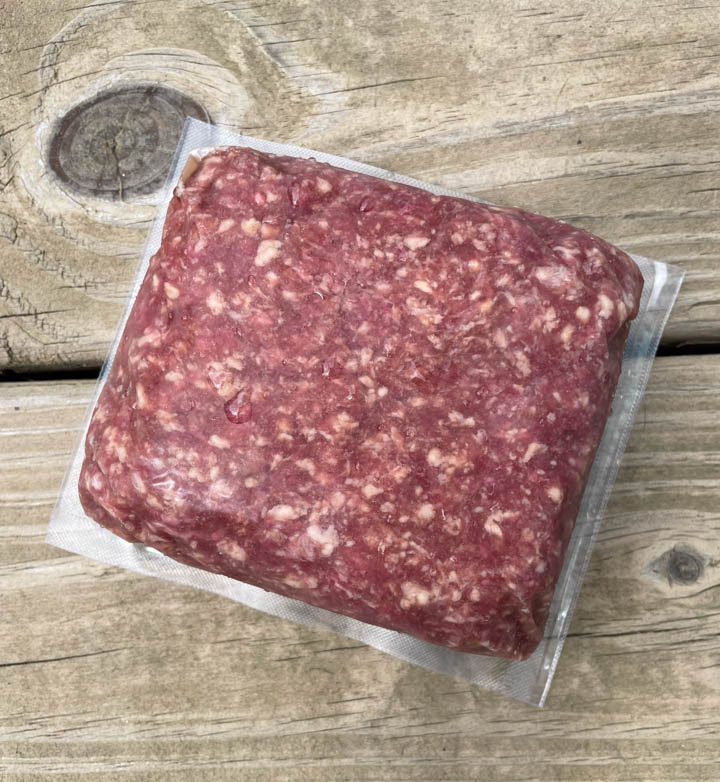 1. Use lean ground beef whenever possible, unless making burgers
For most ground beef recipes, I prefer to use lean ground beef so I don't have to drain off the fat after cooking it.
By lean ground beef I mean at least 90% meat to 10% fat. The exception to this is burgers. When I make burgers I want them juicy, so I buy 80%-85% lean.
If I'm buying ground beef at the farmers market it often isn't labeled with a percentage so I do a visual check for fat content. I'm looking for the beef with less little white nodules of fat and more of that deep red meat color.
2. Look for pasture-raised
Did you know that even factory feed lots can produce grass-fed beef?
Early in my days of buying grass-fed beef I assumed that all grass-fed beef was being raised on pasture. But as "grass-fed" has become more desirable, it's being created by factory farms as well.
By ensuring the cattle are only fed grass, they can label it grass fed even if the animal has never set foot outside. If pasture raised grass-fed beef is important to you, then be sure to check into the farming practices of whatever farm or company you buy from.
3. I favor grass-fed AND grass-finished beef
When buying grass-fed beef there are two kinds – grain-finished and grass-finished.
Grain-finished means the animal was fed a diet of grains during the later months of its life. Grass-fed and grass-finished means the animal was fed grass for its entire life.
Grain-fed beef fattens up faster and results in more marbling in the steak, which some people find desirable. Grass-finished beef tends to be leaner. Pasture raised beef also tends to be leaner because the animals get to move around. Conventional beef is grain-finished.
Ground Beef FAQ
Why does lean ground beef cost more?
Lean ground beef costs more because it is made with leaner cuts of meats. These cuts, such as sirloin, cost more and therefore the ground beef made with them costs more. Most ground beef is made with fattier, tougher cuts of meat such as chuck. That's why regular ground beef costs less than lean ground beef.
Is fat added to ground beef?
According to USDA labeling guidelines, ground beef can not have fat added to it. Meaning, fat trimmings from other cuts can't be added to ground beef as filler.
But, fat can be added to anything labeled as "ground hamburger".
Where to buy grass-fed ground beef?
I buy grass-fed ground beef at the farmers market and the grocery store. If neither of these options are available to you, you can buy grass-fed beef online and have it shipped anywhere within the continental United States.