Are you interested in eating more local, farm fresh food as an alternative to conventional agriculture? Wondering where to buy farm fresh food or how to find farm fresh food nearby?
I'm going to help! And let me just say how happy I am that you're here on this journey.
In a few moments, I'll show you how to bypass the industrialized agriculture system and buy meat, vegetables and dairy that were grown or raised by smaller local farms.
With a little research, you can buy organic food from farmers who share your values, steward the land and do the right thing by the animals they raise and produce they grow.
Now doesn't the thought of that feel good?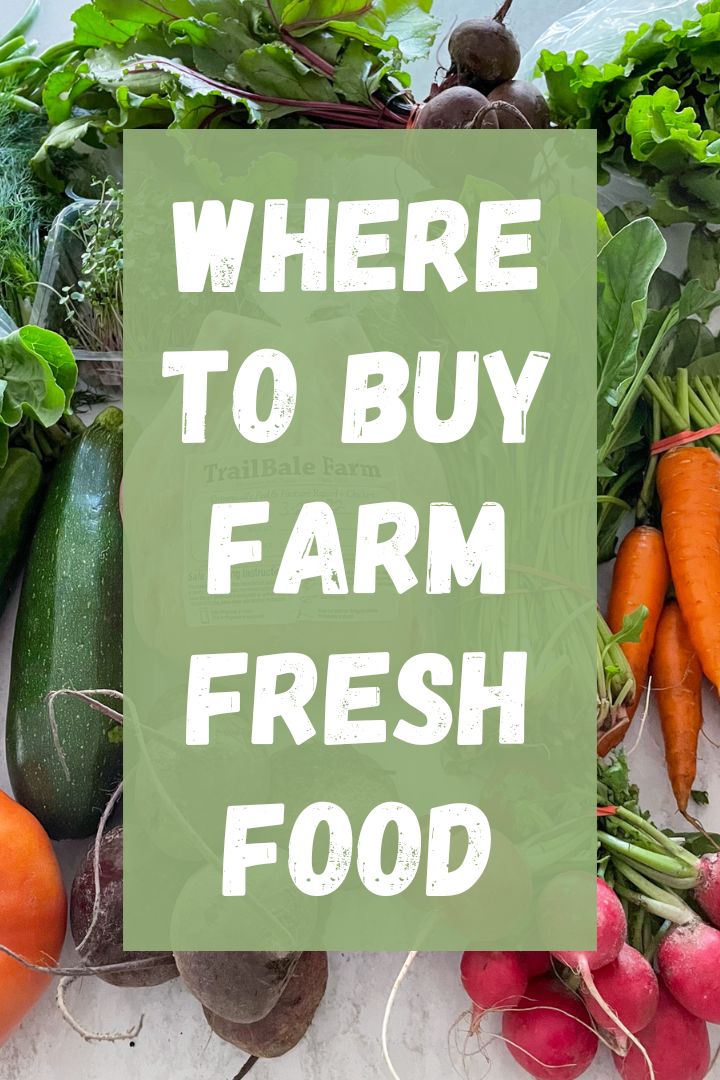 Let's dive into 5 ways to buy farm fresh food that's the real thing – no marketing fluff!
5 Ways to Buy Farm Fresh Food
1. Farmers Markets
The farmers market is my favorite place to buy farm fresh food. This is where nearby farmers travel with their meats, produce, dairy and more to sell to the community.
Good for:
If you live in the city
If you live in a densely populated area
While traveling, I've noticed that farmers markets are easier to find in cities and other densely populated regions. They are less prevalent in very rural, sparsely populated areas.
It's a bit of the opposite of what you might expect, considering that farms tend to be located in the country. But, small population means less buyers, and a farmers market won't survive without buyers.
This is why farmers who sell at markets are willing to drive their harvest into the city so they can disperse it before it spoils.
If you're lucky to live in a region with a vibrant farming culture, such as Asheville North Carolina, you'll find a farmers market practically every day of the week during the growing season.

My favorite resource for finding farmers markets is the National Farmers Market Directory. You'll avoid the clutter found on other search engines, so I recommend starting your farmers market search there.
And the biggest piece of advice I'd give you before heading out is be sure you know how to spot fake farmers at the farmers market.
Unfortunately, many farmers markets are attended by produce wholesalers and resellers. These wholesalers are selling what didn't make it to the grocery store and it's not usually organic or local.
2. Join a CSA
CSA stands for Community Supported Agriculture. Think of it like a farm fresh food subscription service provided by the farm itself.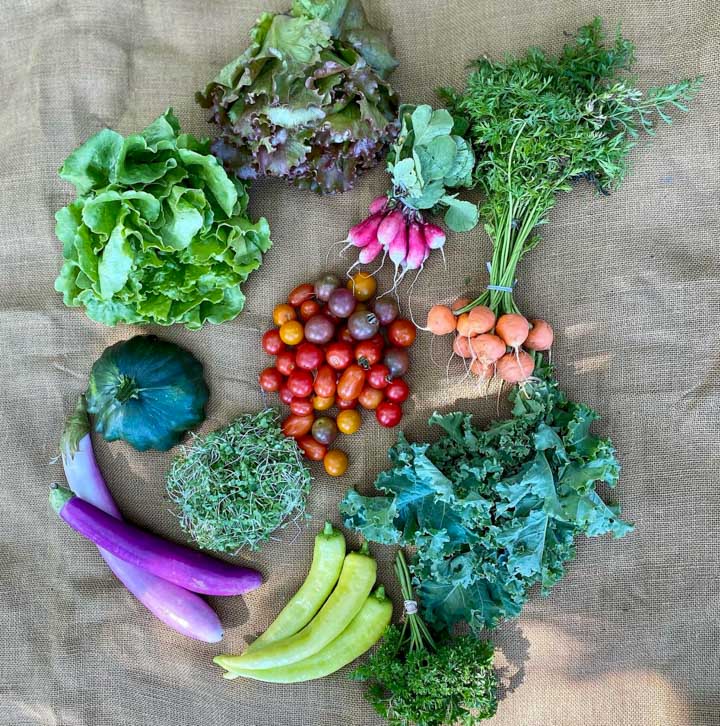 Members pay an annual fee in exchange for a share of the season's crop. As a member, you'll receive a box of what's in season at the farm every week. The CSA is managed and sold by the farm and the cost of membership pays for your produce and goes directly to the farm.
These days, CSAs are becoming more and more popular and wide spread. You can find CSAs for fruit, veggies, flowers and more!
Pros of joining a CSA
Receive locally-grown produce every week (organic if you choose an organic CSA)
No risk of showing up to a "sold out" farmers market
Guaranteed income for the farms, money they can count on
No need to spend time shopping, just go to the pickup spot and grab your box
Try new foods, rather than the same thing you always buy at the grocery store
Experience eating like your ancestors ate: local and in-season
Feel part of a community of like-minded neighbors supporting a cause you believe in
Cons of joining a CSA
Unlike a farmers market where you can choose what to buy and how much of it, when you join a CSA you get a little of everything. There usually isn't an option to customize your box.
You may need to change up how you cook, relying less on your go-to recipes
CSAs are a subscription you pay for up front, this is a consideration when budgeting your grocery spend
Despite the cons, many people LOVE their CSA and the variety and convenience it provides. In fact, the more popular CSAs will sell out of membership spots before the season starts.
Keep in mind that you can only join a CSA before the harvest season begins. If you're reading this in summer, memberships are probably closed until next year…unless you live in Florida where the harvest starts in fall.
How to find a CSA
Though there are CSA directories online, I've found them limited and outdated. As a more reliable way to find a CSA, I suggest asking nearby farms if they have one. And in the next section I explain how to find farms near you.
3. Buy Direct From Nearby Farms
Another way to find farm fresh food is by visiting a farm in person.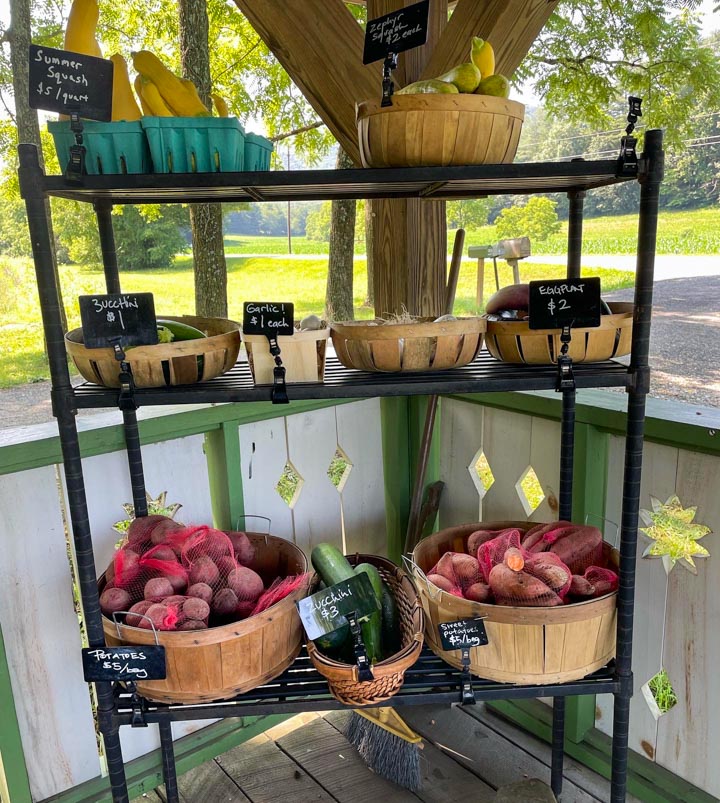 Some farms that sell direct to consumers have a farm store on site, in addition to their farmers market presence. This will be open to the public on certain days of the week during limited hours.
Be sure to check the farm's website and social media feed before you go – not all farms are open to the public! And if they are, they probably have limited hours that you'll want to know before you show up.
Visiting a farm directly can be a very convenient way to buy farm fresh food if you live nearby. I've also used this tip to buy farm fresh food while on vacation.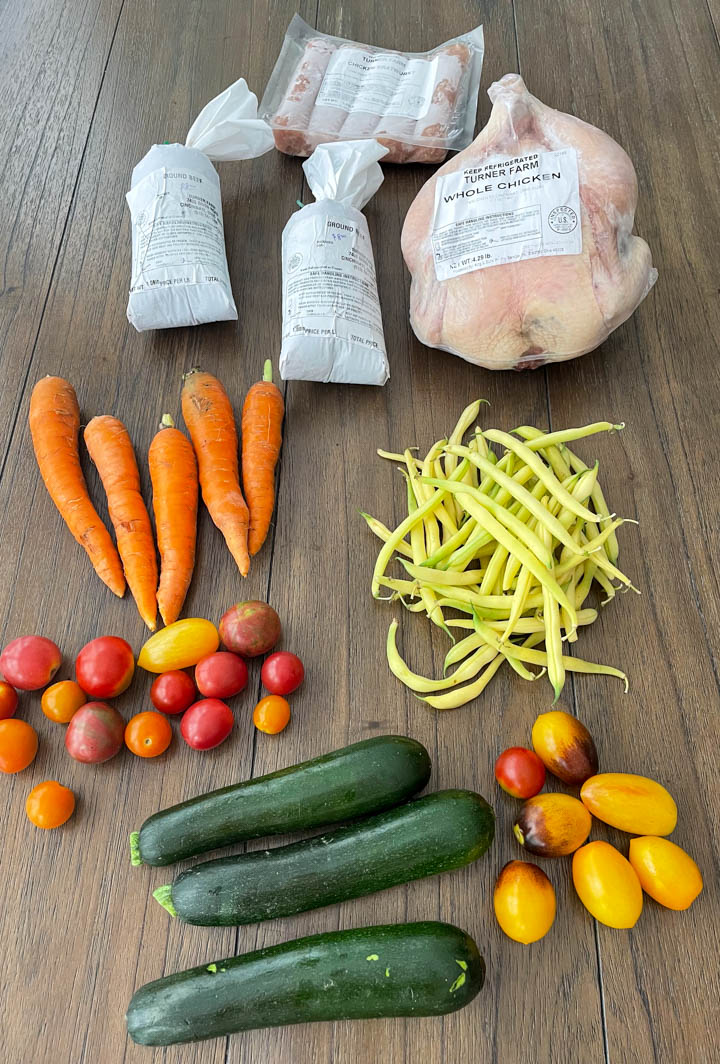 Here's how to find farms near you
Look into which farms sell at the nearest farmers market (attend the market or visit the market's website). Reach out to those farms and ask if there's a way to buy directly from them. Or, check out their website for 'how to buy from us' information.
Try a google maps search for things like "

vegetable farm near me", "goat farm near me" (if you're looking for goat milk products) or "chicken farm near me

".
You can also try looking on LocalHarvest.org. But be warned, that website is very outdated, does not have great filtering options and has listings for farms that no longer exist.
4. Locally-Focused Markets & Butchers
If you're lucky, there will be a small business in your community that buys directly from local farms and makes those products available in their store.
Unfortunately it can be tricky to find the true farm to store markets and butchers. There is so much marketing fluff with companies mis-using the terms "farm fresh" and "local".
I suggest asking around in your local farming community (ex. at farmers markets, on social media) to find a butcher or produce market that buys direct from small, local farms.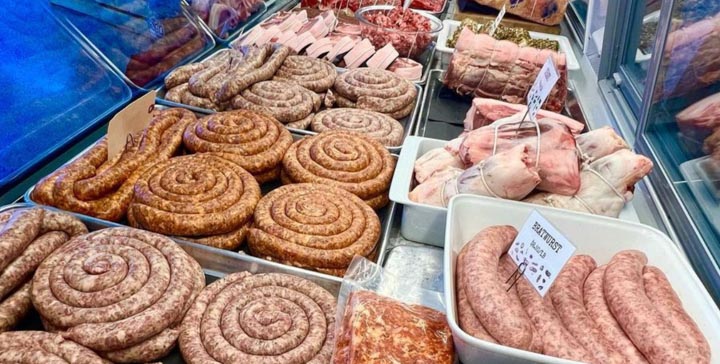 As examples, near where I live in Florida there is The Tides Market and The Boozy Pig. I've been to both and can verify that they are the real deal. Both stores post the name of the farm where the meat or produce was sourced, and I recognize the farms they source from.
A consideration when buying farm fresh food from any reseller is that you'll pay a markup compared to buying directly from the farm or at the farmers market.
That said, for the convenience of not having to trek to the farmers market during the small window of time they are open (or for a great last minute dinner option), many people are OK with paying more.
It's also a nice opportunity to support a local business that is on a mission to support small farms.
5. Join a Food Cooperative
A food co-op is a small scale, member based grocery store that strives to carry local, organic products when they are in season. Paid membership is usually required to shop, and some co-ops give ownership equity to their members.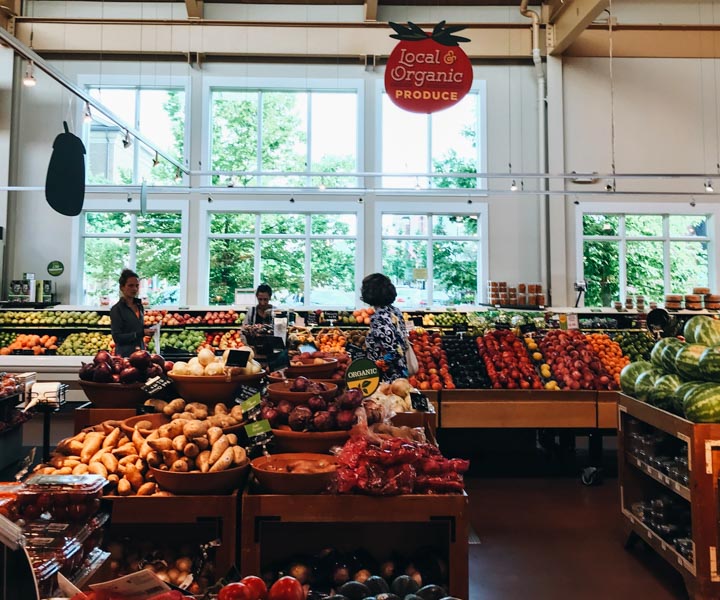 In my experience, food co-ops also sell food products that are not local and not whole foods. The produce is labeled accordingly, so you do know what is local and what is not.
To find a food co-op near you, search for "food co-op" on Google Maps. Then do some research into any that pop up in your area. Co-ops usually allow non-members to drop in and look around before joining.
This does happen to be my least favorite way to buy farm fresh food. The few co-ops I've been in feel similar to a grocery store and put an unwanted layer of distance between the farm and I.
Final Thoughts on Finding Farm Fresh Food
Now you're ready to put all this information to use! My hope is that you come away from your search having discovered more nearby farms, farmers markets and sources for local farm fresh food than you ever expected.
I know that's how it was for me.
My search was inspired while on vacation in the Pacific Northwest. I stayed at a Bed and Breakfast with a family that embraced local food. The experience had me wondering if there were farms near where I lived where I could buy things like farm fresh eggs, vegetables and meats.
I discovered that yes, yes there are!
And in case you're on the fence, here are some reasons to buy directly from farms versus the grocery store.
Have questions? Feel free to post in the comments below, I read every one.